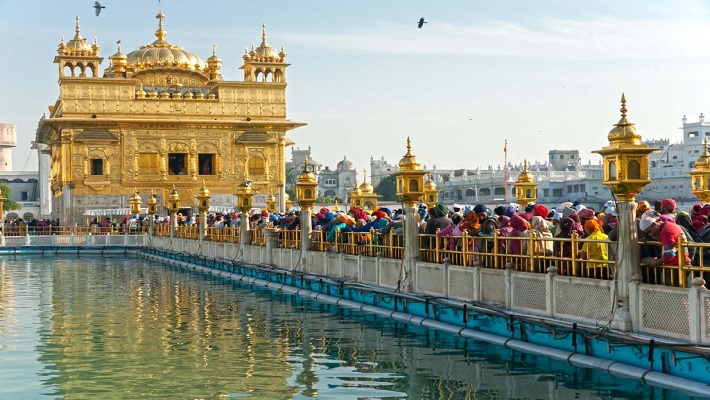 In recent years, the Indian government has recognised the importance of spiritual tourism and has taken great steps to promote tourism by developing the infrastructure of spiritual sites, training the tour guides and organising spiritual festivals.
India is a long been hub for spiritual seekers from all over the world, with a rich tradition of religious and spiritual practices that span over thousands of years. From yoga and meditation to ancient temples and holy rivers, India offers a unique and multiple experiences for spiritual tourism. Spiritual tourism is all about the spirituality and mindfulness. Spiritual tourism in India has been rapidly growing which attracts millions of people in visiting.
Here are some top most exploring spiritual places of India.
Rishikesh
It is located in the foothills of Himalayas, besides the river Ganges. It is surrounded by lush green forest and mountains. Trimbakeshwar temple is a pilgrimage site in Rishikesh. Ambiance in temple is peaceful where visitors can sense calm. The town is a home for numerous ashramas and yoga centres. It is a place where yoga and meditation can be learnt which makes sure of spiritual growth. Visitors can also take a holy dip in river Ganges which is said that purity of soul. This is a place where sages and saints meditating all the time in search of greater knowledge. It is well known as yoga capital town. It also celebrates an annual day every year in the first week of march which is named as International Yoga Festival Day.
It is the start point of Hindu Char Dham Pilgrimage. People visit this place for inner peace and mindfulness. It is a famous place for adventurous trekking, camping and river rafting. The temple is believed to have been built in 12th century where it has undergone many renovations and restorations.
Varanasi
Varanasi is one of the oldest pilgrimages which is called as a spiritual capital of India. It is also known as city of God. This city is famous for including the famous Kashi Vishwanath temple. It is located n holy banks of river Ganges. The temple is dedicated to Lord Shiva. The temple is believed to have been built in18th century. People believe that if we die on the land of Varanasi, it purifies and washes away the sins and we will have a re-birth. Varanasi is also called as Banaras. Visitors can take a boat ride on the Ganges to witness the evening aarti ceremony. This city celebrates a great many of religious festivals. Varanasi is also called as the city of light, as its insights deliverance. Visitors can sense the awe of reverence that inspires them.
Apart from religious significance, Kashi temple is also a marvel of architecture and arts. The carvings on the walls and beautiful art work.
Amritsar
Amritsar is a city in the northern state of Punjab, India. It is a spiritual centre of Sikh religion. It is a home of famous Golden Temple, also known as Harmandir Sahib. It is surrounded by a large pool of water, known as the Sarovar. The Golden Temple is a stunning piece of architecture and art. The temple is a symbol of unity and equality. The most striking feature of the Golden Temple is its golden dome, which is covered in 750 kilograms of gold. The temple also has a large clock tower, which is visible from several parts of Amritsar. Inside the Golden Temple, there is a sanctum, where the holy book of Sikhism, the Guru Granth Sahib, is kept. The book is considered to be the living guru of the Sikh community, and is worshipped with great reverence. The temple is particularly busy during the festival of Vaisakhi, which is celebrated with great fervor in Amritsar.
Apart from religious significance, Visitors of all religions can partake the communal meal where it is served with free of cost irrespective of their caste, religion or social status.
Tirupati
Tirupati is a city in the southern state of Andhra Pradesh, India, and is famous for its ancient Sri Venkateswara Temple. Sri Venkateswara Temple is located on the Tirumala hills, which is a part of the Seshachalam Hills and is surrounded by beautiful natural scenery. The temple is believed to have been built in the 10th century, and has undergone several renovations and restorations. The architecture of the Sri Venkateswara Temple is of several styles, including Dravidian, Vijayanagara, and Chola. The Temple is an important pilgrimage site for Hindus, and devotees from all over the world come to Tirupati to seek the blessings of Lord Venkateswara. The temple is particularly busy during the Brahmotsavam festival, which is celebrated with great fervour. Tirupati is a symbol of India's deep-rooted spirituality and devotion.
Apart from its religious significance, the Sri Venkateswara Temple is also a marvel of architecture and art. The temple complex includes several smaller temples, as well as a museum and a library. The museum house is a collection of artifacts related to the temple and the history of Tirupati.
In conclusion, the growth of spiritual tourism in India has also led in the development of wellness tourism. Spiritual tourism in India can offer unique and enriching experiences.