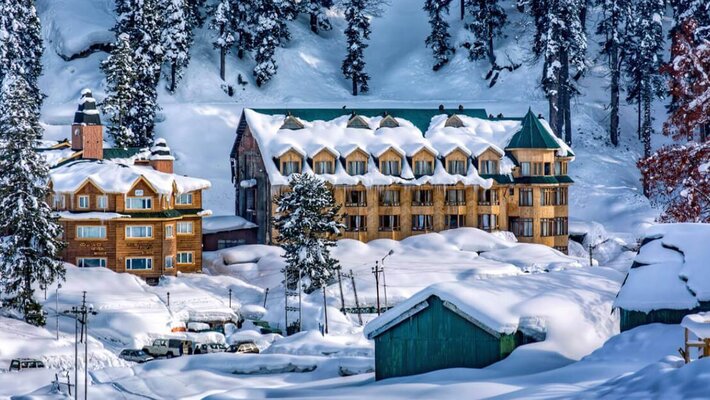 Who doesn't love spending the winters wrapped in blankets and sipping hot coffee? But have you ever thought of travelling to a completely different place where winter is best experienced and enjoy the true exquisiteness of the season? India being a unique country, is surrounded with seas, mountains, and forests. According to the diverse geographic areas, people here experience different climates and temperatures irrespective of the ongoing season. While all places have their own charms, they tend to escalate with the arrival of specific seasons. There are few places in India, where winter reveals its true elegance and some of them are mentioned below.
As 'winter is coming' soon, pack your bags to visit these exclusively gorgeous places that will offer memories of life time.
Nainital, Uttarakhand
Nanital that is home to abundant lakes and profuse beauty. Being surrounded by the Himalayan Mountain ranges, although the place gets cold during the winter, but its spellbinding beauty bourgeons. One of the advantages of staying in Nainital during the winter is that the weather is not as severe as it is in the further north, permitting you to enjoy the snow. Tourists visit Nainital to go lake hopping, seeing the snow-covered Himalayan mountaintops, go shopping at the famous mall road, or spending time with some exotic birds and animals at the zoo.
Manali, Himachal Pradesh
With snow-covered Himalayan peaks and stunning valleys, although Manali is stunning throughout the year, it becomes more heavenly winter. This hill station is a podium for adventure sports, where tourists can enjoy activities like horse riding, skiing, paragliding, zorbing, and tobogganing. You can also explore the hamlets of Kullu, Kasol, and Rohtang, or go trekking across the mountains of Pin Parvati Pass, Chandertal lake, Hampta Pass, and the Great Himalayan National Park.
Shimla, Himachal Pradesh
The true Queen of Hills, Shimla becomes heavenly during the winter. Tourists travel here to enjoy the beauty of snow, ice skating, and walking amongst the pine trees. While visiting Shimla, you should definitely visit Narkanda as well, which is just a two hours' journey from Shimla. It boasts snow-covered mountains along with the beauty of winter sun making it a winter heaven. You can also go for skiing and hiking across the Shivalik ranges and visit apple orchards as additional activities.
Great Rann of Kutch, Gujarat
The world's biggest salt desert – Rann of Kutch extending 7,505 square miles in the Thar Desert is visited by lakhs of tourists almost every year to observe the silvery vastness of the tranquil salt sand under the full moon night. Isn't that just magical? Rann of Kutch is also exclusively famous for its Kutch festival, known as 'Rann Utsav' which is held from November-February. Starting from traditional dishes, shopping, handicrafts, art, folk dances and cultural performances to star gazing, desert expedition and so on, this festival offers a load of treasures for everyone to explore. Not to mention staying in the tents on the outskirts of the Dhordo village which adds to the appealing experience.
Gulmarg, Jammu & Kashmir
Gulmarg remains enchanted throughout the year, but its charisma becomes more divine when winter approaches. With snows blanketing the entire town in white, magnificent snow-covered mountaintops, ice-covered lagoons, trees covered with ice and snow-coated scenery make Gulmarg a perfect skiing ground in winters. Most of the tourists visit this place for fun activities in snow like snowboarding, skiing, and trekking. Visitors can also enjoy the bird's-eye view of this winter paradise by the famous cable car, which is another major tourist attraction.