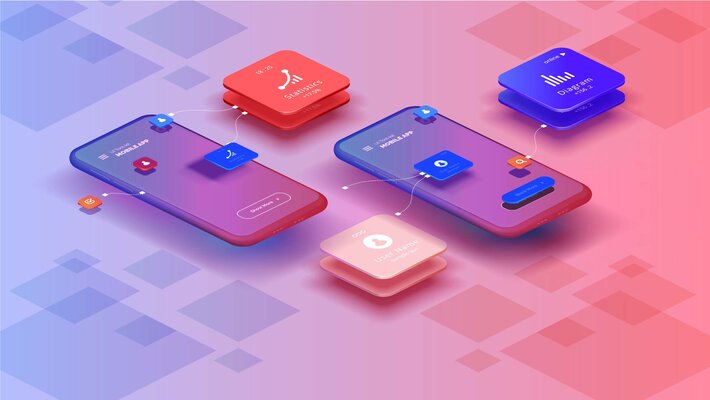 User Interface (UI) plays a major role when it comes to boosting the traction of a website and in doing so, enhancing their conversion rates. According to a recent statistics a well-designed UI can improve the conversion rates of a website by up to 200 percent. While at the same time a poorly designed UI can have an adverse impact on a brand within a short span of time. Toptal, a global remote company that offers a freelancing platform which connects business organizations with designers, project managers, and software engineers in a study found that over 85 percent of people will not come back to a site if they had a negative experience especially when it comes to poorly constructed UI and bad UX. At the same time, 80 percent of internet users say that they are willing to pay extra if they get a good user-friendly design interface and an overall better user experience. With UI designs being such an important facet when it comes to website development, it is essential to know more about some of the best UI design tools and in this article, we will look at five of them.
Sketch
This vector graphics editor is a great tool for drawing, and prototyping. Aside from that, Sketch is a great one stop solution provider when it comes to enabling the developer to bring life to the user interface designs. It also allows for wire framing, and design handoff and this strong yet agile UX and UI platform allows for collaborative design. And over the years, Sketch has garnered a reputation for being an industry-standard design tool that is suitable for both beginners as well as experts. One of the biggest caveats of this design tool is that it is only compatible on the macOS. Keeping that aside, Sketch enables the designers to create a flexible design as it allows Boolean operations that are editable. Other than that, some of the other unique facets of Sketch are that it provides an infinite design canvas that includes customizable grids, simple yet effective resizing tools and OpenType fonts all of which is crucial to make a great UI.
For those who are interested in using this UI design tool, there is a 30 day free trial after which the paid plan is: USD 9 for one editor for a month and USD 99 for an editor for a year if you pay in advance.
Adobe XD
One of the most popular vector-based UI design tool is Adobe XD and this is a great option for those designers who are looking for prototyping and collaborative design. Yet another all-encompassing design tool, Adobe XD is packed with a multitude of intuitive features that makes this a go-to tool for many designers. And as it is powerful and fast, Adobe XD is a great UI design tool option to take you from early ideation till the end as it will offer a seamless experience throughout the design process. Adobe XD stands out from the rest in the market as it is capable of offering drag-and-drop editor tool that is vector based which has unlimited art boards. This coupled with the impressive animations, and ready-made contents or UI kits for Google material design and Apple design to name a few makes, Adobe XD an appealing option for most designers. This design tool also has the capability to offer unique features such as 3D Transforms, voice prototyping, video and Lottie playback, and motion effects which make it an ideal design choice to make true to life prototypes.
There is a XD starter plan which is available for free for those who are interested in trying out Adobe XD. Apart from that, in order to enjoy the full functionality of Adobe XD, there is a USD 9.99 per month option as well.
UXPin
Yet another popular UI design tool for both new and veteran designers is UXPin and this is also an end to end design platform that is highly capable. One of the biggest advantages of UXPin is that it can even be used by people who don't have great coding skills to create polished and interactive prototypes. Those who are familiar with Photoshop can easily navigate through the UXPin interface and this design tool comes with myriad of ready to use design components. Also, another perk of using UXPin is the fact that it is compatible with both Windows, and Mac. It also has in-built libraries of colors, icons as well as other interactive elements for Google Material Design and iOS. UXPin enables downloadable design specs as well as a hassle-free developer handoff as well.
When it comes to pricing, for up to two prototypes, designers can use the limited version of the tool. If you want to get better functionality of UXPin, then there are three options, basic plan, advanced plan, and professional plan each costing USD 19, USD 29, and USD 69 for one editor per month respectively.
Marvel
With wireframing, prototyping, and handoff for design specs, Marvel is a unique UI design tool that enables even beginners to create great UIs. This coupled with its, engaging, and user-friendly platform makes it a great tool that helps new designers to come up with great results. This web-based design tool which works in the browser allows the designer to do their work without having to install or download any software as well. Also, staying true to the theme of streamlining, Marvel was built to create simple designs quickly and it enables the designers to integrate with other popular design tools, which is an added advantage. Apart from this, some of the other advantages of using Marvel are that, it allows the designer to use drag and drop templates, it has an impressive array of ready-made icons, and assets, and it also has an in-built user testing functionality.
For one project, designers can use Marvel free of cost but if you want a better full-fledged option, there is a Pro plan with costs EUR 9 per month for one user and a Team plan that costs EUR 27 a month which can be accessed by more than three users.
Figma
When someone searches the best UI design tools, then Figma will be on almost all the lists. This browser-based design tool prioritizes on offering a user-friendly interface that can help the designer to make fast designs and prototypes that are polished. Figma also enables a collaborative workflow and like some of the afore-mentioned tools, this vector graphics editor helps the designer starting from the initial ideation phase up till the creation of an interactive prototype. Some of the other key features of Figma include a unique pen tool that enables the designers to draw regardless of the direction with Vector Networks, an easy responsive design, a plethora of readymade assets, and code snippets for Android and iOS. Another key thing to note is that, if you are someone who is interested in trying out Figma, then make sure to give FigJam a go. FigJam is an innovative online whiteboard tool that encourages collaborative design ideation and it is also a great platform to do brainstorming sessions.
The option for 3 Figma files, 3 FigJam files, as well as unlimited collaborators is an attractive free plan that this UI design tool offers to the designers. But for better functionality and unlimited files, the Professional plan is the one to choose which costs USD 12 per editor for one month. Apart from that, Figma also offers a USD 45 per editor for one month Organizational plan.
These afore-mentioned UI design tools allow the designers to bring life to their design ideas by offering them the needed features, digital assets and computational power. At the same time, in order to help designers remove the clutter and streamline the design operations, these tools offer a simple yet effective and user-friendly interface. This coupled with the fact that, all of these top-notch UI design tools come at a cheap price makes these accessible to both new designers and seasoned veterans.