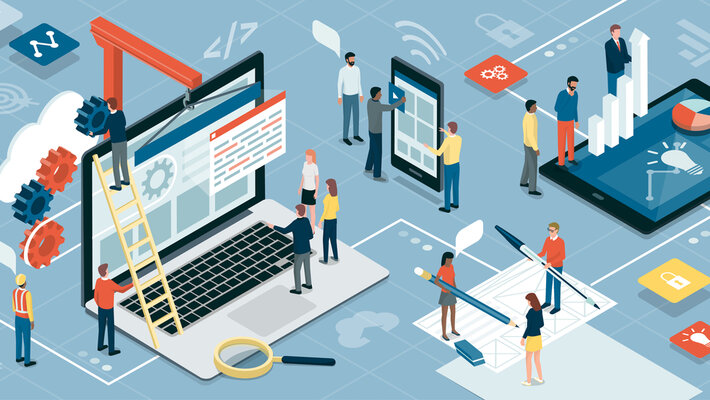 Collaborative efforts include not just the use of common methods, but also the coordination of activities and the combining of minds in order to achieve common objectives. Nevertheless, working together is a significant responsibility that requires a large number of employees and financial resources in the traditional company environment. Below we have compiled a list of the top tools for entrepreneurs to work together. Businesses on low budgets might benefit from these solutions that provide just the most essential features. There are many collaboration tools out there, but they can be effective in the hands of a skilled people.
1. Slack –
The global reach of Slack is undeniable, with millions of consumers across the world. It's a cutting-edge platform that's available on both mobile and desktop. You may send files and messages directly to a person or a group of people, and you can structure discussions into systems. Using the collaboration software start-ups can even make video calls. You don't have to enter everything into a message when you utilize this tool to discuss projects and collaborate with your colleagues in detail. Although this isn't a substitute for online collaboration tools, Slack allows you to drag, drop, and exchange files directly with your co-workers. A number of cloud storage solutions are also functional with it.
2. Asana –
Asana is a best collaboration tool for start-ups, since it is basic and easy to use. Project-based work is at the core of Asana. You may choose between a grid view, a board view, or a calendar view to see the assignments connected with a project. In addition to creating sections inside projects, you can also use this feature to further arrange your work. Considerably larger, more complex tasks that demand a certain process are best served by this tool. Slack, Gmail, Google Drive, and many more popular applications can all be integrated with Asana, and it can be accessed using a web browser, but it also has a mobile app that provides real-time updates and alerts.
3. Monday.com –
Monday.com is a popular collaboration and communication platform for project management teams. All project information may be synchronized in one spot, allowing both clients and members of the project team to make better decisions. The method may streamline contributions to enhance departmental and team performance. It collects and presents project progress data in a way that all users can comprehend, businesses may also benefit from incentives that make it easier for employees to carry out their specific responsibilities. Monday's user interface is meant to facilitate teamwork and the app's simplicity eliminates necessity user training, allowing it to be used immediately after installation.
4. Canva –
When it comes to free web-based creation tools, Canva is head and shoulders above the rest. From infographics to fliers, ebooks, and social media postings, you can do it all with one tool. You don't even need to know how to design. Anyone, even those who aren't artistically inclined, may create stunning graphics with Canva's many templates. You may also use their extensive library of graphic components and stock images to enhance your work.
5. Hive –
Teams of any size may utilize Hive, a cloud-based collaboration platform. Task management, file sharing, and chat are just a few of the services included and the tasks may be created and organized by any member of the project team using the platform. To include attachments and show labels and deadlines, these tasks may be altered. Timelines and workloads may be adjusted as the project moves along. Individual tasks may also be planned using Gantt charts. Files can be accessed from a single dashboard that interfaces with Box, Google Drive, and Dropbox, by attaching files to actions or dragging and dropping them into messages, files may be shared with other users.