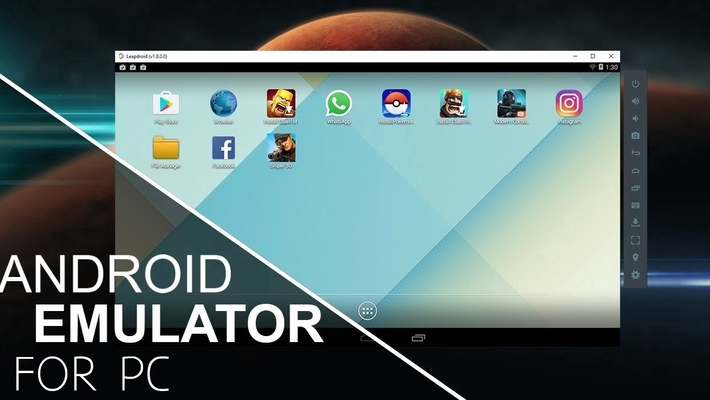 You may have seen that nowadays, people have started using the Android games and application on their PC devices. Well, this is only possible thanks to the Android emulators. The APK file for any Android devices is not capable of running on the PC devices on its own. Hence, we make use of the Android emulators to run the APK file in it.
Android games getting more popular than any other games, even pc game developers also started to make mobile versions for their games. So called gamers are usually play on pc or Xbox or playsation portals only, they are not willing to adopt for the new environments and some people are looking for bigger screens than the mobile and tablet screen's. For those enthusiasts there are emulators which run android apps perfectly on the pc.
In this article we can see the top emulators for the pc to play android games.
Its s the most common emulator we can see on the internet or anyone tells us. Yes it is a good emulator with compatible for 2 GB ram pc also and also gives us customization options.
We just need a pc with 2 GB ram, minimum windows 7 or later that's it. After getting multiple updates, finally, Bluestack becomes a lightweight Android emulator that can play games like PUBG Mobile.
Nox App Player is like the older brother of MEmu Player because this Android emulator has a similar interface with MEmu Player. Not only that, but Nox App Player also has an advanced setting so you can play any games smoothly if tweak it right!
MEmu Player is a lightweight Android emulator for low-end PC that can play new games smoothly. This emulator has an advanced setting enabling you to make changes to your MEmu player can run games smoothly.
Some of you might be familiar with GameLoop. GameLoop is the latest emulator from Tencent gaming Buddy that can run PUBG Mobile and other games smoothly. PUBG Mobile and other games like Free Fire ca also played in this emulator. Most of the heavy games can be played smoothly in this player.
If you wanted to play a Chinese Android game that's not yet released for global, then you can try this lightweight Android emulator called MuMu Play because this emulator can run games from China region smoothly. If there's a new game that's yet to be released on global, it's best if you play it with MuMu Play on your PC!, Try it for once it will be fun to play those games which are different in language and funny sounds of those words.
This Android emulator is mostly for developers. It lets you test your apps on a variety of devices without owning them. You can configure the emulator for a variety of devices with various versions of Android to help suit your needs. For instance, you can run a Nexus One with Android 4.2 or a Nexus 6 with Android 6.0. You can easily switch between virtual devices at will. It's not great for consumer uses, but Genymotion does offer their services for free for personal use. It's most useful feature is its availability on both your desktop computer and the cloud. Those without powerful computers can make Genymotion's servers do all the work for them.
LDplayer
It is an Android emulator focusing on gaming performance. Running Android Nougat 7.1, it features the usual array of gamer-oriented features, including good keyboard mapping controls, multi-instance, macros, high FPS, and graphical support.
These are the latest emulators I tried personally that's why am recommending this apps, every application need minimum windows 7 operating system to use.
Here are some more emulators android-x86, bliss os, droid4x,Leapdroid, phoenix os, prime os, and Remix os player.