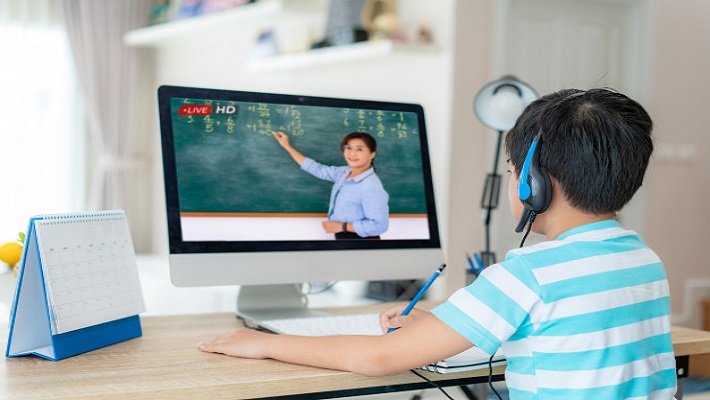 The covid-19 pandemic had raised a huge wave of revolution in education platforms, from dusty classrooms and blackboards and old overhead projectors to learning through phones, television and other electronic gadgets. Electronic devices which once were considered Taboo in schools now became a major platform for learning. With corona pandemic numerous small and big learning aps mushroomed over the platform making India the second-largest market for e-learning after U.S. E-learning market is expected to reach $275 billion by 2022.
Many factors like internet speed, the popularity of digital devices, its affordable rate, ability to integrate audio, video, images and graphics into the study making it more easier to grasp are some factors due to which e-learning became popular all over the world. Artificial intelligence and cloud computing are other core reasons for the growth of e-learning.
Earlier only corporate used e-learning to train their employees before joining the company. This was because they could save their time and money. Also there were some universities providing distance education and online courses. But with the advent of technology such as data analytics and cloud computing e-learning is now available for every school kid. We could find numerous applications that provide online classes. Covid -19 increased its pace of growth by replacing classrooms completely with online classes.
There are different types of e-learning methods used by the companies, some of them are
LMS (Learning Management system)
LMS is a software application that is used to provide online training. There are several different types of LMSs that you can choose from, such as cloud-based, open-source, commercial, and installation-based.
SCORM
Scorm helps in a more interactive and engaging experience. For learning Scorm there should be a Scorm compliant LMS. Due to this using Scorm adds an extra expense to the user.
xAPI
xAPI is a new version of Scorm. It overcomes many disadvantages of Scorm and provides a better platform for e-learning.
Today e-learning apps are there to make the learning process easier for all-aged kids. According to a latest report, the Indian e-learning market size was USD247 million, comprising 1.6 million users in 2016. It is expected that the current user base will grow at 44 percent CAGR to 9.6 million users by 2021. But with the rise of corona pandemic e-learning industry has witnessed exponential growth which outnumbered all predictions. Now it is expected to grow $ 275 at 2022.
It works by storing data, classes or seminars in the cloud so that anyone could access it from anywhere. E-learning can also be used to find the academic interests of students using AI. This is done by telling a story to students. The AI will save the questions or doubts children had after hearing a story. Students are also asked some questions. These answers of these questions could reveal the interests of kids and their talents.
Also it can increase the interests of kids by making them learn through games. Providing visualization of lessons as movies or animated stories would interest them and help them to remember concepts. Same way teaching subjects like mathematics through games will also help in the development of logical thinking.
Near future of online learning could be automatic learning.
For example if you want to catch a ball and you are not good at catching it then find someone who is good at catching ball. Find out what is going inside their brain at that time and record it in FMRI machine and now you get the program to catch the ball. Now you enter into FMRI machine and try to copy the program the pro-ball catching imaginary that had been done earlier in to your head then your brain becomes familiar with the patterns. Which is called learning. This may sound like science fiction but it will be possible in near future.