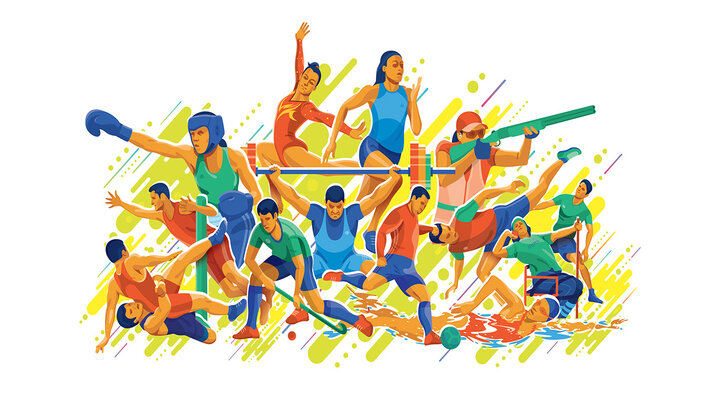 Earlier this year, Union Home Minister Amit Shah said that the central government is aiming to make India a sporting nation. And the goal of the government is to rank India amongst the top five sporting countries in the world by 2047. He also added that sporting initiatives like Khelo India University Games which saw the participation of 3000 plus athletes from more than 200 universities across the country is aimed at assisting the country in its pursuit to be a top sporting nation. The Minister went on to say that the government is investing heavily on improving sports in the country through a myriad of activities. And the efforts put in by the government are showing results as India is winning many medals both in the Olympics and Paralympics.
That said, many still have genuine concerns regarding the model of sports governance in the country with multiple allegations surfacing relating to nepotism, and unaccountability among many others. With the Indian sports landscape at a crossroads let's analyze how India can become a sporting nation.
Training the Coaches should be a Top Priority
Lack of qualified expert coaches is a major concern which is hindering the growth of sports in India. And this has led to many Indian sports teams and athletes failing to consistently compete with the best in the world and produce positive results. Without the help and mentoring from technically adept coaches, it is hard to succeed in the global stage and not having enough good coaches can also adversely impact the talent pipeline in the country. Only a talented coach can identify individuals with an innate talent for a particular sport and help them nurture that talent to reach greater heights. These coaches will be able to identify and point out the strong points and weaknesses of each individual player. If they don't get this guidance from a young age, it would be hard for them to acquire even the most basic and essential skills in a particular sport.
Administrators of clubs and schools should ensure that the coaches they have are given regular training and they are equipped with both the technical and sports-related skills to identify and nurture talent. What India needs is educational programs such as the Master of Science in Athletic Administration or MAA program from Ohio University. And not only is this an online program but it is also tailor made for individuals who are currently working as teachers, coaches or even athletic professionals. This program prepares the learners for interscholastic athletics departments. It also helps them to develop programs that will provide a more supportive experience for both student-athletes and staff. Not only will similar programs help coaches in India to upgrade their skills and by doing so, help more students but having these certificate programs will also help them to advance their careers as well.
Personal Development Pathway (PDP) and its Importance
This is one of the essential facets of a sports development program but in India, only a few schools and coaching centers give ample importance to PDP. This process involves testing the skills of children, providing them training as well as match practice sessions. And as this is an important process in identifying and developing players to the next level, if an institute doesn't have an effective PDP program, then it will be hard for them to identify and nurture sports professionals. A PDP program also plays a crucial role in identifying the young talents at the club level and preparing them for the next step in their sports career. And as this is a regular process, it forces coaches to keep data of every student so that they can come up with personalized training programs aimed at each individual's development.
A PDP model India can follow is one that is adopted by the Football Association of Ireland (FAI). To get into Europe's elite, the FAI knew that they had to make drastic changes and it all started with the formation of the Technical Advisory Group which brought together experts from various sectors of football to create a Player Development Plan. The primary goal of this group was to nurture better football players in the country. And from the very beginning itself, the team set out to create a philosophy that will be player-focused. For inspiration, they looked at what some of the other top countries in Europe were following in terms of player development. And the Technical Advisory Group fully acknowledged the fact that for their plans to succeed, they need the complete support of the entire football community in the country. In order to increase their standards, the group focused on introducing uniform playing and coaching style. Also, workshops are conducted to ensure that parents will have a good relationship with the coaches so that they can nurture better young players.
Introducing Technology into Player Development
Over the last couple of decades, sports technology has come a long way. Gone are the days when sports training required extensive paper work and laborious data collection methods which at times weren't even accurate. Then, the athlete and trainer would have to go through the collected information and graphs to identify their strong points and weaknesses. Now, technology is allowing athletes to substantially increase their potential by helping them track their performance in real-time, perfecting their movements, and eliminating injuries. One innovative sports technology is smart clothing which are active wear that have sensing fibers woven in. This can help trainers measure the performance of the athlete and collect a myriad of data including heart and breathing rate, hydration and even body temperature.
And these individual metrics can help the trainers to get a better understanding of each individual athlete which will help them in coming up with customized training programs. Mounir Zok who holds the office of Director, Technology and Innovation for the US Olympic Committee believe that technology has developed into such a degree that it has created a digital code for winning the gold medal. And if India wants to improve their performance in international competitions, incorporating more technology in the training and player development programs can help a lot.
While increasing investments in improving the sports infrastructure of the country is a welcoming sign which showcases the clear intent of the government to develop sports in India, the lack of proper planning and foresight can hinder its growth potential. And if India is going to rank amongst the top 5 sporting countries in the world by 2047, many things need to change and major improvements should happen especially in the afore-mentioned areas.