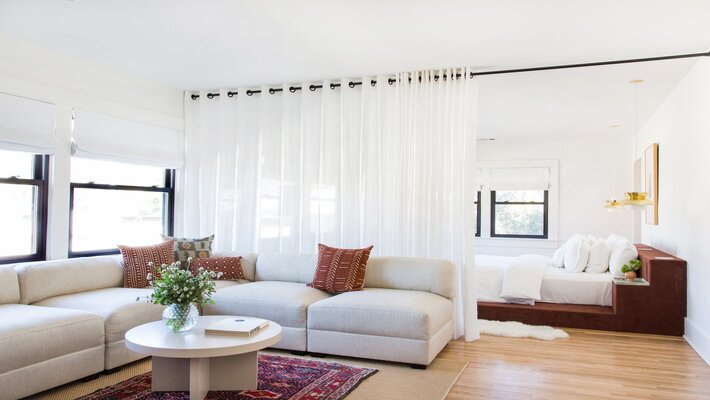 Getting a personal apartment as soon as you move out is dream of many adults. It doesn't matter whether you rent it or purchase it as full-time investment, having a cozy nest all to yourself is something we all have dreamt in our lives. Much more than just the combination of walls and furniture which, our apartments or homes define who we are as an individual. Although its not a new concept to look for interior designers but that will be someone else designing dreams for you. By taking few tips from here and there, not only you would be able to model your cozy and comfortable apartment but also gain a lot of appreciation amongst your friend circle.
Here are some tips that will help you plan the interior of your apartment:
1. Choose Apt Colors and Patterns:
Colors and patterns can certainly amplify an area. Choose your colours wisely and try to maintain consistency by aligning similar shades or themes of patterns in each room. Make sure that the colours are neither too dull or nor too bright as they can create an impact over your mind. While deciding go for soothing colours which instil peace and calmness. While painting white walls or using other light colours can make a room feel bigger, using dark colours can have a retreating effect.
2. Proper Utilization of Space:
Living in a small apartment, space carries utmost importance. Starting from the alignment of furniture to creating storage areas, make sure there is space for you and you are not feeling crowded. The major thing which defines a better furniture is legs and you should go for furniture pieces that have attractive and significant legs. Legs give an extended look to the
---
By lessening the amount of confusion or chaos in your space, you can enhance your ways to use it and emphasise more on your apartment decorations.
---
beholders beyond the furniture's body instead of coming to a halt at its base, unlike the furniture with low-to-the ground base. Use of glass or mirrored tables can give a completely new outlook to the furniture and prevent them from feeling too heavy or clumsy in smaller spaces. Similarly, while choosing a bed, go for one the ones with shorter legs or even which levels with the ground to make the ceiling feel higher. Beds that are upheld up on high legs can consume the room in half and make the onlooker feel that the most of the space has been utilized. Implementing these ideas can make a small or studio apartment feel much larger.
3. Use of Modern Storage Ideas:
By ideally using the storage space there will be a lot of room for your other necessities. By using foldaway furniture, stackable storages, unseen vaults, stylish shelves, not only you can keep your things out of sight but also in a neat, organized and exclusively attractive way. By lessening the amount of confusion or chaos in your space, you can enhance your ways to use it and emphasise more on your apartment decorations.
4. Use of Accessories:
Use of accessories such as rugs, mirrors, photo frames, wall hangings can give a customized look to the room. You can also use plants as decorative items which will not only give your apartment a natural outlook but also add charm. Use of boho or Arabian items to decorate rooms are currently in trends and you can find most of these amazing stuffs online as well. Framing photos of family members and putting them in hall can not only add calmness to your homesick soul but also make your apartment feel like home.