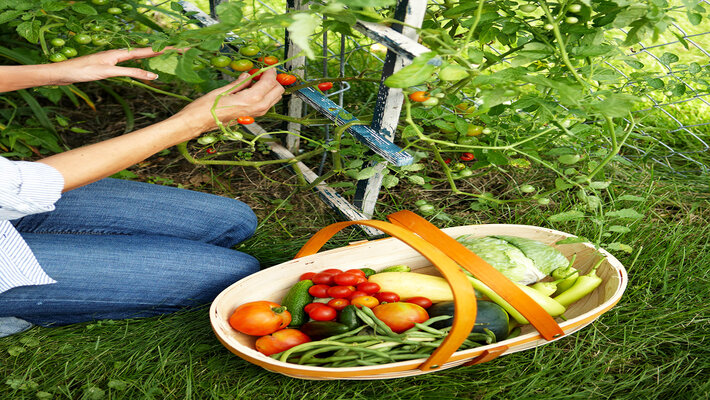 A blooming kitchen garden is the dream of many. As a place to grow your choicest vegetables, kitchen gardens can supply the the freshest ingredients for your home-made recipes, directly from your own backyard. Homegrown fruits and vegetables are not only extremely delicious but also have a higher nutritional value than the harvests produced in a bulk with the help of many unnecessary chemical fertilizers to speed-up their growth. With an exceptionally thriving kitchen garden, you can even cut down on your grocery bills. Amidst the rising popularity kitchen garden, there has been a significant rise of sales of vegetable seeds of fruits and vegetables rather than flowers.
This article focuses on some tips to create a kitchen garden to cultivate nutritious, home-based harvests.
1. Abundant Sunlight
The most significant constituent for growing eatable plants is sunlight. As each plant converts solar energy into nutrition for us via its leaves and fruits, therefore, sunlight is an absolutely necessary factor for kitchen garden. The spot most preferable for growing veggies is the one that gets maximum sunlight for the longest duration. Observe which particular area or space gets the maximum sunlight and its flow as well as consistency from morning till the sun sets. That place can around your kitchen, a small balcony, a window grill or even in the living room. Sometimes sunlight stay on the wall for a long time, and in cases like this, a vertical herb garden is preferable.
2. Proper Container
Apart from a spot, one of the most important things about growing vegetables is the container you choose to grow them in. You can cultivate edible plants in almost any type of containers starting from used old bottles, tetra packs, beautiful metallic, ceramic or wooden pots to mount on walls or to hang as window boxes. While you can choose anything as per your preference and according to the space that you have selected to start your kitchen garden in, the shapes and size of the container should be adequate for the growth of specific plant. While your imagination will play a major role in making your garden interesting and you will be surprised how well your kitchen garden turns out once it starts growing. Make sure that the container is not holding water within it and allowing the flow of water, as stagnant water can damage the plants.
3. Know Your Soil
Once you have selected your sunny spots and chosen your pots and plants, finding the apt soil which will support the growth and nourishment of your plants is the next big thing. These days, numerous nurseries are vending convenient and ready-made mixture of soil along with the necessary ingredients such as organic fertilisers. However, the most suitable way to analyze the good soil is to ask a gardening enthusiast in your neighbourhood or purchase a book with relevant information in it. After getting the right soil, ensure that the soil is permitting the water to flow through it and not preserving it somehow because too much of water can affect the roots. If possible, have a pack of organic fertiliser to sprinkle in the pot and restore the fertility of the soil every month or so.
4. Seeds and Saplings
Now that you have selected your place and prepared your pots with right kind of soil, the next big thing is to start growing. The best source to find seeds and sapling is again your friendly neighbourhood or any gardening enthusiasts you know, as you might not find very good seeds in the market. You can do some research and collect some specific seeds from either fruits or vegetables by yourselves also. Make sure that the seeds you are getting are of good quality as they will be deciding the quality of the crops grown by you.