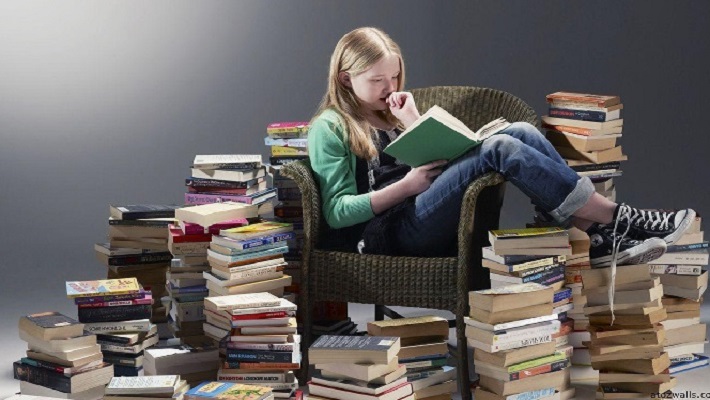 Reading books are vital for the overall development of a child. Reading helps in developing a child's imaginations emotions and social and cultural awareness. With the advent of technology children opting for reading are sporadic. But Reading plays a major role in the overall development of a child. According to a recent survey, 92% of kids in India read books for fun and 30 % claim they are good readers and 32% are frequent readers. This is a good signal. It shows that technology hasn't taken over reading. Everyone has their own interests. Children at each age should be provided with books that interest them at that particular age.
George Bernard Shaw once said, "Make it a rule never to give a child a book you would not read yourself."
Children at different ages like different types of books. Kids aged 6-8 years like to read comic tales or fairytales or tales that make them laugh. Children of this age mainly choose a book with pictures as they like to read what they see. Children from age 9-11 like the books that tell true stories. Kids aged 12-14 years want books that are little scary, adventurous or mysterious. Kids between 15-17 years want books involving smart and brave characters that are not realistic. Also the interests can vary according to various people. The survey also found that girls are more likely to choose reading as a hobby when compared to boys.
Reading is a habit that can be grown in children from an early stage of their life. Reading stories from books and playing the characters live to childer and making different sounds daily before going to sleep will increase their liking towards books so that they start reading once they become capable. Then according to their age, their interests will also change.
Let's see some of the popular children's books that worth reading.
Adventures Of Tom Sawyer
The adventures of Tom Sawyer is an 1876 novel by Mark Twain. It is about a boy living in rural America of 19th century. The novel takes us back through time. It is set in the town St. Peter's berg on the banks of the Mississippi river, where Mark Twain lived as a boy. The childhood life of the boy is filled with many adventures along with his friend Huckleberry Finn.
The Complete Hans Christian Andersen Fairy Tales
This book was written by Hans Christian Andersen in 1993 and consists of 159 stories. Each story in the book contains a moral and is loved by readers of all ages all over the world.
Tale Of Peter Rabbit
The tale of Peter Rabbit is an original classic by Beatrix Potter. The Tale of Peter Rabbit was first published by Frederick Warne in 1902 and endures as Beatrix Potter's most popular and well-loved tale. The main moral of Peter Rabbit is that you will reap what you sow. Peter Rabbit was told by his mother not to go to McGregor's garden but she disobeys her mother and finally pays for what he has done.
The Little Prince The Little Prince written by Antoine de Saint Exupery in 1943 tells the story of a boy, the little prince, who travels all over the universe. It describes the story of the boy traveling from planet to planet which is populated by a single adult. The novel has been transformed into hundred languages and sold out around 200 million copies. It is one of the best sellers in the world.
The Chronicles Of Narnia
It is a series of fantasy novels written by British author C.S Lewis. Published in London between 1950 and 1956. It is about a magical world called Narnia and three children unfolding mysteries of this world. It consists of a series of seven books. The lion, the witch and the wardrobe (1950), Prince Caspian(1951), The Voyage Of The Dawn Treader (1952), The Silver Chair (1953), The Horse And His Boy (1954), The Magician's Nephew (1955 ) and The Last Battle (1956).
The Black Beauty
The Black Beauty written by Anna Sewell is the first major animal story in the children's book. Story is about a black horse in the house of farmer Grey. The story is taking place in 19th century England and involves the life and adventure of the horse.