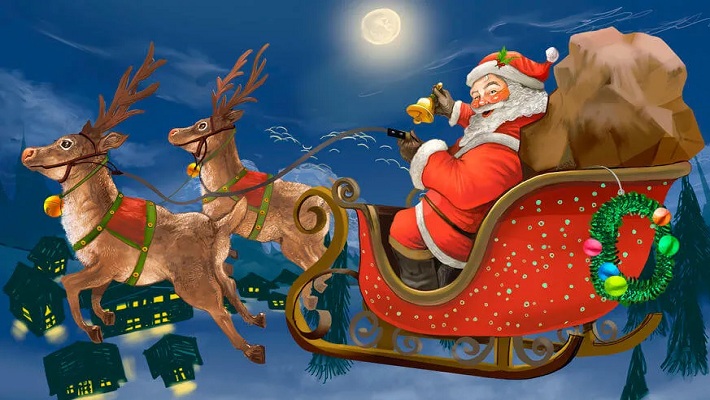 The most beautiful time of year arrives. Every year, for a few weeks, it looks like the world is filled with magic, people are happier, and even the cold is comforting. What better way to add tradition and charm to your celebration than visiting a charming Christmas market? So gather your most fabulous scarves and gloves, pack your bags, and board a plane to these joyous events.
Sweden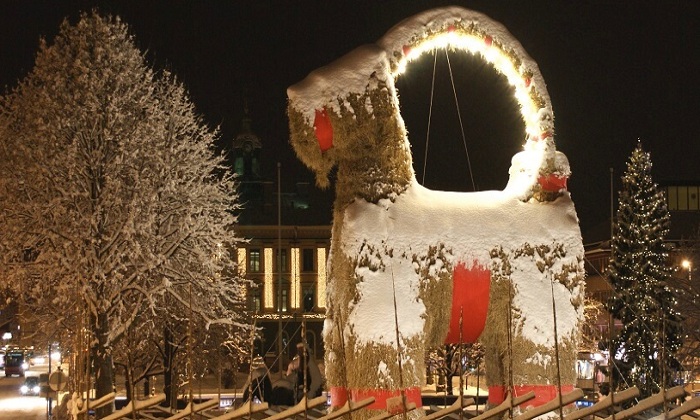 If you're fortunate enough to experience it for yourself, Christmas in Sweden is a fantastic experience. Christmas is a big deal in Sweden, and many families spend the entire year arranging the festivities. The Yule Goat has been a part of Swedish Christmas traditions since the early days of paganism. However, in 1966, an enormous straw goat known as the Gavle Goat was created, giving the customer a new lease on life. It measures more than 42 feet in height, 23 feet in width, and 3.6 tonnes in weight. The enormous goat is built in the exact location each year. From the first Sunday in Advent until after the New Year, when it is taken down, viewers can even watch a live stream.
Stortorget julmarknad, the annual Christmas market at the city's central square, is ideally situated in Stockholm's Old Town center. Try some typical Christmas fares from Sweden, such as pepparkakor (gingersnaps), saffransbullar (saffron buns), and some local specialties like elk, smoked sausages, and reindeer.
Poland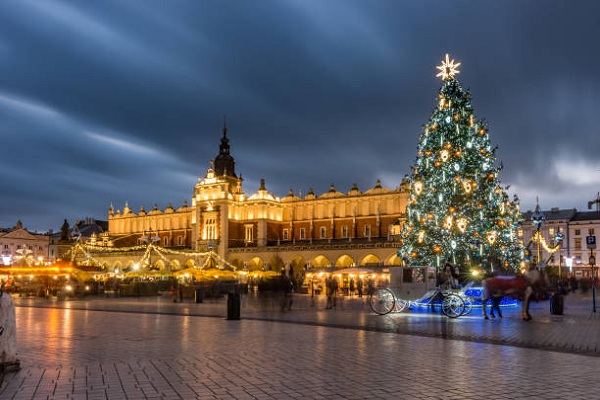 Christmas Eve is an important and busy day in Poland, a predominantly catholic nation. It's currently frequently considered more effective than Christmas. Christmas Eve is known as Wigilia (pronounced vee-GHEE-lee-uh).
The first star in the night sky may signal the start of dinner, and customarily, a spare place setting is left at the table in case an unexpected guest shows up. Eating "barszcz," or beetroot soup, is required, which is one of the most important dishes. You can substitute eating mushroom soup if you detest it! The barszcz can be paired with "uszka," which are little dumplings stuffed with mushrooms, or "krokiety," which are pancakes covered in mushrooms or/and cabbage and fried in oil or butter.
Netherlands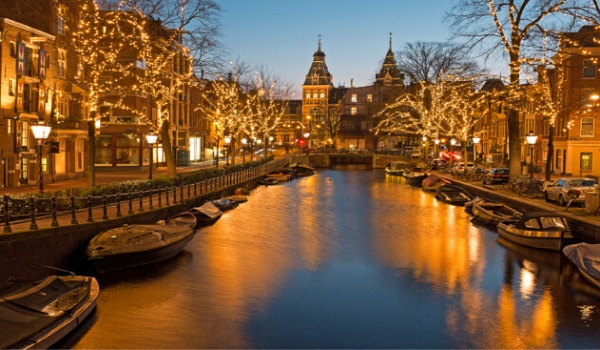 Sinterklass travels with servants he refers to as "Zwarte Pieten" or "Sooty Pieten". The nearby churches are joyous as Sinterklaas, and the Piet family arrive off the steamboat. Riding a white horse, Sinterklaas leads a procession through the town while wearing his red robes. Every municipality in The Netherlands has a few Sinterklaas volunteers who assist in distributing gifts and are dressed identically to Sinterklaas and the Piets.
Children sing Sinterklaas songs and leave a shoe out by the fireplace or perhaps a windowsill the night before Sinterklaas visits The Netherlands. They anticipate seeing Sinterklaas deliver some gifts during the night. They also think they'll get candy or a minor miracle if they put some carrots and hay in their shoes for Sinterklaas's horse.
Germany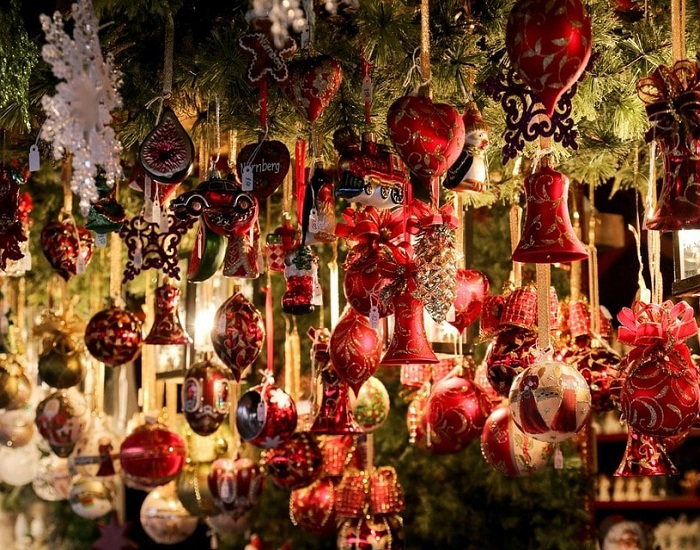 Children in Hamburg and throughout Germany put their shoes by the front door or fireplace on December 5 evening. The following morning, they should discover that Nikolaus has filled their shoes with overnight gifts and sweets. But everything isn't always a game. St. Nick frequently transports Knecht Ruprecht (Farmhand Rupert). Knecht Ruprecht is a devil-like figure with a scruffy beard, dark bell-adorned clothing, and a stick or little whip in hand. He uses it to discipline misbehaving kids.
The Christmas market in Nuremberg has been there since the 17th century and is one of the biggest in Germany, with 180 red-and-white striped kiosks centered around the main square in the old town. In Nuremberg, they've changed things up a bit and offer blueberry mulled wine, Heidelbeer Glühwein, and a variety of traditional treats like the Nürnberger Lebkuchen (chocolate-covered gingerbread) and the legendary Nuremberg grilled sausages; small sausages served several at a time.
Denmark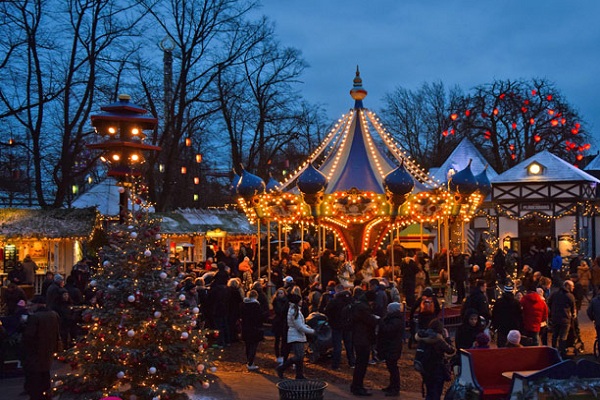 Copenhagen's annual Christmas market is hosted in the Tivoli Gardens, the second-oldest amusement park in the world, elevating the Danish notion of "hygge" to new heights. On Christmas Eve, at 4 pm, many people in Denmark attend church services to hear the Christmas sermon. Giving animals a treat on Christmas Eve is another long-standing habit, so some people go for a stroll in the park or woods while bringing along some food for the animals and birds. You may even stroll to work up an appetite for the holiday feast.
Grab a glass of glogg (mulled wine) and peruse the quaint shops selling handmade goods before picking up some aebleskiver (pancake puffs) dusted with jam and sugar to round out the experience. Before you finish with a ride on The Star Flyer, an 80m tall swing-ride that gives panoramic views of Copenhagen, save space for Tivoli's roast pork sandwich with red cabbage.
Philippines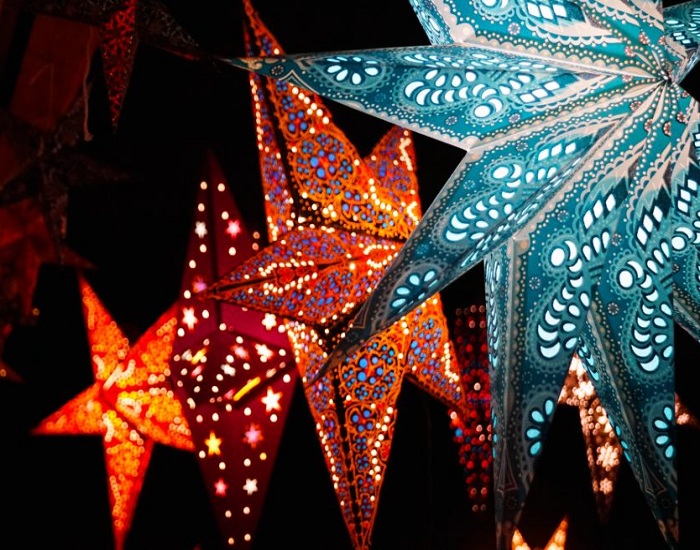 The "Christmas Capital of the Philippines," San Fernando, hosts the Giant Lantern Festival (Ligligan Parul Sampernandu) on the Saturday before Christmas Eve every year. The "parol," a bamboo pole or frame with a lit star lantern atop it, is one of their unique Christmas customs. The lanterns, constructed from various materials, have gotten to be about six meters in height. Electric lamps that dazzle in different patterns shine on them to provide illumination.
The Noche Buena is a significant open house event. Lechon (roasted pig), ham, fruit salad, rice cakes (bibingka and puto bumbong are traditional Christmas delicacies), various desserts, steaming rice, and a variety of beverages are typically on the table in most homes.
Norway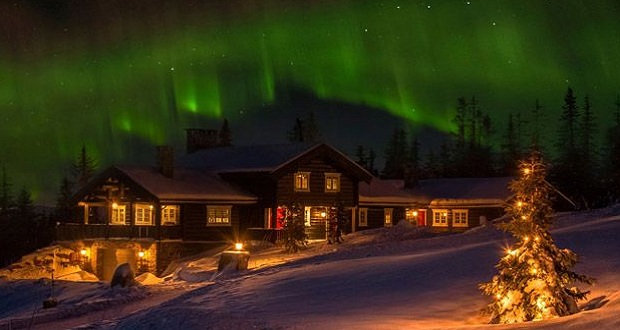 Most people outside of Norway believe Christmastime in this country must be magical, with holiday markets, abundant snow, vibrant lights, and reindeer ambling around the streets. Children take the Christmas presents out from under the tree and read the cards on them aloud. Sometimes, Santa Claus, known in Norway as "Julenissen," brings gifts. Also getting gifts are the little gnomes known as "Nisse." Additionally, there are Nisse (hobgoblins) decorations.
Small paper baskets called "Julekurver," which are shaped like hearts, are a typical Norwegian Christmas tree adornment. The Christmas delicacy known as ribbe, which is basically seasoned pork belly, may be the most popular. It is typically served with potatoes and sauerkraut and redcurrant sauce (finely chopped white or red cabbage boiled with caraway seeds and vinegar).