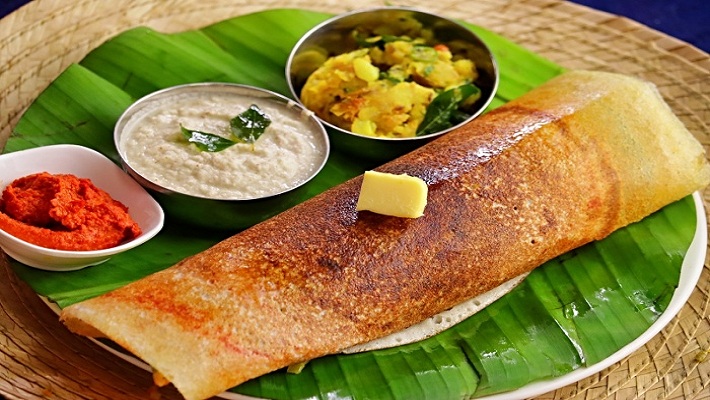 Dosa is a versatile dish from the amalgamation of rice and dal when ground into a paste and spread over the hot pan, making it every South Indian's favorite breakfast dish.
Over the years, the dosa has gone through various makeovers, like by adding aloo subzi it became masala dosa when bottle guard palya was added it became Sagu masala dosa, and the smearing of red chili-garlic chutney in dosa with aloo palya it came to be known as Mysore Masala Dosa. These are still acceptable to a certain extent but experiments or fusion bizarre with ingredients that are meant for something else.
Here are 7 such bizarre dosa which became viral over the internet and caught the attention of netizens.

Viewer Discretion Advised!
Fire Fruit Dosa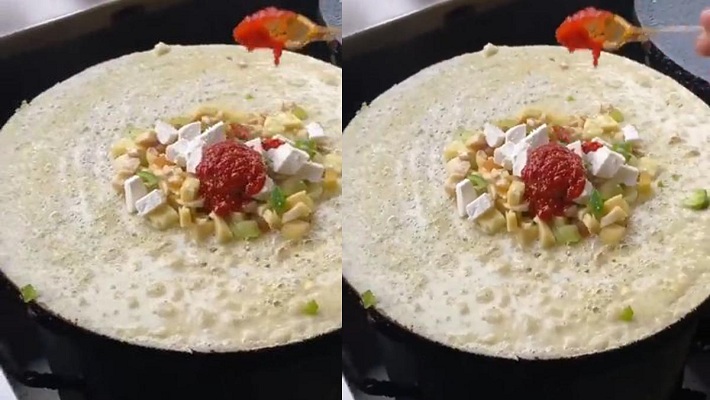 Our parents always emphasize over intake of fruits in our diet because they are healthy, but the same fruits become pathetic when roasted with dosa. Ayyer Ji Dosa Wale in Geeta Colony in Delhi made such dosa with apples, grapes, raisins, bananas, and whatnot.
Ice Cream Dosa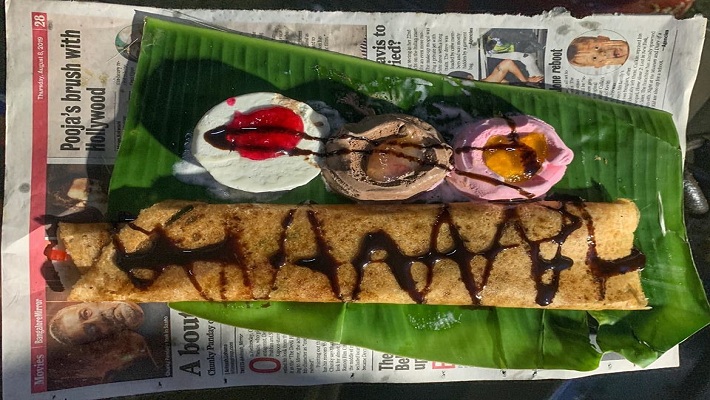 When it comes to ice cream, the child within every adult craves it. What happens when your favorite ice cream is served with dosa? It is weird, right? Amarnath Chats in Jayanagar, Bengaluru does that. Vanilla, strawberry, and chocolate ice creams are served along with dosa, and its heavy demand. God save the stomach.
Chocolate Dosa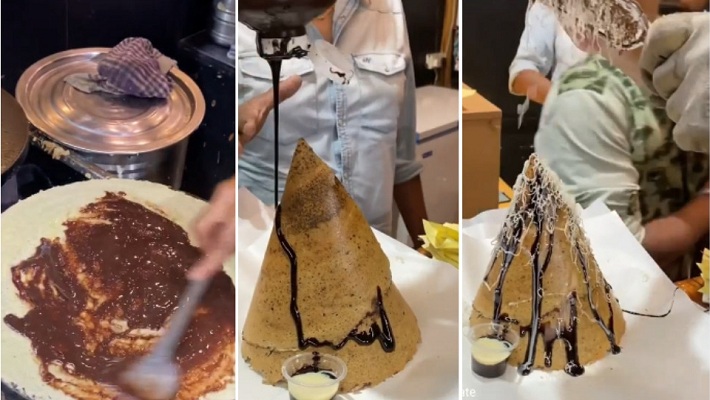 You might have gifted chocolate to someone special in your life, it has become an integral part of sweets that are gifted during the festival. As human nature is to experiment, one such experiment is done with chocolate and dosa. Idli Street, Arundelpet, Guntur, Andhra Pradesh
Jini Dosa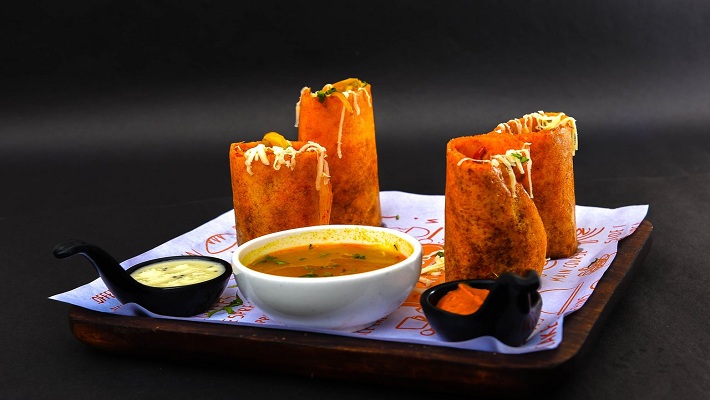 Mumbai is known for its street food. We all have loved Mumbai's Pav bhaji and Pani puri. Originating in Ghatkopar, Mumbai, the bhaji is added in dosa and rolled into small pieces and called Jini means small in Gujarati, and loaded with cheese on top. Hence have the dosa called Jini Dosa.
Dilkhush Dosa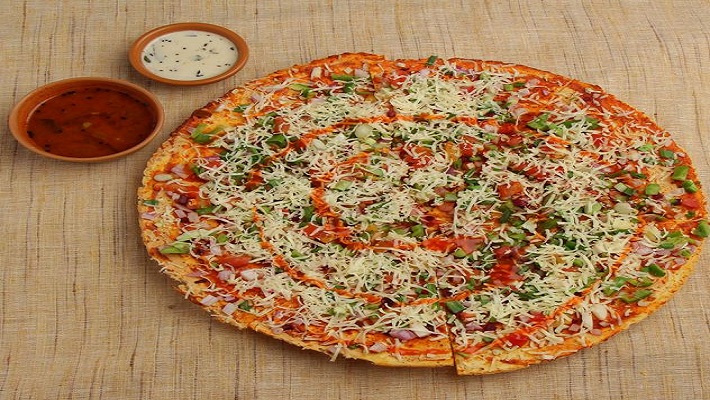 Another experimental dosa came from the streets of Mumbai is Dilkush Dosa. Dosa with different vegetables is still good, but then came a man making dosa with a filling comprising cheese, cherries, vegetables, grated paneer, and dry fruits such as cashew nuts, almonds, and raisins and named it Dilkhush Dosa.
Noodle Dosa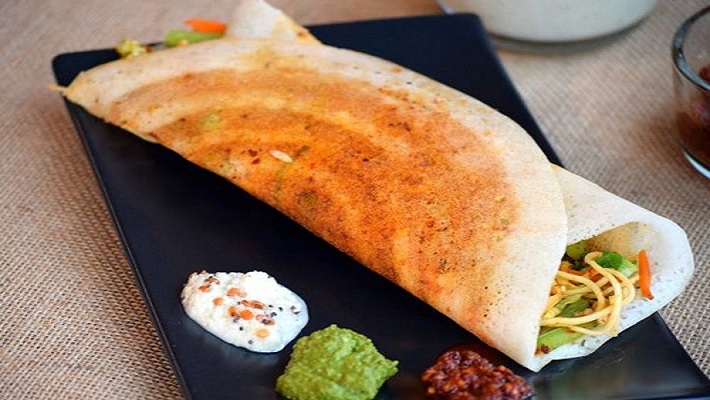 We all love Chinese food, wok-tossed noodles are something we cherish a lot. What happens when two different cuisines are engaged? Dosa Aunty, JC Road added noodles stuffing to the dosa and invented Noodles dosa.
Oreo Dosa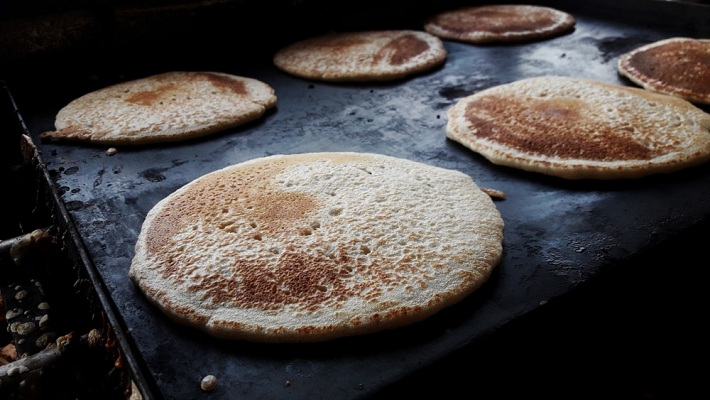 "Phele Twist Karo, fir Lick Karo, fir Dunk Karo" GenZ's and Milk's favorite cookie" Oreo is a sensation in the Indian market, from Milkshake to cheesecake, Oreo is used widely, But who thought it can be added into dosa!!!, shocking right… Namdu Dosa in Mumbai experimented with Oreo and added it into the dosa.
These are personal views, there are people who hate such experiments, and some love them. Taste is Subjective and it's the choice of individuals what they want to savor. PERIOD.