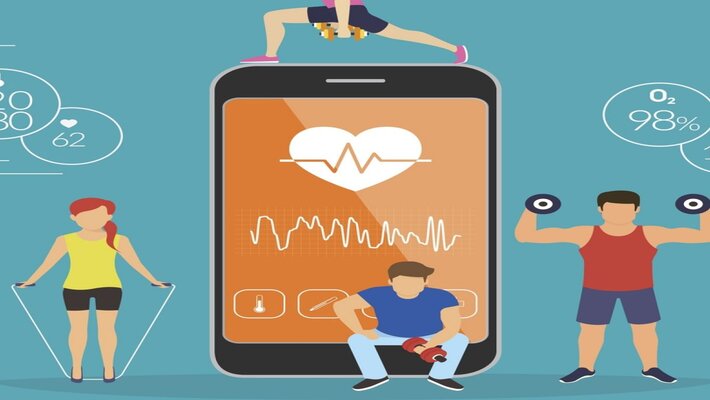 Individuals' daily lives have transformed as a result of technological advancements, which have drastically altered the way people live and conduct business. The usage of mobile applications is, of course, one of the most recent developments and important resources in this area. Many things are made better and easier by technology. There is no exemption when it comes to health and fitness. Apps and smartphones have become an important part of today's culture, and their simplicity of use and useful features have taken over everyone's life. We can set and maintain wellness objectives with the help of health and fitness apps powered by adaptable innovation and mobile technology. These health and fitness coach apps let users do a variety of things on one platform, such as track their sleeping patterns or check their heart rates and give you the ability to take control of your body.
With the pandemic still hanging over our heads, many of us assume that doing out at home is still the safer alternative than going to a public gym. Furthermore, thanks to technological advancements, working out at home has become much easier, more pleasant, and more economical. The best health and fitness apps in India are listed here in our top five.
1. Home Workout - No Equipment –
You may exercise at home every day without using any equipment with the help of a Home Workout. They offer daily workout routines that target all of the major muscle groups. You can maintain your health and fitness at home without having to go to the gym if you use this training software. The workouts in this programme were created by experts, and you can also find warm-up routines, as well as informative videos and guidelines.
2. Fittr –
Fittr is one of the largest online community-driven health and fitness platforms in the world. It offers free diet and training tools, as well as thousands of healthy recipes, live fitness sessions with specialists, coach Q&A, and access to a 2-million-strong community of fitness professionals and fans. Fittr customers can access a library of over 150 fitness sessions guided by Fittr instructors at any time and work out. Users can also pay a nominal fee to receive customized nutrition and exercise regimens. Fittr has recently added online personal training sessions to its service. These might be one-on-one or group sessions that allow you to exercise with your pals. Yoga, bodyweight exercises, and resistance band activities are included in beginner, intermediate, and advanced workout sessions.
We can set and maintain wellness objectives with the help of health and fitness apps powered by adaptable innovation and mobile technology
3. Keelo –
Keelo is a popular workout software for people who want to do high-intensity strength and conditioning workouts. It offers a full-body training regimen that incorporates cardio, strength, and conditioning into a single workout. Users can also get customized workout plans through the app. This app can be used at home or the gym. It has both free and paid features. By subscribing, you can gain access to the premium features. It's compatible with both Android and iOS devices.
4. Women Workouts at Home –
This app was created specifically to meet the health and fitness demands of women who work from home. It provides a wide variety of full-body body-weight workouts. These workouts are available in the form of animation or videos, as well as recommendations from trainers, and they cater to the demands of both beginners and experts.
5. Sworkit –
Sworkit is a famous fitness app that provides high-quality workouts and training on the move. Sworkit has been used by many people to get gym-like training at home or wherever they are. It aids in the restoration of health, fitness, and weight loss. It can be linked to Google Fit, so it keeps track of your activity and the calories you burn.