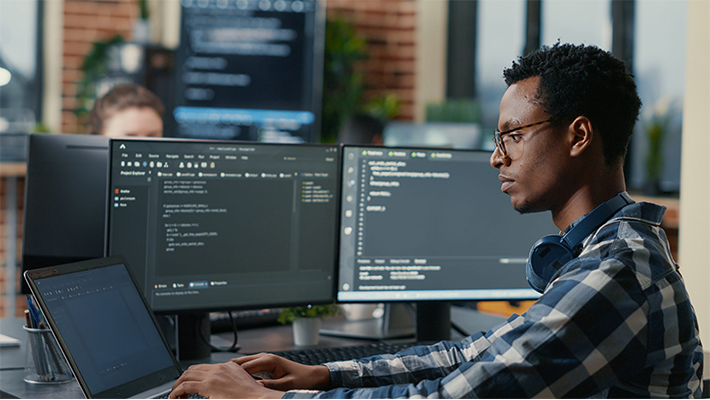 A full-stack developer is one of the most sought-after professions these days. With rapidly changing technology, web developers are emerging as dark horses of the race. Be it big or small, every organization wants to adapt to technological changes and have a more professional approach. As a result, web development is emerging as a lucrative career. But still, there is a misconception about the various roles that the developers play. With organizations wanting to hire these professionals there is still confusion between a web developer and a full stack developer. To understand the role and responsibilities of a Full Stack Developer first we need to understand the difference.
With the above chart, you can clearly understand the difference and it clearly indicates what makes Full stack developers one of the highly demanded resources in an organization. These are individuals who can do both front-end and back-end tasks. Considered as all-rounders in the webspace With adept knowledge of multiple languages like HTML, Java, CSS, and various other tools they can work right from the concept to the end product. Through this blog, one can get a fair idea of the role that a Full stack Java Developer plays in an organization.
The Role of a Full-stack Java Developer
While the responsibilities vary from organization to organization, we list down some of the key responsibility areas that they need to fill in:
Build innovative and appealing products or apps that meet client expectations. Innovation is the key over here. It is not just about the features but also the overall look and feel that makes end consumers happy
Must have the ability to work on APIs, databases, servers, and third-party applications.
Think out of the box and give suggestions time and again to improve the product as per the need
Ensures product optimization when it comes to performance along with the expertise to maintain scalability and stability
Well versed and aware of the trending tools, frameworks, designs, and applications that will give optimum output
Should be able to fix bugs and errors during testing phases
Leads a team and defines the product roadmap and ensures performance enhancement
Creates products that are not restricted to one platform and can run on multiple spaces
Organizations have realized that hiring a Full Stack developer is an advantage as they are like the one-man army who can finish the product independently and can multi-task with front end and back end work. As per the data shared by Evans Data Group – since 2019 there have been 23 million developers around the world and by 2023 it would reach 27.7 million. These figures themselves indicate the growing demand for developers. It is the attributes like versatility, experience, multi-tasking, problem-solving skills, and accountability, that make them the ideal resource for your project. So if you are passionate about web development then Full Stack Developer is the best career option that will make you one of the most desired professionals across various sectors.
Register now
https://bit.ly/3QlZevx in Advanced Certification Program in Java Full Stack Development (with 110% Job Guarantee)