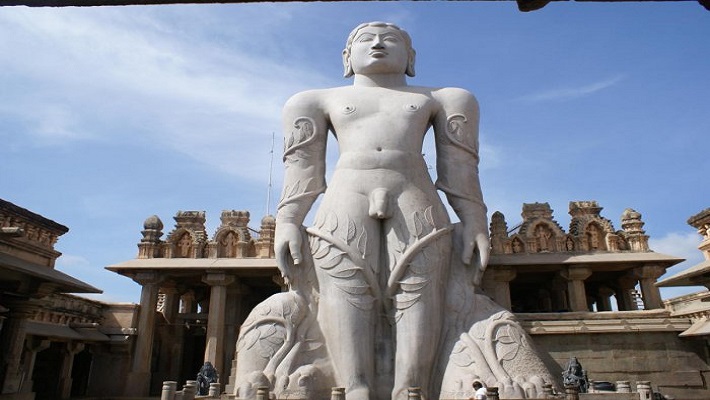 Once in lifetime visit, Shravana belagola. For the first time visitors it is exploring and mesmerising place to drop in. Most of us would have sure shortly heard of Gommoteshwara, also known as "Gommata City" but may not have visited the place. And also would have heard of Mahamastabhisheka happening once in 12 years. Then why not explore and fulfil the mesmerising beautiful scenes and enjoy the natures abundant beauty.
Location:
A remarkable prominent place to be visited in Hassan district in the Indian state of Karnataka which is 144 km from Bangalore. The Gommateshwara Bahubali statue at Shravanabelagola is one of the most important tirthas (pilgrimage destinations) in Jainism. But it is interesting to note that it is located at an easy stretch of about an 2-3 hours travel from Bengaluru.
It must be one of the have to be visited place in your travel list. To travel to this place it would be great to explore, rejoice and travel in teams. It would rather be similar to a mountain hike up to the temple, climbing the steep steps bare footed. Best suggestion goes as to visit the place early morning to avoid scorching hot sun to climb the steps to reach Gommata temple. The best time to visit this destination would be during the winter season (December - March).
Overview:
This holy place is spread over two hills, Chandragiri and Vindyagiri, and also among the villages at the foothills. The hills in Shravana belagola are a testimony to beautiful temples, Basadis and historical monuments.
Shravanabelagola is not only of archeological importance but also one of the important pilgrimage places for Jains. Pay your obeisance to Lord Bahubali who stands all 58 feet tall. This is the largest monolithic statue in the world. Walk around the temple and notice beautiful sculptures depicting the cross of cultures in medieval India. Enjoy the panoramic view of Shravanabelagola town and the fields surrounding the hill.
Arriving at Shravanabelagola one can see huge statue from far away. This makes you more curious to watch it rather at its closest and experience the sculptures everlasting beauty, which makes everyone stunned, rising your head to capture the complete image and adorn complete silence.
The barefoot walk uphill is something pleasant and remarking as we go up at higher altitudes experiencing the fresh breeze and enjoying the landscape surrounded all the way. Up the hill we get to see amazing view of the town and also the " belagola" white pond. A days travel can begin by climbing the steep hills of Vindyagiri to reach the iconic statue Gommoteshwara and attain tranquillity.
History:
Let's have an insight into history of this place, this image of Bahubali was created during the period of Chamundaraya, a minister of the Ganga King Rajamalla between 982 and 983 CE. The eyes of the statue are open as if viewing with work without any detachment. The statue has an anthill behind, representing Gomatha's long penance. Creeper emerges from the anthill adorning his legs and arms. The entire figure stands on an open lotus.
On either side of Bahubali, two standing figures of Chauri bearers called Yaksha and Yakshi appear in his service. There is a large pillared mandapa around the statue which has 43 carved images of Jain Tirthankaras. Gangaraja, a general of Hoysala king Vishnuvardhana has erected these mandapas. The bottom part of the statue has Kannada inscriptions. The main temple is surrounded by a large outer wall that has carved images of Jain figures, Monkeys, Lion, Fishes, Cow, and female figures carved all along the wall.
The name itself seems to be interesting to know what does Shravanbelagola mean. Shravanabelagola "White Pond of the Shravana" is named with reference to the massive image of Gommaṭa.
Main Attractions:
1. Gomateshwara Temple:
It is one among the prime places to visit in Shravanabelagola. The temple is built on top of a Vindhyagiri Hill at an altitude of 3347 feet. A flight of 620 steps provides access to this temple from the entrance near the pond.
The 58-feet tall monolithic statue of Gommateshwara located on Vindyagiri Hill. Climbing the steep steps feels never ending and little tiring too, but the curiousness to see the statue awakens your mind and pushes you over towards moving forward and ultimately reaching the statue, the main temple premises.
Shravanabelagola, nestled by the Vindhyagiri and Chandragiri Hills, protected by the monolith Bhagwan Bahubali, and home to over 2,300 years of Jain heritage, is a veritable picture postcard of our history and heritage spanning the centuries.
2. Mahamastakabhisheka:
The world's largest monolithic statue undergoes Mahamastakabhisheka, every twelve years, thousands of devotees congregate here to perform the Mahamastakabhisheka, a spectacular ceremony in which the statue is anointed with Water, Turmeric, Rice flour, Sugar cane juice, Sandalwood paste, saffron, and gold and silver flowers.
One interesting fact to know it is considered as the first of the Seven Wonders of India based on Times of India readers votes.
Added attraction:
On the other hand, we can accomplish few benefits, visiting this place, it makes you afresh with cool breeze and calmness spread across. While travelling to this destination you will notice tall coconut trees which is something more nice and its storage racks (cages) which seems to be overwhelming and charming to see.
The route to this small city captures your interest towards the agricultural lands full of coconut plantations, which seems to provide wide differences to bangaloreans over the side where every day they would have lasted in witnessing the concrete structures and other bizarre. Which makes this an recommended visit towards an happy and healthy weekend to rejoice with the nature.
So, this could be an breathtaking place to be visited by an travel freak and good weekend visit to enhance connectivity with the nature and enjoy its existence. However, it would also serve as an weekend destination to family outings at an accessible stretch to cover it in a day's time. Then it's the time to surpass all and make plans to visit an historic and fruitful location. Plan according and take a tour and feel blessed having visited such immense destinations such as the iconic statue of giant Bahubali- Shravanabelagola.