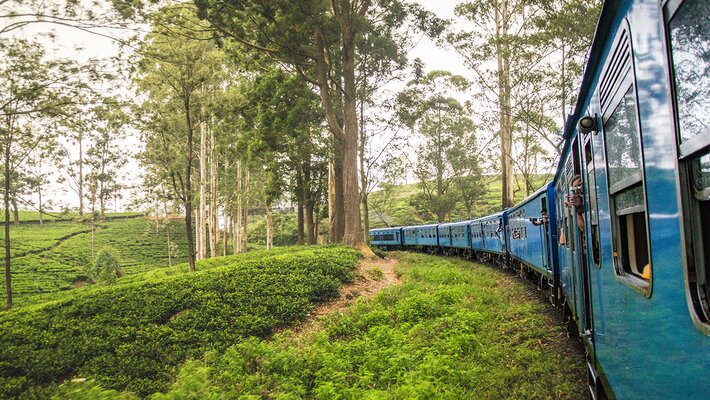 Train journeys can be hectic but nothing can beat a scenic train journey and the pleasure it can bring to its passengers. Starting from lavish tea plantations to snow-capped mountains, India is full of beautiful train routes that viewers can enjoy. Theses train rides across India are guaranteed to please every passenger and have gained a lot of prominence as the most scenic train routes of India. Indian Rail Journeys can be ecstatic too, if you know the best places to travel by train. This article focuses on some of the best train journeys in India that wanderlust passenger can enjoy for scenic beauty.
Vasco Da Gama – Londa Route
Going through beach towns, past frothy waterfalls, dense forests, mysterious tunnels and lush green fields, the rail journey across the Vasco Da Gama – Londa Route takes its passengers through some of the greatest and finest places of the Konkan Coast and the Western Ghats Mountains. The train also takes its passengers through one of India's tallest and most picturesque waterfalls, Dudhsagar which is situated at the border of Goa and Karnataka.
Kashmir Valley Railways
Promising an incredible ride through the snow-covered mountains of northernmost India, the Kashmir Valley Railways is believed to be one of the most special rail journeys of India that one shouldn't miss. Passing through 20 major tunnels and 158 bridges through the Jammu–Udhampur route, Kashmir Valley can promise passengers with some of the breath-taking views of rivers, valleys, mountains and forests. Another rail-route, the Qazigund-Srinagar-Baramulla goes through snowy valleys and steep mountains that gives the passengers with some of the beautiful glimpses of Kashmir's most beautiful peaks.
Guwahati-Lumding-Silchar Train Route
Rising through the plush green tea fields of Assam the Guwahati-Lumding-Silchar rail route goes past rivers and valleys of unimaginable beauty and provides some exclusively memorable experience. Covered by outlines of distant hills, the tea fields of Assam do not just form a pretty sight for viewers but also distributes a distinct aroma to the air, making the ride almost satisfying with its beauty and fragrance.
Darjeeling Toy Train
A World Heritage Site, Darjeeling's famous toy train is India's oldest mountain railway route. Starting from New Jalpaiguri this train passes through tea fields, steep mountains and dense forests and on a sunny day, travellers can catch the sight of the tip of Mt. Kanchenjunga. Gradually making its identity renowned as one of the city's most attractive hilly stretches, and the toy train experience shouldn't be missed by any travellers.
Nilgiri Mountain Railway
Built in 1908, Nilgiri mountain railway track ranges from Mettupalayam to Ooty in Tamil Nadu and passes through 16 tunnels as well as across 250 bridges in the Nilgiri mountain ranges. Said to have the steepest rail track in Asia Nilgiri mountain railway route offers some of the most picturesque views such as dense and hilly forests, tea gardens, rocky hills, steep cliffs and all sorts of stunning natural views. This historic rail route has recently been marked as a World Heritage Site.
Jaipur – Jaisalmer Rail Route
Passing through the dry desert of Thar in Rajasthan, the Jaipur to Jaisalmer rail route is nothing but a magical experience for passengers. It promises the view of far-stretched desert, wandering camels, mud huts in the villages. With clear and open skies form views during this scenic ride, this route connects two of Rajasthan's most historic cities.