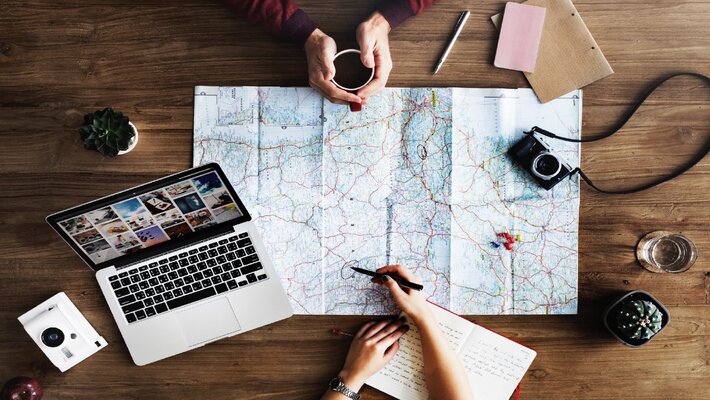 Travel means different things for different people. For some it is a way for them to escape the monotony of their lives while for some others, it is a necessity as part of your profession. With that said, however you look at it, the fact of the matter is that, there are certain things that we all get through travelling. It can be tangible or intangible and, on some occasions, it can be both.
The rapid penetration of technology has impacted almost all the avenues of a persons' life. This is the same for travel as well. Technology in travel has had a lasting impact on a person's travel experience and the latest technology in tourism industry is helping both travelers as well as the tourism industry in general to make the various parts of traveling less of a hassle. So, in this article, we will take a closer look at how one can leverage technology to have a better travel experience.
1. Booking Tickets:
One of the most notable advantages that the advancements of technology have made in the travel industry is giving the ability for travelers to book their tickets in advance. This has brought in revolutionary changes to the travel and tourism industry with more people getting interested in travel owing to the fact that booking tickets has become hassle free. All this has helped travelers a lot and going forward many are expecting further improvements in this arena.
2. Arranging the Accommodations:
This is yet another aspect that many would agree has seen massive improvement with the advent of modern-day technology. While previously, the process of arranging for accommodations might be a hassle, like many other things, the rapid penetration of technology has seen many welcoming changes. And as mentioned before, this is yet another aspect that many believe
3. Travel Research:
Travel research is one aspect of traveling that many travelers overlooked for many years. And for some, this has proved to be a damaging miss. With internet we have information we need at our fingertip. With the recent advancements in technology, it is important that you at least do some basic research on the places that you travel. This will help you in different ways including, showing you some tips that could make your travel hassle free, things that you as a traveler should know before traveling especially to a foreign country.
4. Building Itinerary:
Building itinerary is also something that many travelers don't give ample importance to. If you are traveling to a foreign country and if it is a long journey, then building an itinerary can come in handy. So, make sure that you make the best opportunity of the given technology and prepare a well thought-off itinerary that can help you to have a better travel experience as a whole. Preparing a detailed itinerary might also help you to avoid any unnecessary issues along the way and make it easier for you to enjoy the travel even more and make memorable moments.
5. Staying Connected:
Many would say, the advancements in technology has been the biggest when it comes to keeping in touch with your loved ones while traveling. With a plethora of social media apps, it is now very easy for someone to be connected with others even when they are traveling foreign countries. With that said, it is important to know that, if you are traveling to remote locations or never-before explored areas, it might be hard for you to get proper networks to stay connected with the rest of the world.
These are some of the major facets that make technology a great tool for travelers to improve their overall travel experience.