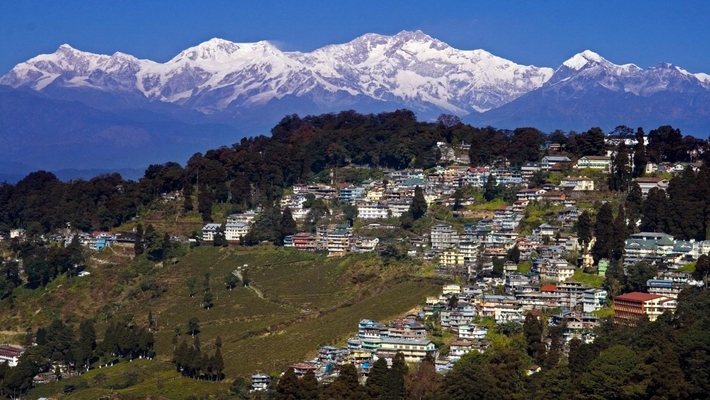 Darjeeling is often referred to as the "Queen of the Hills" due to its mesmerizing beauty. It falls under the state of West Bengal and is stationed at an elevation of about 6,700 feet. Darjeeling has been historically known as one of the most beautiful places that one should at least visit once in their lifetime.
Darjeeling is also famous for its tea industry as some of the world's finest tea leaves are exported from here in the international market. It is also said that the view of Kangchenjunga (the world's third-highest mountain) from Darjeeling during the time of sunrise is the best moment one can capture/witness in their whole lifetime. Hence, just to see the glance of the sun rising on the horizon of the Himalayan Mountains, millions of people from all across the world visits Darjeeling annually.
Furthermore, Darjeeling has also been famous for its 'Toy Train' which is a UNESCO World Heritage Site and falls under the Himalayan Railway division. Connecting the town with the plains, Darjeeling Himalayan Railway still has some of the few steam locomotives that are still in service in India today. Hence, Darjeeling has always been one of the most popular tourist destination in India. Darjeeling also enjoys a partial autonomous status called Gorkhaland Territorial Administration.
A Splendid History
If we look back in the recorded history, Darjeeling came into existence in the early 19th century when British Administration established a military depot and sanatorium in the region. Prior to the colonization of British, the hilly area around Darjeeling was said to be controlled by the Kingdom of Sikkim with few villages of the Kirati and Lepcha people. Soon after, tea plantations were carried out extensively due to the favourable condition of Darjeeling. Darjeeling tea has been internationally recognized, wherein, its black tea is among the most popular tea varieties in the world.
Mesmerising attractions of Darjeeling
Despite the hot and humid weather of India, Darjeeling has one of the best climate conditions with a mixture of splendid tea gardens on rolling mountain slopes, delectable traditional cuisines, and meandering toy train rides through the picturesque city.
If you happen to visit Darjeeling, you should definitely visit places such as botanical gardens, a zoo, monasteries, Darjeeling-Rangeet Valley, and also take a ride in the longest Asian cable car called 'Ropeway'.