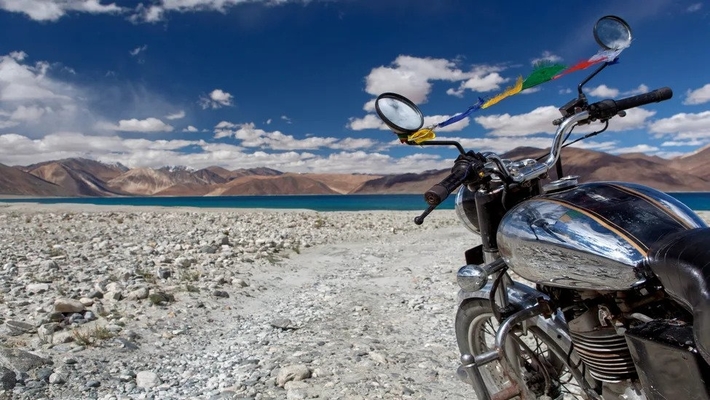 Say what you may, Leh Ladakh still stands on the top of every rider's bucket list. Its kind of a pilgrimage of the biking community- a biker's haven. Ladakh has always beckoned the spirit of a true biker, amateur as well as experienced kinds. There is something about a trip to Leh-Ladakh that gets adventure seekers excited and energized.
Maybe it's the magical mountain vibe or the sheer experience of the mystical roads that lead you to the destination. Ladakh has the highest motorable roads anywhere, a unique experience in itself. A bike trip to Ladakh is one of the most sought-after adventure experiences today.
Why is a Bike Trip to Ladakh so Popular?
Every biker will have a personal inspiration or a takeaway of their trip. We've listed the most likely reasons.
Power-packed adventure: You can camp, trek, ride and enjoy the rush of the challenging routes, all on your bike.
Camping in nature: The wilderness is all the more exotic with camping sites enroute that will fill you with a special sense of amazement.
Off the beaten path: There is no itinerary when you're on the road to Ladakh and the road itself is the destination.
Soul-searching: Solo bike trips are best experienced on a road as spectacular as the one to Ladakh. An opportunity to feel at one with yourself and nature.
Group trips: Biker gang, or a group of friends. This will be the most satisfying and enjoyable road trip you will take with your buddies.
Best Routes For A Bike Trip to Leh-Ladakh
There are two routes you can take for a bike trip. You can take the Srinagar route on your way to Leh and the Manali route on your way back (or vice versa). Those who do not belong to Delhi or Chandigarh and nearby cities, can get their bike shipped to Delhi and then undertake the expedition (recommended, unless you're really experienced).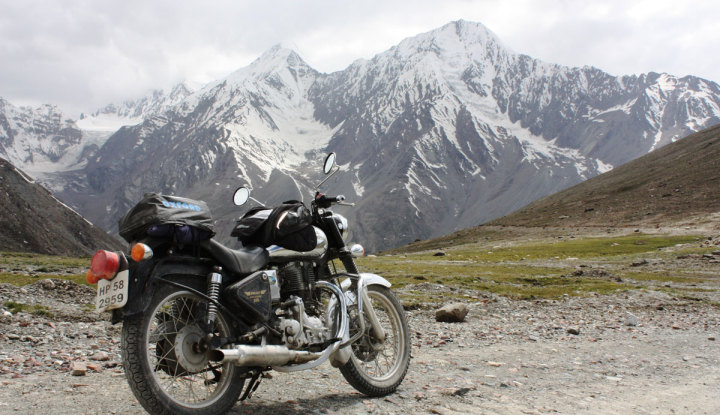 Srinagar-Leh Route: Upon crossing Jalandhar, this route passes through Srinagar, Sonmarg, Zozi La, Drass, Kargil, Mulbekh, Lamayuru, Saspol and then reaches Leh. The best spots to camp on this route are Drass and Kargil.
Manali-Leh Route: Upon crossing Manali, this route passes through Rohtang, Keylong, Jispa, Baralacha La, Sarchu and Gya. The best spots to camp on this route are Keylong, Jispa, and Sarchu.
Best Time To Take A Bike Trip To Leh-Ladakh
The routes are closed for around 6 months during the year due to heavy snowfall and landslides. Manali to Leh highway usually opens mid-May and takes time to clear off initially. It generally closes by end of September. Anytime between June to September would be a good time for this route. The Srinagar route also opens anytime between mid-May to June and closes in November. July to November is an ideal time for this route. Check online to find out the exact time the routes open and wait for a good two weeks for the roads to clear.
Cost
Fuel: Considering that your bike averages around 30 to 35 kms per liter, and the fact that the journey will be roughly across more than 3000 kilometers, fuel can cost anywhere between Rs.7000 (minimum) to Rs. 10000 (maximum).
Food: On a day, you could spend around Rs. 300 to Rs. 500 on your meals.
Stay: Accommodation options range from Rs. 1000 a day to Rs. 2500 a day.
Other expenses: Including permits and other miscellaneous expenses, keep a contingency expense of an extra Rs. 3000 to Rs. 5000.
Please note that the above does not include bike rentals. Those can range from Rs. 2000 per day to Rs. 4000 a day (rough estimate, actual prices may vary according to the renting vendor.)
How To Plan Your Bike Trip To Leh-Ladakh
Plan your route.
Get your Rohtang pass and other inner line permits online.
Get your bike properly serviced.
Book your Leh accommodation online after comparing tariffs.
Check road conditions online before taking off.
What To Carry On Your Bike Trip
Past Tandi on the Manali route, there are no gas stations, so be sure to fill up your tank in those areas.
Keep license & registration, PUC, permits as well as other photo id proofs ready.
Carry a printed route map.
Equipment
Chargers, power banks
First Aid Kit (with prescribed meds for AMS)
Rechargeable torches
GPS with a charger
Camera kit and gear
Swiss army knife
Bike Gear
Helmet with protective visor
Riding goggles
Riding gloves
Bandana/skull cap
Riding jacket with thermal inners
Sunscreen
Lip balm & moisturizer
Nylon rope & funnel
Spare tyre & puncture repair kit
Tips While Riding To Ladakh
Don't showboat or perform stunts on the road or over speed, especially on tricky patches.
Learn how to fix a flat tire if you don't already know how to.
Stay hydrated and take plenty of refreshment breaks.
Wear brightly colored clothing so you are visible from a distance to oncoming traffic.
Carry extra cash with you, for contingency's sake.
Best bikes for a Ladakh Trip
Any decent motorcycle in good shape should be able to make the journey though, the Royal Enfield seems to be the weapon of choice for most serious riders heading to Ladakh. But don't be discouraged if you don't have one as most of the smaller motorcycles have no trouble keeping up too.
Popular Bike Tours To Ladakh
Recently, there has been an upsurge in Ladakh biking tours, and ample of private organizers and adventure travel companies have started offering curated bike excursions to the land.
You can try and participate in one of those if you want a readymade biking experience without worrying about the extensive planning. Popular trip operators, facilitators, biker groups and organizers are Adventure Nation, Victorians, Himalayan Motor Bike, The Dream Riders Group, Classic Bike Adventure India, India Motor Bike Tours, 365 Hops, Himalayan Rider, Aspen Adventures, Adventure 365, among others.
Bike Rentals For Ladakh
For those who do not wish to get their bikes shipped, or don't have a bike of their own, find below renters online.
vargiskhan.com
bikerentalsmanali.com
wheelstreet.com
gobikes.com
stoneheadbikes.com
I think I got you all worked up to set out on this soul-searching trip. Don't stop the imaginations that are running through. Picture all the unexpectedly pleasant sights and surprises that you are bound to encounter on the bike trip of a lifetime. Bon Voyage!