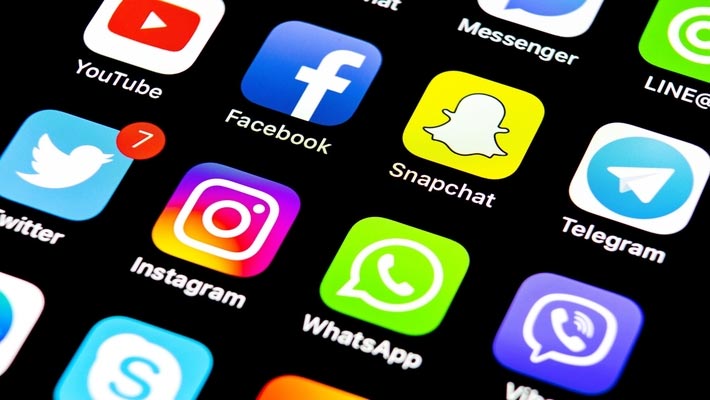 It's all about social media. When it comes to sharing moments of celebration, happiness, victory, or even sorrow, it all comes down to social media sites. Connecting people from all parts of the world, Social Media has been the most cherished computer-based technology. Not only this, social media is making businesses big through branding. Businesses are able to reach their targeted customers through social media channels and advertise their products on social media. Even jobs, services and lot more searching options are added to social media channels for better, easy and hassle-free life processes.
In this post, you will find the 7 biggest social media sites in 2020, some of which are familiar and some might not be familiar.
1. Facebook – Over the years, I've seen Facebook change its interface, develop new applications and becoming more user-friendly. Today, it is one of the cherished social media sites with 2+ billion users per month. Stats suggest it has 65+ million businesses (Facebook Pages) and 6+ million advertisers are constantly indulged in promoting their businesses on Facebook.
Facebook's latest format helps users to upload text, images, videos, live stories and stories. The developers have created an algorithm that pushes meaningful and interactive conversations between people - from friends and family mostly. Moreover, 94 percent of Facebook users have Facebook application in their mobile. The content is optimized based on this.
Founder – Mark Zuckerberg
Office Headquarters – Menlo Park, California
Year Founded – 2004
MAUs – 2.45 billion
2. YouTube – The second most application to which people stay engaged on their mobile is probably YouTube. YouTube channels have more than 20 billion views in a month! It is also a platform where most of the video advertising happens. Users enjoy the access to view, like, comment and sharing. The Google-owned social media site is the second-largest search engine after Google itself. YouTube SEO is helping in branding.
Founders - Steve Chen, Chad Hurley, and Jawed Karim
Office Headquarters - San Bruno, California
Year Founded – 2005
MAUs - 2 billion
3. Twitter – It's fun to tweet! Every interesting piece of news, story or live stories is just a '#' away in twitter. Twitter has 335+ million users per month. With its character limitation to 280 per story, it makes it more challenging to produce a good story, rather a breaking news type portion. It is also one of the few social media sites connecting general public with the ministries, government, and other privately owned businesses. Twitter Analytics shows how well a business is doing from time to time.
Founders - Dorsey, Noah Glass, Biz Stone, and Evan Williams
Office Headquarters - San Francisco, California
Year Founded – 2006
MAUs – 330 million
4. Instagram – Instagram has created 1+ billion users in a very short period of time. Sharing images on this platform helps creative talents showcase their creativity in short videos also. Today, Instagram has become a business influencer connecting B2B and customers' world.
Founders - Kevin Systrom
Office Headquarters - Menlo Park, California
Year Founded – 2010
MAUs – 1+ billion
5. Pinterest – A popular social bookmarking tool which saves idea and helps in generating creative thoughts. 'Do It Yourself', cooking, art, writing, in short it saves and discovers information around the world in GIFs and videos also. This social media site has 320 million active users and a site with women at a large audience number. 80 percent of its users are women!
Founders - Ben Silbermann, Paul Sciarra, Evan Sharp
Office Headquarters - San Francisco, California
Year Founded – 2010
MAUs – 320 million
6. LinkedIn – It is the most popular social media website among professionals of every sector and department. Available in 20+ languages, LinkedIn has business owners who promote their business online, has hiring option, and interactive lessons. Most of the influencers who buy stock, and make decisions are found in this social media channel.
Founders - Konstantin Guericke, Reid Hoffman, Allen Blue, Jean-Luc Vaillant, and Eric Ly
Office Headquarters - Mountain View, CA
Year Founded – 2003
MAUs – 310 million
7. WeChat – From just a messaging app, WeChat became a platform providing services of online shopping, offline payment, money transfer, reservation making, cab booking, travel, and insurance, alongside calling and messaging. Where social platforms like Facebook are banned, WeChat comes to the rescue.
Founders - Allen Zhang
Office Headquarters - Ontario, Canada
Year Founded – 2011
MAUs – 1.06 billion