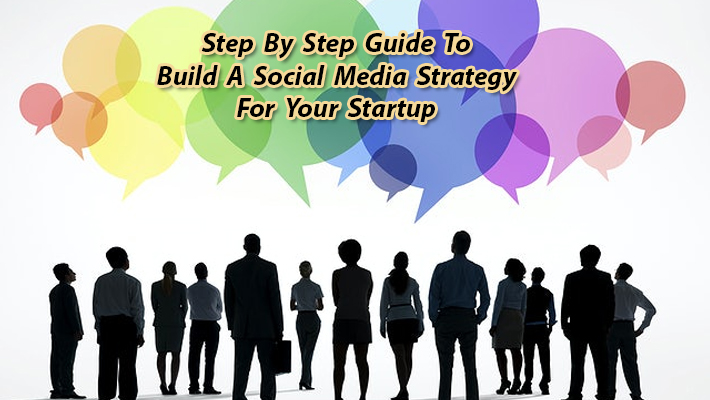 Do you have a successful social media strategy for your startup? No? Don't worry! You are not alone. Around 50% of businesses don't have a social media strategy. However, without having a strategy, it is like gambling with your social media presence. Having a planned and purposeful strategy helps you win the social media game.
To help you create an insightful strategy, we have created a simple step-by-step guide that will let you build an effective plan.
1. Know your target audience:
Choose the right social media platform to invest your time, effort, and resources to create an effective strategy for your startup.
So, how will you select the right social media platform?
The answer lies in knowing your target audience. The more you know your audience, the more effective plan you can make to reach them.
Here are some key questions that will help you know your targeted audience:
Which social media platforms do your targeted audiences use more often?
How much time do they spend on social networking sites?
What days of the week and what time of the day, are they most active?
Here, are some key steps in finding out the answers to the above questions:
Build a 'marketing persona' of your valuable customers.
Start making Facebook video ads and creating a content creation plan with the other social media giants like LinkedIn, Twitter, and Instagram.
Check out the views and activity level at each of the social media platforms to get a better idea of engagement and interaction of your audience.
2. Set a "SMART" goal:
Once you know your targeted audience, it is time to set your goal. Creating a goal is key to unlocking an effective social media strategy. After all, if you don't know what you want to achieve, how will you measure your performance?
How will you set your social media goal?
It should be something like an acronym of SMART:
Significant
Measurable
Attainable
Rational
Time oriented
Depending on your industry, you can aim for a mixture of the following goals in your social media marketing strategy:
Increase brand awareness.
Enhance connection with your fans and followers.
Increase the conversion rate and ROI.
Promote your products or services.
Create a buzz for the recent launches.
Increase traffic to websites.
Some businesses set different goals for different channels, which is also a good practice.
3. Do a social media audit:
Next, you need to assess where you stand and what is the current status of your brand in the realm of social media platforms.
To do it, you should go through some simple steps.
Create a business account for each social media platform.
Set a goal for each account.
Search for accounts that represent your brand.
Check the practicality of each of your accounts/profiles.
Define a protocol for the future management of your accounts/profiles.
Also, you can perform a social media audit of your brand compared to your competitors. You can compare types of content, audience size, engagement, frequency, video use, visuals, activity, tone, and other significant actions to figure out what is working, and what is not.
Keeping your friends close, and foes closer is a wise way to stay ahead and alive in the competition.
4. Identify the success metrics:
Now, you need to figure out the key success metrics to measure the effectiveness of your social media marketing plan.
Here, the key is to look for simple and straightforward metrics such as:
Referral traffic
Reach or impression
Engagement and interaction
Community growth
Conversion rate
Total shares
Sentiment
Time spent on a website
Not all of these metrics can work for you. You need to choose the metrics that are aligned with your business goals. For instance, if your aim is to increase brand awareness, focus on referral to your website and subsequent sentiment.
5. Create a content strategy:
Creating a successful content strategy is essential for the effectiveness of your social media marketing plan. Without having a clear content strategy, definite direction, and distribution plan, you will be distracted. Having a clear definition of your desired state will help you to create engaging content that will eventually take you to your destination.
Craft a content plan based on these questions:
Who is your target audience?
What types of content will work for you?
When should you post your content to social media?
What should be the frequency to post the content?
What is your plan to promote it?
Find out the answers to these questions, and it will be fun and easy for you to create and curate content. Here are a few examples of content you could create:
Videos
Infographics
Blog Posts
Images
eBooks
Company News
Interviews
Content is what fuels social media. Hence, I strongly suggest you create a content calendar that outlines what to post and when to post to each network.
6. Make a mark with videos:
The boom of video content does not seem to stop anytime soon. Both short-term and long-term videos continue to rule social media platforms. Regularly producing and publishing video ads to social space across all channels is a key to achieve your set goal. Hence, you should not shy away from the video strategy, especially with the wealth of video creators and tools out there.
7. Analyze and optimize:
You are putting all your efforts, time, and resources to dominate social space across all channels. But how will you know if your efforts and investment are working and paying off?
You need to take stock of your efforts so far. Figure out the following questions:
What is working, and what is not?
Who is engaging with your strategies or actions?
How well are the social media strategies working to tackle your competition?
Find the answers to these questions, and then tweak your plan accordingly for optimal success.
Conclusion:
What's next? It is time to put your plan into action.
Follow this step-by-step guide to create a triumphant Social Media Strategy for your startup. Remember that there is no shortcut to success. Using these highly helpful tips will help you reach your target sooner and more easily.