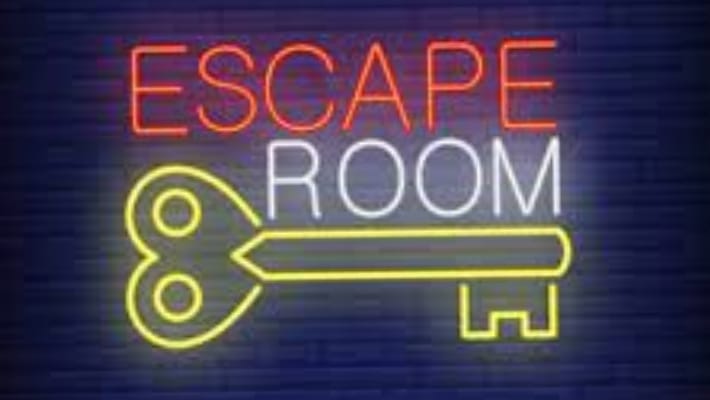 Working regularly in the 9-5 job can take a toll on your body and your mental health due to the constant monotony. Because of this monotony, the employees end up having low morale, and their performance level decreases. The grind can make the staff feel tired, which will eventually affect their professional and personal lives.
Due to the reasons mentioned above, more companies and firms are restoring to such activities to help their staff break the monotony.
Usually, corporate team-building is achieved through training, staff meetings, weekend retreats, or evening dinners. However, in today's advanced era, something more engaging and fun-filled will help bring your team together, and one such activity like that is the real-time adventure of Escape Rooms. They are fun, exciting, inventive, and challenging. As escape room games require communication, moving on with one another and even relying on each other will enable the employees to build relationships during the game. The employees will get to know each other better.
What are the Escape rooms?
A virtual escape room adventure is a real-life game in which you are purposely trapped in a small room, and you have 60- minutes to escape and win. The game is based on a story, and the room's aesthetics are similar to the story. You will find great puzzles, hidden clues, and brain-teasing activities that put all your skills to the test in the rooms. In addition to that, there is the nerve-wracking time limit that excites the players even more.
Escape rooms are a remarkable idea for a corporate outing. It is because escape games are only be played with a team or a group of people. Escape games require people to put their brains together and solve challenging puzzles. To win in this challenging adventure, a vast range of skill-set is necessary that an individual might not possess, but only a team can. Therefore, one member cannot outshine the whole group, and all the members of the team have to work together to solve the mystery and escape successfully. It makes an escape room a perfect activity to do in a corporate setting.
Hence, in less than an hour, you will be able to communicate and work effectively and efficiently with your team members while doing an exhilarating activity. That is why we say that escape rooms are a win-win! The game challenges your mental skills and causes an adrenaline rush which a lot of escape enthusiast craves. The escape rooms cause an immersive experience that engages all your senses and causes thrill and excitement. They also require fair play to achieve the objectives at hand.
Virtual Escape rooms also help boost confidence among the participants. The game's exciting and exhilarating nature increases the participants' morale, which can be transferred from the game to their respective jobs.
As a team-building activity, escape rooms help the managers in assessing their employees and staff members. The members' interaction tells their managers about their personality's different aspects in those full sixty minutes. Some of these are communication, problem-solving, and conflict resolution. These qualities have long been treasured in the corporate workplace.
The following list includes reasons why escape rooms are perfect for Corporate Outings:
1: IMPROVES COMMUNICATION SKILLS
In the workplace, employees have problems to solve together. It makes effective communication essential among the staff members. Unfortunately, one of the most significant issues in an office is unclear communication or communication among the employees or between the employees and the bosses. Escape rooms help in cultivating effective communication within the workplace. The escape room offers a unique opportunity for employees to work together to solve an immediate problem that is in front of them. For that, they must listen and communicate effectively with each other. A majority of the puzzles require teamwork to decipher clues and find the answers. It is only possible if the team members have a connection with each other.
This connection is essential either to update each other or to check about what everyone is doing. The staff's experience in the escape room helps in developing a feeling of camaraderie. This communication ease and a sense of working together to achieve a common goal will then transition to the workplace, and the day-to-day tasks will begin running in a much smoother manner.
2: BOOSTS PRODUCTIVITY IN THE STAFF MEMBERS
The reiteration of work makes employees feel bored or stuck at a point in time, and it means that they are lacking enthusiasm. Every recreational activity helps people to feel refreshed and happy. People always work better when they are not tired and feel good about themselves and their health.
Escape games are exciting and are considered as one of the ideal team-building activities that rejuvenate their morale and excitement. This recreational activity also helps in soaring the overall behavior of employees. An increase in confidence and enthusiasm at work leads to the employees being more responsible and more efficient, increasing productivity.
3: IMPROVES THE PROBLEM-SOLVING SKILLS AMONG THE STAFF MEMBERS
Work at the office is often repetitive. This monotonous lifestyle leads to employees getting bored. It is not suitable for a business/ work as it reduces the problem-solving skills of the employees. It is the reason why the bosses should ensure that employees are energized and engaged. It is where escape rooms come in.
Escape games require a lot of abilities, like critical thinking and solid problem-solving skills. The puzzles are challenging, and they will challenge your employees' creativity and ability to think outside the box. The escape game encourages the staff members who are playing the game to think critically both in the room and in the workplace, to find instant solutions for whatever issues they may face while performing a task in their job.
While testing and enhancing their mental skills, escape rooms will also prove fun and a recreation source for them.
4: IMPROVES RELATIONSHIPS AND HELPS BUILD A STRONG AND MORE COHESIVE TEAM
Team-building is famous as an effective way to build morale and sincerity within a company. When company leaders notice miscommunication, poor communication, or boredom amongst their teams, they often turn to team-building exercises to boost morale and boost productivity.
Team building activities bring people together by encouraging collaboration and teamwork among the members. Team building in a workplace means creating a strong team working together towards a common goal. To create a cohesive unit, every member of the team must create strong bonds with each other.
This fun activity will help people see each other differently, and a different setting allows people to connect. One of the most potent reasons for team-building activity is to get positive results. These team building activities facilitate long-term cohesiveness in a team by fostering genuine connections and more in-depth discussions.
Andrew Carnegie once said, "It is the fuel that allows common people to attain uncommon results." It symbolizes the importance of team building activities and how it translates directly to a high performing team.
5: HELPS DEFINE ROLES WITHIN THE COMPANY
As the employees go through the escape room experience, they will learn new things about themselves, and even you may discover some quality stuff about each other. The critical skill required to perfect teamwork is their cooperation and individual contribution. These things learned at an escape room will essentially help them identify their role within the company. For example, some employees are perfect at solving problems, whereas some are good at leading the team, and some are excellent at analyzing, and the list goes on. The gaming experience may help them realize their potential, and then they can distribute tasks accordingly in a team. It can motivate them to apply for a new position or take up more lessons.
The escape room also has a time-limit, and the team is required to work under pressure and give their best performance. It will also enable the managers to recognize how efficiently their team can work, and they will be able to meet deadlines and complete their job on time.
Final words:
A famous slogan says, 'Teamwork makes the dream work.'
This slogan holds great importance. It implies that you can overcome your biggest obstacles if you have a team that shares a common goal and works hard together to achieve it. A team that works together and performs together excels together. They know what their purposes are and how exactly they can go about achieving them- together.
In conclusion, escape rooms should be regarded as a powerful team-building tool that enables a team to communicate effectively, hones their problem-solving skills, makes the team more cohesive, boosts productivity, and help define roles.
Like the traditional team-building exercises, escape rooms instill a lot of values. Along with that, there is also an added aspect of fun. Escape room games might sound childish, but in reality, they are excellent tools to use in the corporate sphere.
Break the monotonous routine of the office, and book your first exciting team-building activity now!