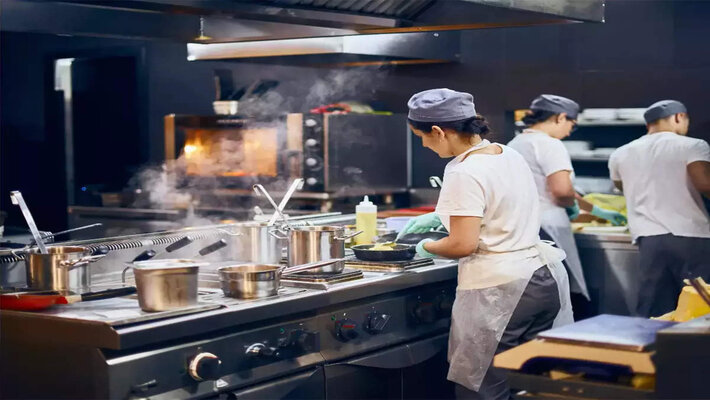 More than three times as fast as on-premises income, restaurants' online food delivery revenues are expected to expand from $35 billion to 365 billion by 2030, worldwide. Restaurant owners are shunning the traditional brick-and-mortar location in favour of the more lucrative Cloud Kitchen model because of the high leasing costs and shrinking profit margins.
Cloud kitchens have suddenly become the only viable option for managing high rental costs and lower profit margins, because to the Covid outbreak and the rise of cloud technologies. The digital restaurant, also known as the cloud kitchen, is a relatively new concept that has already made a name for itself in the food service industry. There is a high level of competition, expensive rents, and growing prices in the food sector right now, and Cloud Kitchens look like a more efficient method to operate a restaurant.
Cloud Kitchen Business in India
Chefs and food company owners may now create and transport their products at reduced rates thanks to cloud kitchens. Restaurants may use the facility's kitchens, but customers cannot sit down and eat there. Convenience, selection, and affordability are all factors contributing to the rapid growth of cloud kitchens in India.
Stainless steel tables and hood vents may be used in a warehouse to accommodate cloud kitchens. They may either have their own website or app for online ordering, or they can accept orders from numerous meal delivery services. Using their smartphones, customers can order meals and have it delivered to their homes or workplaces.
When starting any company, it's important to be aware of all the benefits it has to offer. Unlike traditional restaurants, Cloud Kitchen does not have a physical location; as a result, the location or area required to prepare meals does not have to be elegant or enormous to impress consumers, saving you a significant amount of money.
How to Start a Cloud Kitchen in India?
To start a cloud kitchen business model, you will need to spend money, get licenses, and choose a location. We'll walk you through the process here.
1. Determining the best location for the Cloud Kitchen Restaurant –
The cost of real estate is a major factor in the minimal investment required to start a cloud kitchen. The most significant factor in lowering the start-up costs of a cloud kitchen vs a regular dine-in restaurant is the location. The location doesn't have to worry about foot traffic, parking, or a high-end site with the cloud kitchen concept. Although, it does have a lot to do with appropriate sanitation and water supply with inexpensive rents. In addition, the location should be picked in accordance with the demographics of your target audience and the kind of the cuisine you'll be selling. Choose a location where there's a big demand for the food you want to serve from your cloud kitchen.
2. Know Your Customers –
The success of a cloud kitchen is largely dependent on the demographics of the people who use it. Knowing who your target market is is essential when launching a cloud kitchen company. As an example, the needs of a young, fit twenty-something are very different from those of a family with children. Gym-goers prefer protein-rich cuisine, whereas families need a well-rounded diet. Therefore, prior to developing your cuisine idea, menu, and marketing strategies, you need ascertain who your target audience is.
3. Acquiring the Licenses for the Online Kitchens –
Setting up a restaurant necessitates obtaining a license. For a hassle-free company, just a few permits are required in the first month of operation. Licenses such as Food Safety and Standards Authority of India (FSSAI) and GST registration are among these Obtaining all the necessary licenses is a time-consuming and tiresome process that should be outsourced to an agency.
4. Study Competition –
Find out what your competitors' most popular foods are, as well as what they aren't providing. Also, which products are in extremely popular and are doing well. One way to tell if a product is promising is to monitor how many consumers choose to purchase them.
5. Technology –
With the help of modern technology, you can keep track of your orders with ease. Your smartphone, laptop, or tablet will be able to see the order that a consumer placed using an app. You may either hire a chef or handle the cooking yourself with the aid of a few friends.