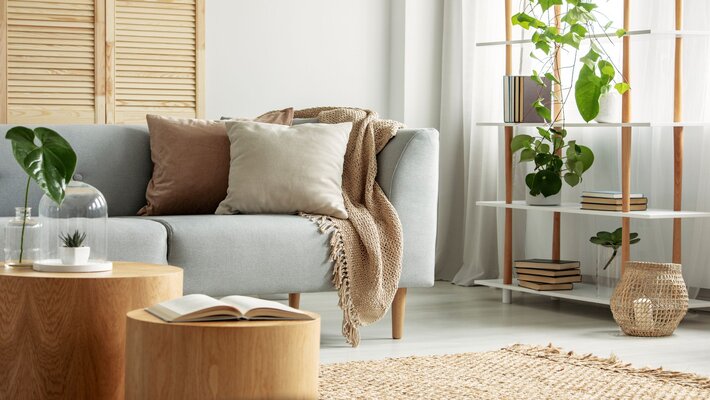 We all have out thoughts on how our homes should look like and as a famous quote mentions," beauty is in the eye of the beholder". With more and more people getting into the digital verse and anything and everything in the world becoming more and more accessible, people have also started to take inspiration from others when it comes to decorating or redecorating the interior of their houses. Letting go of the conventional thoughts of interior designing, people are getting more and more into giving their living space a bit of character or something that connects the owner's personality to the interior spaces of their houses. Scouring YouTube videos, and going on the internet and searching for home décor ideas has become a favourite past time for many of us.
Even though redecorating your interior is a breath of fresh air, it is still important to not let this burn a hole in your pocket. So, in this article, let's take a closer look at how one can redecorate their interiors on a budget.
1. Give a Different Colour: One of the easiest ways to change the entire feeling of your interior is to change the colours of the walls. This is also a cost-effective method and one of the most efficient methods to transform your interior. So, if you are looking to redecorate and you are on a budget, then changing the paint of the walls is a good place for you to start.
2. Slipcover for Dated Sofas: Sofas are something that don't get much love in our houses and many only see sofas from a utilitarian perspective. But if you want to redecorate, then using slip covers to change the look of your sofa can go a long way in changing the entire vibe of your interior. Owing to the fact that, slipcovers are not that costly, you can also buy different varieties of it and change it as and when you feel the need for a change.
At a time like this where people are going behind uniqueness and rarity, one can truly experiment with how you redecorate your interior
3. Consider what you want to get Rid-off: If you are thinking about redecorating your interior, then a great place to look at is find things that are not useful to you and is just collecting dust in a corner. If you look carefully, one can see that there are a lot of things that was once useful or was in fashion but now is out of fashion and is just hogging space that you can use to redecorate. Selling these items can also be a great way to earn some spare change that you can re-invest in your redecorating budget.
4. Hanging Prints: This is one of the easiest and cost-effective ways through which you can do your redecoration. Go online, and you can find tons of cool art pieces that you can choose from to hang on your walls and if you are smart with your purchases, then you can change the entire mood of your interior with the prints.
5. Finding things that can be Wall Art: At a time like this where people are going behind uniqueness and rarity, one can truly experiment with how you redecorate your interior. You can turn different ordinary things, paint them and put them as art on your walls. This will give your interior a unique feeling and it can showcase your personality.
Redecorating your interior can be a lot of fun and if you are smart with it, then you can have fun on a budget which is a better option for many. So, keep these tips in mind the next time you gear up to transform your interiors and bring back the life in it.