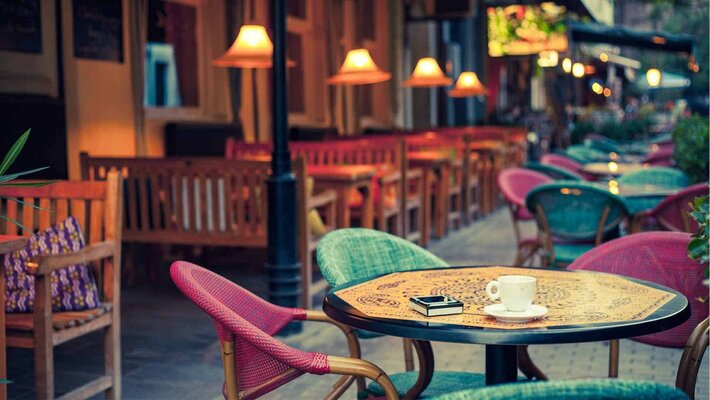 Cafes, photos, check-ins, Social media, and interior design are all intertwined. The millennial generation understands that a good cafe experience requires a good cafe design. It goes without saying that in the age of Social media check-ins, having a beautiful cafe interior design is a requirement. However, cafe owners sometimes overlook the fact that the principles of a cafe differ from those of a restaurant. As a result, when it comes to building a coffee shop, the interior design concepts that work for restaurants do not always apply.
Importance of Interior Design in Cafes
Because the way your cafe looks will be significant to your identity, cafe interior design must be an important aspect of your business marketing strategy. As soon as your customer passes through the door, he or she will notice your interior design. This first impression will determine how people see your brand, the degree of care they expect, the amount of time they expect to spend with you, and whether or not they want to return. As a result, the significance of interior design cannot be overstated. The following are some of the reasons why cafe interior design is so crucial: -
1. The overall branding strategy of a restaurant is dependent on the interior design. The exterior of a restaurant influences customers' opinions of its concept and whether or not it is a good location to eat.
2. Customers will acquire a bad impression of shabby or overly bright decor and may depart even before they eat. To make your restaurant more Instagrammable, one great restaurant interior tip is to maximize natural light.
3. Interior design of your cafe is a silent salesman in the age of Instagram. Everyone loves to share where they've been all day, and if your restaurant is Instagrammable, it will appear in your customers' feeds and entice their entire social media network.
4. Interior design that is marketable is good. You can use your restaurant's interior design to sell it to your target audience. Make your interiors public if there is something special about them. People love to feel like they're a part of something special, which is why they'd flock to your restaurant.
5. Most importantly, restaurant interior design has an impact on customer psychology. You can use interior restaurant ideas to get your customers to order more, eat faster, drink more, stay less, and so on.
Interior design of your cafe is a silent salesman in the age of Instagram
If you are going to launch a cafe soon and have your finances in order, you should spend some time considering the cafe's themes and interior design. Interior design should no longer be something that causes you to second-guess your decision. These low-cost tiny cafe decor designs will help you create a cafe without having to take up interior design as a profession.
1. Decorating the Walls –
When you walk into a cafe, the first thing you notice is the walls. You obviously want people to notice your walls. Walls provide a lot of creative room; take advantage of it. There are a plethora of suggestions you can implement; for starters, maintain the walls in a brighter contrast, even white walls add a lot of beauty. Brick texture or a brown woody theme will provide an artistic touch to your thoughts if you want to go for a darker approach.
You can display your creation on your wall by framing it. You can choose from thousands of options, such as popular paintings or prints used as wall hangings, or you can paint or illustrate your eye-catching ones. Making wall hangings isn't tough; there are a few simple DIYs that are just waiting for your input. There is a shortlist that will assist you in opening the door to larger ones.
2. Wool Art –
The term "balloon orbs" refers to a creative project that involves a basic balloon, glue, and wool or thread. You don't have to be an expert knitter to achieve this, but you must be able to blow up a balloon. It's simple to do and looks extremely nice. Modifications to those can result in a woolen lamp, a hanging, or whatever you like.
3. Have a Theme –
The customer experience may be made or broken by a theme, and since the cafe is all about the customers, that is the cornerstone. It varies and is dependent on your cafe's brand, income, and location. You can choose from any of the following widely popular themes, but you must stick to the theme. These low-cost small cafe interior designs might assist you in choosing and implementing the right interior décor.
4. DIY Lighting –
Adding flickering sconces, exquisite pendants, or wacky chandeliers to uninspiring lighting fixtures is a great way to define a place, convey a specific mood, or create ambience. This type of project is also DIY friendly, as long as you have the proper electrical work in place. Make sure your lighting allows for stunning food photography so that your guests may share their experiences on social media.
5. Unique Design Representing History –
Allow the particular history of your city or town to inspire your interior architecture. Turn rescued church pews into banquettes, use an old school desk as a hostess stand, make prints of ancient maps, or explore flea markets for hometown antiques and treasures as the small restaurant interior design ideas.