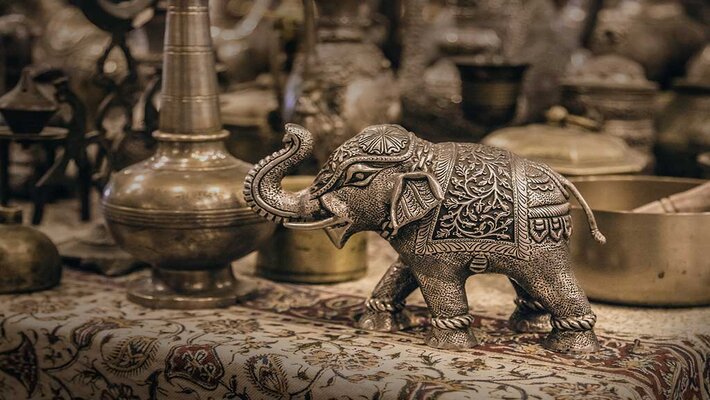 Art and crafts are often portrayed as an essential part of the lives of Indians and we are blessed with a rich cultural heritage that is reflected in the beauty of its handicrafts. India has emerged as a paradise for shoppers who search for some antiqueness and authenticity in the things they purchase. For the foreign tourists, the trip to India is considered to be unfinished without getting a glimpse of the attractive Indian handicrafts that represent the astonishing beauty of our culture and craftsmanship.
Below is the list of some of the top destinations where one can get a closer look at some of the most famous Indian Handicrafts.
Saharanpur Woodworks
Saharanpur of Uttar Pradesh is famous for its wood carving industry and some of the best wood carvers in the world belong to Saharanpur. Here wood working expertise is passed on as a family tradition from one generation to another. Made from the woods of the Sal, Sheesham, Teak, Dudhi, Mahogany, Ebony, these woodworks are often infused with tiles or metals to get a much attractive look. With impeccable finishing, most popular designs include religious idols, wood carved mirrors, artefacts, cupboards, furniture, tables, trays, chests, toys, carved key chains, boxes, vases, and so on.
Tarkashi or Metal Works of Odisha
Flaunting a robust and traditional Indian handicrafts industry, the metal works of Odisha has carved out a niche for itself in the spheres handicraft including metallurgy, applique work, and silver filigree. The procedure of applique represents creatively overlaying cut patches of cloth on top of, or alongside, each other, where a colourful base fabric is used along with the use of tiny mirrors. A very common yet popular work of Pipili, Odisha, this handicraft provides a vibrant look to the end products after most of the minute designs are made with precise dedication. In Tarbha district, craftsmen create attractive utilitarian and decorative articles from good old white metals such as plates, ashtrays and bells. Cuttack, the former capital of Odisha is celebrated throughout the world for its matchless craftwork of silver filigree work, which is other wisely known as 'Tarkashi'. Here silver is molded into fine wires and foils to be joined together to form ornaments and artifacts of significant beauty.
Terracotta works of Assam
Derived from Latin and Italian words - 'Terra', representing Latin for 'earth' or 'soil', and 'Cotta', which means 'statue' in Italian, Terracotta work represents the art of crafting figurines from mud, or clay. Bearing the striking imprints of its ancient culture, Assam's terracotta has managed to garb the eyeballs of many international visitors to India. While earlier, the Assamese craftsmen were majorly making figurines of religious symbols, the present-day terracotta craftsmen concentrate equally on designer artefacts, dolls, toys, vases, pots, and so on. The village of Dhubri of the Goalpara district of Assam inhabits a significant position across the terracotta market of the world.
Woollen Handicrafts of Kashmir
Kashmir is always adorned with an aura of mystery for its rare and scenic beauty. Synonymous with splendour, Kashmir is home to beautiful people as well as shawls and carpets formed by them. Known for being one of a kind, Jamavar shawls of Kashmir are made of brocaded woollen fabrics, or pure wool and sometimes blended with cotton to get a unique texture. We all are familiar with the Pashmina shawls that are not only extraordinarily soft but are made from the yarns spun from the hair of the rarest Ibex found 14,000 ft above sea level. Similarly, Shahtoosh shawls, which are renowned for their lightness, warmness, and smoothness are woven with the down hair of the Tibetan antelope.
As for the carpets, Kashmiri carpets are world famous and considered to be a prized possession. Renowned for being handmade and knotted instead of being tufted, Kashmiri carpets display vibrant colours and rich textures.