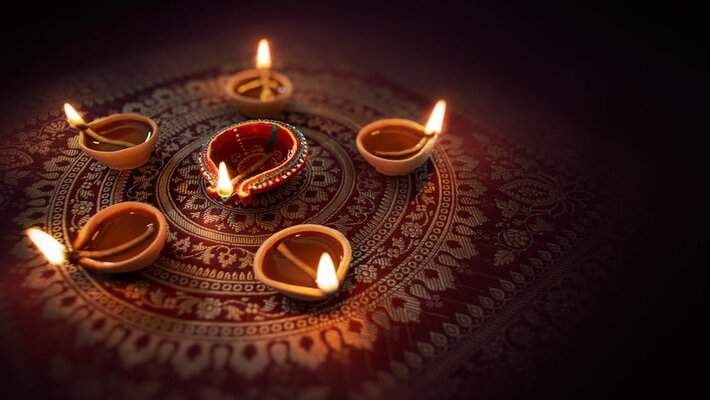 One of the most awaited Hindu festivals – 'Diwali' this year will be celebrated tomorrow. Marking the beginning of Diwali, is the thirteenth day of Krishna Paksha according to the Hindu calendar, of the month Ashwin, is the day when 'Dhanteras' (Sanskrit: धनत्रयोदशी), the God of Ayurveda imparts the wisdom of Ayurveda for human prosperity and battles against disease suffering.
Symbolizing the victory of light over darkness, good over evil, and knowledge over ignorance, Diwali is celebrated by burning firecrackers overnight in most of the states in India.
But due to the heavy hit by the COVID-19 pandemic, this year's Diwali celebration is different from what we celebrated throughout our lives. With the world going virtual since the start of the lockdown, the year 2020 marks a different Diwali celebration altogether.
Previously, we made Diwali happy sky-blue wishes and greeted the long distant residing people with Diwali offerings virtually in a digital medium, however, this year, we might even notice the neighbors wishing each other and celebrating Diwali virtually!
Several states and Union Territories already have imposed a complete abolition of selling and using any form of firecrackers.
Already we witnessed in the past years that smog from firecrackers polluting the environment badly, and this ban came across the nation due to the rise of COVID-19 cases and warning from experts for heavily deteriorating air quality, where smoke and pollutants caused as an aftermath of burning firecrackers might increase the risks of COVID-19 patients, affecting the recovered patients from the attacks of the novel coronavirus.
A Virtual Diwali Celebration
It is assumed that virtual Diwali celebrations will begin with digitally inviting friends and family, sending them e-invitations with traditional Diwali e-cards.
Once completed, the hosts will start preparing a list of events for the virtual function and worship. Even so, in large scale Diwali celebrations, hosts might add co-hosts and form a group, arranging a virtual Diwali celebration for an entire society.
It's an obvious thing to select the perfect attire for such a holy occasion, and there will be no difference in that. As we all like to stay presentable for any occasion, no matter where we celebrate Diwali, there will be no change in dressing or makeups.
Where there is a serious Diwali celebration, people might witness an Idol of Goddess 'Kalika', and a priest performing the holy duties in the digital platform, offering prayers and reciting mantras in a video platform.
There might be a preparation of prasadam at every home following the delicious recipes for Diwali, however, eating maintaining a safe distance.
This won't end here, as the host events will keep people engaged where children would take part in plays/dramas, and adults in competitions.
With all happening in one day, there will also be prize distribution taking place virtually for winners and consolations for participants, like all that happens in a non-virtual Diwali celebration.
Different television channels, social media sites, and websites will be streaming live worships and ceremonies, where people who are not participating in the digital Diwali celebration could enjoy and spend an unforgettable Diwali.
An entirely different Diwali – 2020 celebration!