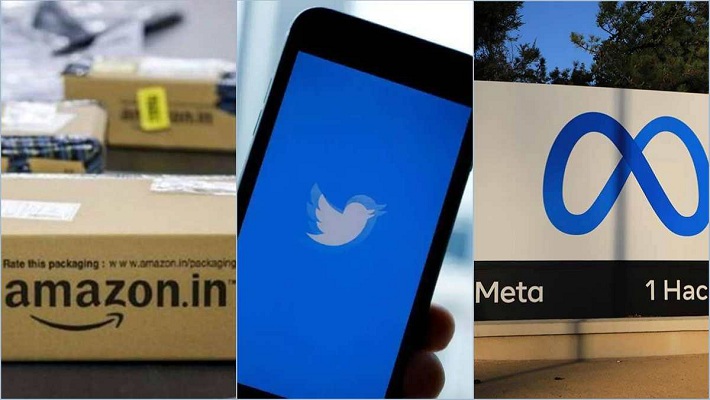 Not so long ago, the big techs were known for their booming stocks and cushy, high-paid jobs. In a span of a few quarters, the shine seems to fade away, as the tech companies occupy the front pages for unpopular layoffs.
More than 128,865 tech workers across 814 tech companies have been handed over the termination letter this year, according to layoffs.fyi, which tracks job cuts in the tech industry. Today, it's hard to make a list of companies that didn't fire any of their employees, but the ones that did includes — Amazon, Meta, Uber, Airbnb, Zillow, Coinbase, Netflix, Spotify, Peloton, Shopify, Stripe, and Robinhood.
Big techs like Amazon, Meta, Twitter, and Microsoft find themselves on a layoff spree. According to reports, till now, Amazon has laid off 10,000 of its tech employees, while Meta's figure stands at 11,000. Twitter and Microsoft also have concerning numbers of 3,700, and 1,000 respectively.
While the figures are enough to depict the present conditions of the big techs, it's worth noting what brought these companies to such a position. Why big and even profitable companies are laying off so many employees? What does it tell us about the future?
Cutting down the excess fat
In recent years, a lot of businesses have accumulated quite a bit of fat. There were many staff members, consultants, helpers, and content creators working in the marketing divisions. Start-ups hired people even when they weren't immediately needed because there was such an insane demand and level of competition for qualified workers. The development departments filled every available position because they believed they were a war with all the other businesses.
As a result, many businesses quickly went from having a small number of employees to hundreds. As a result, some of them have had trouble creating an organizational culture or integrating structured work procedures among the workers of the bloated firm.
The crisis-related environment now enables them to reflect carefully on the hiring of employees that has already taken place and to consider whether the current period can be used to reduce the workforce without jeopardizing crucial positions. For instance, Elementor, one of the top businesses in the world for creating WordPress sites, recently let go of about 50 workers or 10% of the workforce.
Yoni Luxenberg, CEO of the company and one of the founders: "We made a difficult decision to say goodbye to some talented and good colleagues. The global situation is changing, and there is an increase in inflation and an economic slowdown."
Impact of Inflation
The rising inflation and interest rates have not left the big techs untouched. In fact, social media companies such as Meta said their advertising sales have rapidly cooled down. Google and Microsoft, the most reliable and stable tech companies have also reported slow down and decline in profits.
The sudden slowdown in the profits of the big tech companies has exposed their weakness. Despite, years of investment in new businesses, big techs like meta and google haven't yet found any alternative and reliable income source than advertisements. Now with multiple issues like personal data theft coming forward, the firms are now facing growing opposition to intrusive advertising practices. For example, Apple made it harder to track people's online activity and sell that data to advertisers.
"We're in for a dark winter," said Brent Thill, a technology analyst with the investment firm Jefferies. "From small to big to large — no one is immune."
With dark clouds gathering on the top of big techs, they are now left with no alternative option but to lay off their workforce. In fact, in a recent briefing, Google and Microsoft affirmed to slow down hiring and monitor rising energy and supply chain costs.
How is this Affecting India?
Experts claim that other areas of the ICT sector are now being affected by these budget cuts. Those with knowledge of the matter claim that Udaan, India's largest business-to-business e-commerce company, is attempting to achieve profitability by eliminating 350 positions, or 10% of its 3,000-person staff.
It is making layoffs across all departmental functions in an effort to become more cost-effective. By June of this year, 180 employees had already been let go by the $3.1 billion Bengaluru-based company.
Along with Big Tech, the Indian start-up scene is also having trouble due to a drop in funding. According to the recruiting firm TeamLease, about 23,000 workers in start-ups have lost their jobs since the epidemic began in 2020.
The financial winter has caused 44 start-ups, including unicorns, to lay off 15,216 employees this year. Following consumer services and e-commerce in terms of the number of layoffs in 2022, the education technology sector saw the most reductions in the workforce with 14, or 6,898 employees, from 14 start-ups. There have been several rounds of layoffs this year.