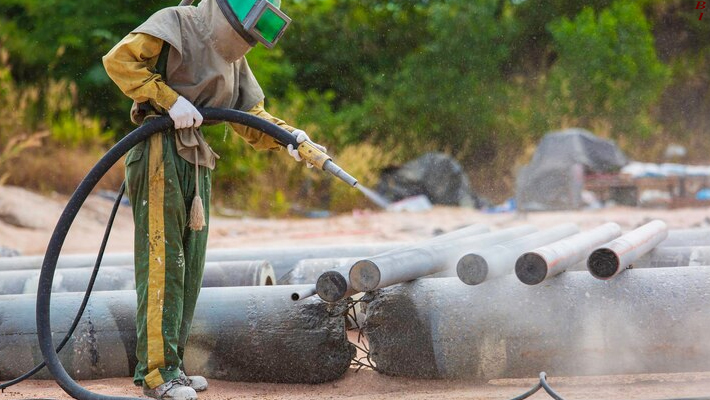 The Sand Blasting Machine is the machine used to clean mechanical service using silicon sand which works under high pressure. This machine is commonly used to clean paint, rust, and some other kind of contaminants effectively from the metallic surface. It is essentially applied in the industries of ships, infrastructure & other vehicles.
Working of Sand blasting machine
This process principally helps to prevent damage and provide perfection before the material is coated with a protective layer and for that this process becomes essential in all metallic structures before it undertakes to coat. There are various methods of abrasive cleaning but Sand Blasting is the strongest method among them for cleaning metal surfaces.
For effective sandblasting work, it has become necessary to know the blasting machine's equipment and its operation processes. If you are an owner of a company or your job profile is related to sand Blasting work, you must be read these articles. In this article, our company going to cover almost all the features related to this machine equipment and its working processes. But before we describe it let me also tell you something more about it.
Types of Sand Blasting Machine
There are two types of sandblasting machines:-
Portable type sandblasting Machine
Cabinet type Sand Blast Machine
There is a lot more kind of abrasive blasting Machine but the most commonly used among those is Portable Type Sand blasting Machine. As the name recommends this type of shot blasting machine is portable so it can be moved from one place to another. These are usually found installed on the semi-trailers to carry on to different locations. And if you use a lighter version of this machine then these are easier to use and you can freely move them.
As sand blasting grit is used as the abrasive material in the blasting process thus to avoid visibility dust collectors are even connected with the sand blasting cabinets.
Sand Blasting Machine Price in India
Grit Blaster is one of the best Sand Blasting machine manufacturers in India and suppliers in India. All kinds of Sand Blasting Machine grit blasting machine, Sand Blasting Cabinet, sand Blasting Room, suction blasting cabinet, Sand Blasting Nozzles, metalizing gun, thermal spray gun, are manufactured and exported all over India by us. Our sandblasting machine price in India is the best among all other suppliers. Client satisfaction is our aim like timely delivery, the best price for the machines, timely services of the machines. We have all types of Sand Blaster machines with different dimensions.