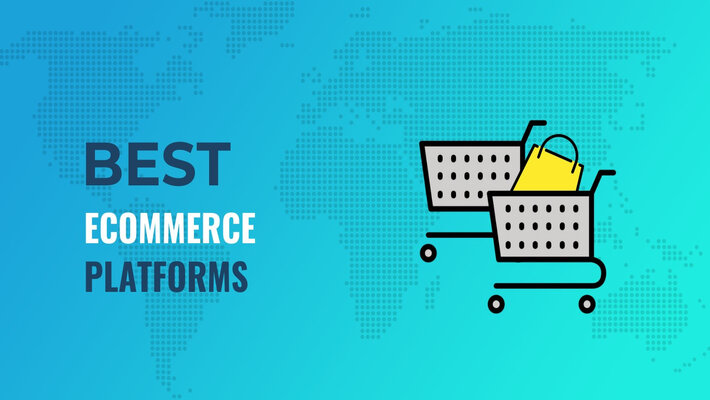 Even before the pandemic hit, eCommerce had already been transforming our lifestyles. Several of the best ecommerce platform for start-up companies had begun to explore the lucrative Indian market. Customers can purchase products of their choice with just a few simple taps on e-commerce platforms. Furthermore, E-commerce platforms make it easy for customers to have their orders delivered to their homes.
Furthermore, e-commerce platforms typically provide products at low prices. In comparison to current market prices, the costs are relatively low. Nonetheless, the rapid evolution of the new reality has compelled the spectrum of e-commerce to become assimilated into our everyday routines. Following the national lockdown, e-commerce facilities emerged as being the most dependable and simple resource. Whereas traditional enterprises were halted due to the virus's potential for public spread and stringent safety restrictions, best ecommerce platform for small business and start-ups continued to thrive. Other than Flipkart and Amazon, here is a list of the best ecommerce platforms in India for SMEs to Do Business: -
1. IndiaMART –
IndiaMART, which has a 60% market share, was founded in 1999 and is the nation's biggest and best ecommerce software for small business marketplace. It is one of the most well-known and effective e-commerce platforms for small businesses to list their products and generate prospects. IndiaMART's platform integrates manufacturers, suppliers, and exporters and encompasses every potential attribute. The most significant benefit to becoming an IndiaMART supplier is the affirmation of authentic products and services.
2. Paytm Mall –
Paytm is a rapidly expanding e-commerce place to shop that is powered by a groundbreaking digital wallet approach. This framework has transformed into a completely operational platform that provides a wide range of products and services, making it ideal for vendors to promote their products digitally. The app is available in over 11 different languages. It is a business-to-consumer (B2C) platform with 1.4 lakh registered sellers and 17 fulfillment facilities across the country. In 2017, after ages of functioning in fintech, Paytm Mall was launched.
3. Shopify –
When it comes to best platform for small business, Shopify is the second name that arises to mind. It facilitates access to a significant number of Additional Features as well as a wide variety of frameworks to choose between. Additionally, it assists you in making the platform SEO friendly, which allows your platform to attain a significant proportion of individuals. The only issue is that, in exchange for providing you with an evocative possibility, they charge you significantly more than everyone else.
4. Zepo –
Zepo is a Mumbai-based eCommerce platform that has been in operation for the past nine years. With an eCommerce platform, Zepo includes a plethora of payment processing alternatives as well as additional services such as delivery service or logistic support. They also have a simple and long-lasting interface that enables any novice to conveniently create a website of their choice.
5. Shoppiko –
The above platform aims at providing its customers with an efficient framework for designing the platform that their customer desires or envision. They strongly feel in streamlining everything and making it work for users. The whole platform's principle is to assist their clients in making choices from a range of options before providing them with a platform that is user-friendly and manageable.