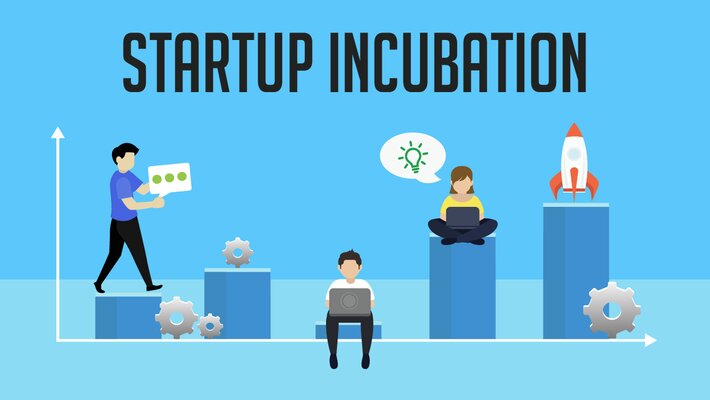 Helping startup to establish themselves, incubators play a major role. By providing fastened assistance, for developing their ventures faster, incubator mentors and advisors are guiding startups prolifically.
Maintaining their repute, incubator programmes are constructed to enhance the early-stage founders' ideations, and protect them from market forces, with guaranteed resources for everyday work which include office space, mentorship, capital, legal assistance and more. Another significant thing is that incubation programmes come with networking and knowledge-sharing, keeping founders aligned to the steps they take, and what they can do to augment the startup growth and achieve success.
As India is growing rapidly in terms of startup ecosystem, it has now gained the status of being the destination for finding startup incubators. The incubators have own sets of resources, network connections and infrastructure. According to experts, the incubators in India are distinguished according to the quality mentors they have, and what are the programmes they offer to support the founders in overcoming the hurdles for the startup growth. While some of the incubators are catering services to multiple domains, the others are entirely focused on specific industries for helping in driving the growth in niche groups. But the incubators are all united with the prime objective to leverage their functionalities and change a seed-stage startup to an effective business.
In this below list, you will find names of such incubators –
Electropreneur Park
In 2016, Electropreneur Park was launched (EP) in Delhi, which is managed by Software Technology Parks of India (STPI). EP partners are Delhi University and India Electronics and Semiconductor Association (IESA). It nurtures the Electronics System Development and Maintenance) startups in India. Under EP, there are 32 graduated startups, and EP has completed six batches of incubation. It has also mentored eight startups in different programmes.
Techstars
Techstars has invested in 2,300+ companies, and is one of the North America's largest investors. It has produced results for leading firms like Sendgrid, PillPack, Classpass, Digital Ocean, and Salesloft by providing necessary tools for developing their business in largescale. Next year, in 2021, Techstars Bengaluru is set to provide 10 outstanding companies from South Asia with tools and networks for becoming market leaders in North America.
Supreme Incubator
For the last two years, Supreme Incubator is a renowned name in the entrepreneurial ecosystem, which is organizing events on a regular basis, and conducting mentorship meetups. Their summer cohort witnessed transition to a fully digital model and selected 30 founders who are now regularly conducting video calls for sharing progress, meeting mentors and joining workshops.
In the virtual programme, Supreme Incubator have expanded the scope for supporting startups, and marching with the mission to make India the centre hub for entrepreneurial support, where founders in tier 1 and tier 2 cities to get same level of networking and support opportunities equivalent to metro city counterparts.
Supreme Incubator's programme has received high reach with 100+ applications in the first cohort (winter 2020) and 350+ applicants in the second cohort (summer 2020). It is at present has 700 entrepreneurs waiting in the list.
Brigade REAP
The incubator was incepted in 2016, and since then it is at the forefront of solving industry's charging problems and bridging the gaps for solutions. It has mentored 30 startups till now, from which 12 have received external funding. The list of startups mentored includes QwikSpec, Snaptrude, WEGoT, AKP, PParke, Renewate, Clairco, CREMatrix, PropsAMC, Exprs, Nanorama and PropVR. These startups won the confidence of top investors like Accel Partners, HDFC Capital, GoFrugal, Pidilite, Better Capital, Angel List, Brigade Enterprises, Architects, Developers, and Mohandas Pai.
Hubli Sandbox
Located in Hubbali, Hubli Sandbox is an incubator launched by Deshpande Foundation, which supports individuals for coming up with sustainable and scalable enterprises with social and economic impact.
Hubli Sandbox is co-created by Dr. Gururaj "Desh" Deshpande, who is an Indian American venture capitalist and entrepreneur. He is supported by his wife, who is the co-creator.
Hubli Sandbox conducts programmes in the areas of education, student leadership, agriculture, micro-entrepreneurship, and maternal health.
NetApp Excellerator
Being a global start-up programme of NetApp, NetApp Excellerator aims for fueling innovation in partnership with deep-tech startups.
NetApp was founded in 1992, which specializes for helping its customers in acquiring every possible analytics from their data, while leading the industry in cloud data services, storage systems and software.
Indigram Labs Foundation
Indigram Labs Foundation or ILF is one of the major USPs of Indigram Labs, in its host institutions, Indian Society of Agribusiness Professionals (ISAP).
ISAP has 1,800+ agritech ventures in its ACABC programme, and presently is promoting 250+ FPOs. ISAP has helped agri-entrepreneurs through Indigram Labs and presently, it is incubating 15 companies and helping three companies in fast growth. ILF's incubation period ranges between three to five years.
Catalyst by Societe Generale
Catalyst by Societe Generale offers global exposure and mentorship, which a 12-week innovation programme is offered by Societe Generale's global solution centre in India (SG GSC). It is an incubation centre suitable for enterprise-relevant fintech startups for co-creating solutions.
Catalyst by Societe Generale has already completed six editions, and is now into the seventh edition of the challenge. It has identified 396 challenges from its units of India, Europe, and Africa.
INVENT
Known as Innovative Ventures and Technologies for Development, a joint collaboration of the Technology Development Board (TDB), Government of India and the Department of International Development (DFID) Government of United Kingdom, which aims at making positive social impact by delivering incubation support to the technology inclined startups.