When you're in the zone and fortunate enough to live through peak productivity windows, the last thing you want to do is consider tracking your work hours. That's where we need a time tracking app. Bring time tracking apps into play instead of tracking the clock or depending on your memory and getting interrupted in your creative flow. A time tracking app is a time management tool that helps you become more organized, efficient and get more things done. The best time tracking apps assist in measuring employees' working time and give an insight into how much time was spent on different tasks, projects, and clients.
A time tracking app can analyze the task, whether you're tracking time for personal productivity or streamlining your business process. And it will save you and your company precious time - and money. Usually, people get confused among hundreds of time tracking apps available with countless features.
Here is a list of the best time tracker software and apps, so you can choose the right one for you - whether you're a freelancer, small business owner, or run a large company.
Syook InSite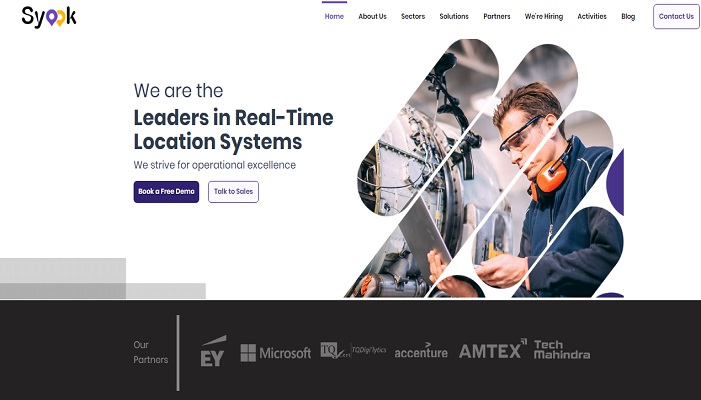 Syook InSite is an IoT solution, backed by a powerful indoor positioning engine and accessible on desktop and mobile for ease of use. It is an initial product of Syook, gives businesses complete visibility into their operations, from the movement of people to the monitoring of assets. Users receive real-time location, dashboards, alarms, and analytics with InSite. It provides many benefits, solutions, modules, and features that assist users to grow their business by enhancing their operations, profitability, reducing costs, and increasing efficiency.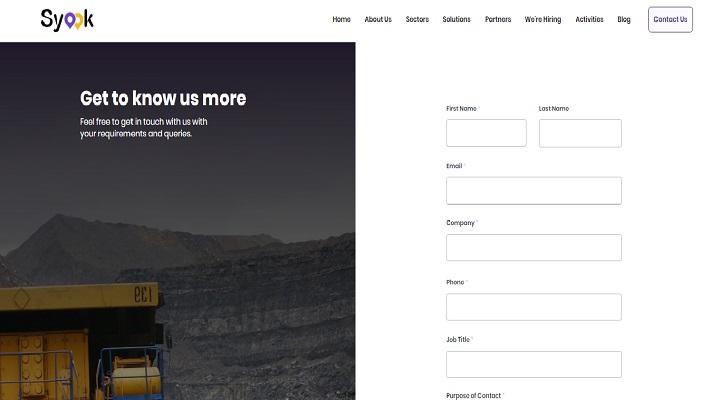 Key Features:
Digital Map View: Users can locate and visualize all assets, including employees, security staff, and support within their facility or plant.
Dashboard View: With access to the digital dashboard, users can locate and visualize all the assets within their facilities and get a holistic view of real-time statistics of your facility. Additionally, the user can diagnose or investigate any anomaly with the power of location data at their fingertips.
Reports and Analytics: With this feature, users can keep track of all activities in their organization by scheduling automatic reports to email, getting actionable insights on improving productivity and safety at their workplace, and configuring and generating reports as per their requirements.
Micro to Macro locations: It allows the users to monitor assets from micro to macro level, visualize all your assets on a global map, set geofencing areas for assets, get alerted when an asset moves out of a geofenced area, monitor and take inventory of assets across the globe using our mobile application.
Attendance Management: This feature makes the users automate their daily attendance system and reduce discrepancies, reduce human error by automating the daily attendance process, increase accuracy in tracking work hours by configuring detailed attendance calendars, use personalized attendance reports for salary calculations and configure report templates and schedule emails regularly.
How it works:
It allows any institution, large or small, to keep track of its direct payroll people resources inside their buildings restricted location. Many engineering controls may be applied using real-time location to assure greater productivity, higher safety standards, and higher compliance.
Attendance Management
Compliance Management
Productivity and Safety Score
Integration with existing HRMS
Emergency Trigger
Pricing: Contact Syook for pricing details
Task Tracker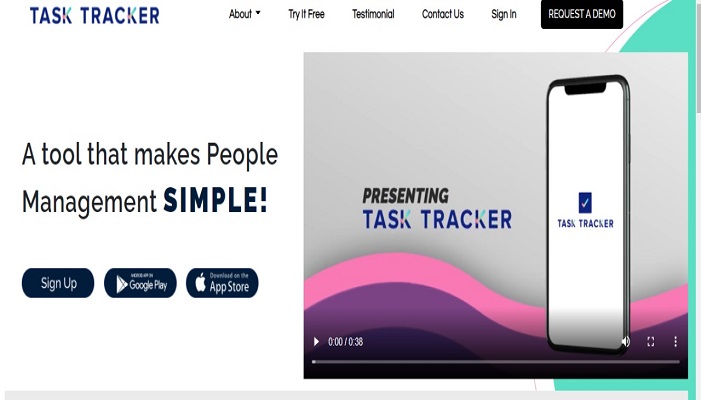 Task Tracker is a tool that makes people management simple by helping to improve employee efficiency and accountability with on-the-go instant notifications. It is very convenient to trace the entire assigned task just at your fingertips. The tool also allows modifying tasks as requirement changes in real-time and visualizes task status to measure progress. Moreover, seamless communication helps you remove employee excuses for not getting the job done. You can score your employees' performance easily to ensure relevant feedback and continuous employee development.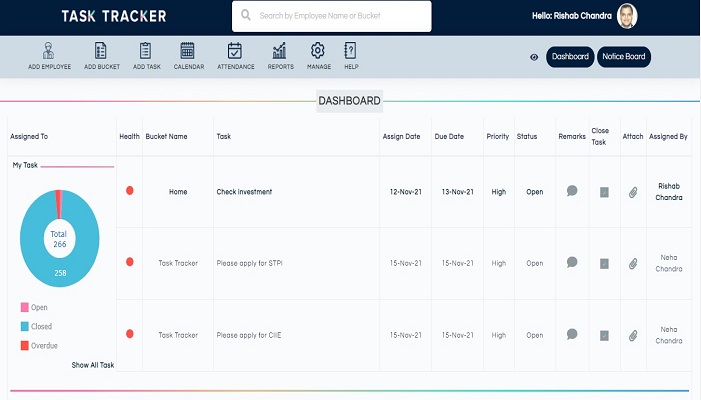 Key Features:
Online Attendance: Task tracker enables your employees to report to work from anywhere, configure attendance rules for work times or flexible time, ensure accurate reporting and easy payroll calculations, and provide a detailed report of your team's attendance records in real-time.
Organize Task: The app organizes your daily tasks by priority and due date and sends automatic reminders. So, you never miss a critical deadline, even n the absence of your manager. It allows sharing instant comments with remarks, assigning recurring tasks for the week, the month, or even the year, and the system will ensure they are completed and allocated again on time. The assigned tasks can be easily viewed in a calendar format to check deadlines for you and your team at once.
Reporting: Task Tracker enables measuring strategic metrics to assess the performance and focus your report on a specific set of data for an employee for a specific period. Here, you can export or connect reports to excel, enabling you to work with data outside of Task Tracker, get results in real-time, and increase your decision-making agility and accuracy.
How it works:
Add a task,
Set recurring task,
Find it in calendar view,
Get notifications automatically on Whatsapp,
Get attendance with location tagging,
Flexible and Infographic reporting,
Access information anywhere on the iOS & Android mobile apps
Pricing:
Free to use
DeskTime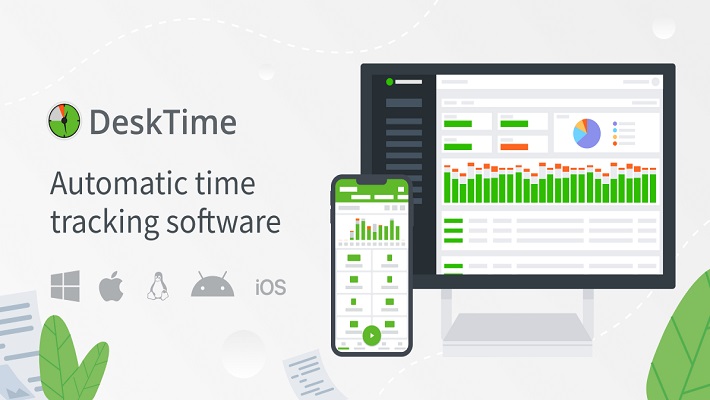 DeskTime is a simple-to-use time tracking app with three essential features- employee monitoring, project management, and productivity analysis. In addition, this employee productivity tracking software is designed to assist managers and their teams in identifying their unproductive habits by sorting web pages and applications into "Productive" and "Unproductive." It also automatically calculates your daily productivity and efficiency based on your categorization of URLs, programs, and apps. This leads to the more time you spend on productive applications, the higher your daily productivity is.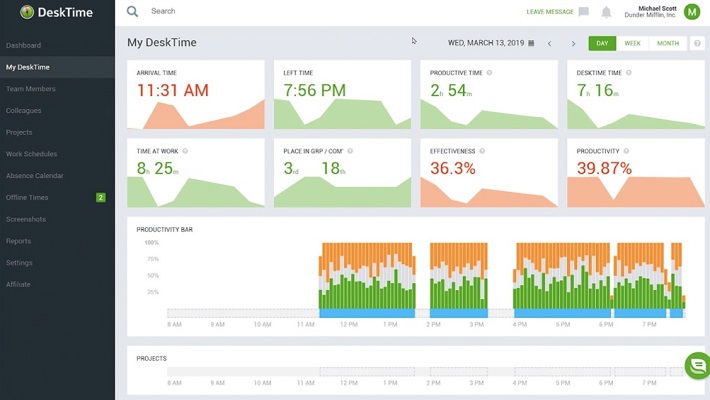 Key Features:
Auto screenshots: It is for a more detailed view of your team's efficiency and monitoring of remote employees. In the interval of every 5, 10, 15, or 30 minutes DeskTime will take a screenshot (regular or blurred) of what everyone is working on and automatically highlight shots that have caught unproductive activities.
Pomodoro timer: The feature makes sure your team not only works hard but also remembers to take breaks to avoid burnouts. It will remind you to pause work every 52, 60, or 90 minutes.
Absence calendar: It coordinates time off with the DeskTime employee absence calendar. It permits employees to plan their schedules and let the team know when they'll be on vacation or homesick. This reduces unnecessary questions about the whereabouts of absent employees and assists you plan everyone's workload.
Invoicing: It also helps to create and issue accurate invoices to your clients. Gain an overview of sent invoices, as well as their payment status. And you can send them automated reminders when an invoice is overdue.
How it works:
DeskTime for Teams: Keep track of processes and goals, Set Automatic time & project tracking, and Grasp shift and absence scheduling.
DeskTime for Employees: Identify your computer usage habits, Improve upon work plan & execution, and See what's causing constraints in your day.
DeskTime for Freelancers: Track time spent on specific projects, Use the Cost calculation and Invoicing features, and Boost productivity to raise your income.
Pricing:
DeskTime Lite: Free
DeskTime Pro: Pricing plans start at $7/user and can go as low as $3,85/user for larger teams, if paid annually.
DeskTime Premium: Pricing plans start at $9/user and can go as low as $5/user for larger teams, if paid annually.
DeskTime Enterprise: Pricing plans start at $14/user and can go as low as $7,70/user for larger teams, if paid annually.
RescueTime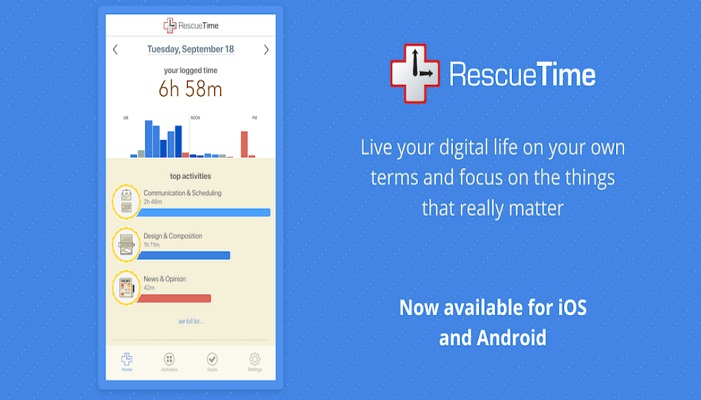 RescueTime is a time tracking app that tracks the time you spend on specific URLs, programs, and apps and shows you how productive you've been during the day. It calculates your productivity automatically based on pre-grouped categories with built-in productivity scores. In addition, with RescueTime, you can arrange your task targets and keep track of how you're doing.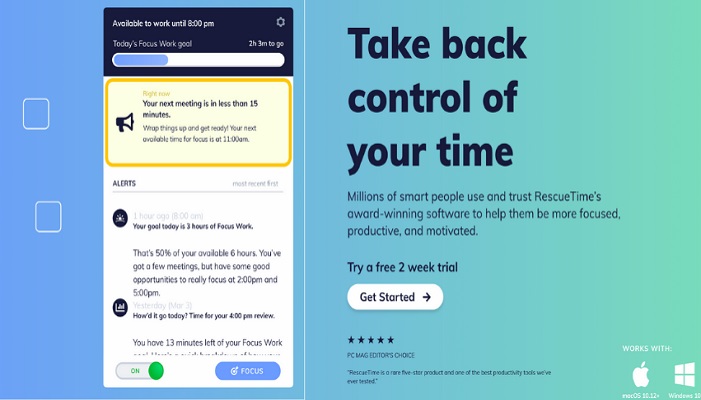 Key Features:
Set daily task goals.
Receive daily productivity and efficiency analysis.
Block access to distracting webpages.
Weekly email summary.
How it works:
Create a list of tasks,
Set timeline for the tasks,
Set the goal as per daily scheduling feature,
RescueTime will keep you on track and make you more efficient.
Pricing:
RescueTime Lite: Free
RescueTime Premium: $9 per user/month or $72 per user/year
Toggl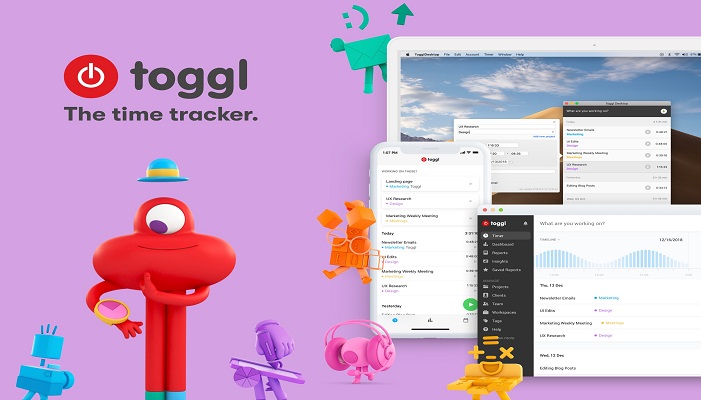 In Toggl, you can quickly build projects, assign responsibilities and create estimated timelines and budgets for each project involved. So, you can mark your overdue and over-budget projects immediately, then plan your time and adjust resources consequently. In addition, they created a brand new Toggl Android app that you can use with your existing Toggl account for easier time tracking and productivity enhancement.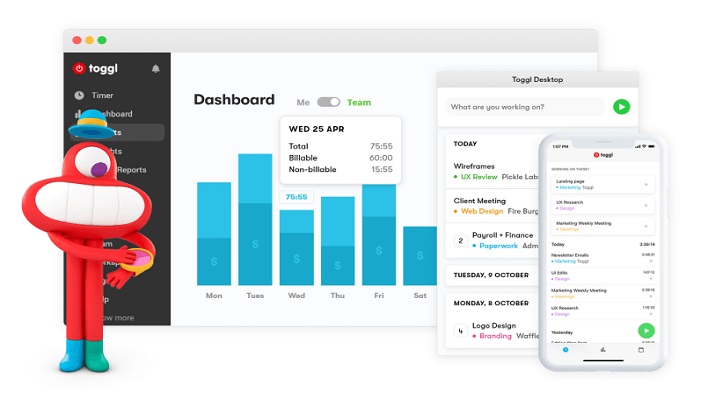 Key Features:
Set estimated project timelines and budgets.
Convenient browser extensions (Google Chrome, Mozilla Firefox).
A separate Toggl Android app.
How it works:
Create a project, then create a task within the project and start the timer. Done working on the certain task? Click stop and switch the tasks.
Once the project is finished, create an invoice for your client and send it without even leaving the app.
In addition, you can share your project time report in Excel, CSV or PDF with the client, so they know what they're paying for.
Pricing:
Monthly plan- Free: $0 (Up to 5 users), Starter: $10/user, Premium: $20/user
Paid annually - Starter: $9 per user/per month, Premium: $18 per user/per month