Amid pandemic, the stock market has been booming tremendously, and it's the right opportunity for the traders to bank on. However, it is crucial to update the market movements every minute as the rise and drop happen swiftly. Gone are the days of traditional stock marketing. The modern stock market traders prefer a more straightforward method to track the rising and fall of the stock on an everyday basis or even hourly if needed. This is where the handy mobile apps come in handy to ease the tedious stock tracking. The financial application aid the traders to update by tracking the stock market by using the real-time streaming market price of the stock, drawing stock charts, making a virtual portfolio. These features of stock market apps aid the traders. Here we bring the top five stock market apps to keep the market status at the fingertip.
MoneyControl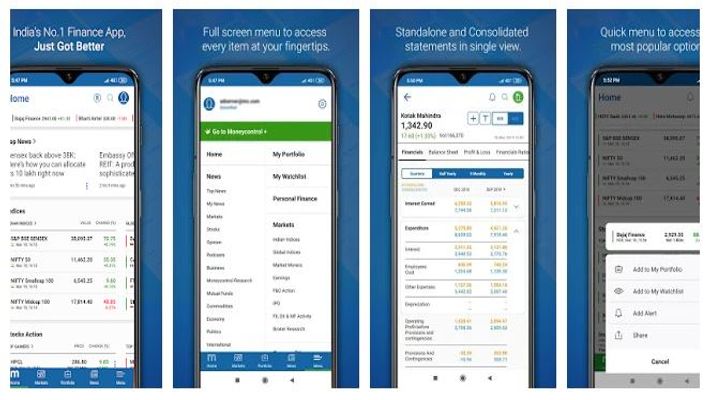 Money Control is an ideal stock market app; if you intend to keep only one stock market app to track the market. The money control app is manageable still provides ample information and news. Enables the user to track the latest updates on Indian and Global financial markets via smartphone. The app covers multiple assets from BSE, NSE, MCX, and NCDEX exchanges so that the user can track Indices (Sensex & Nifty), Stocks, Mutual Funds, Commodities, Currencies and more.
Key Features:
Enables easy navigation across all financial data, portfolio, watchlist and message board.
A single search bar is used with voice search for indices, stocks, mutual funds, commodities, news and more.
Gives Latest quotes of stocks, mutual funds, F&O, commodities and currencies from BSE, NSE, MCX, and NCDEX
markets, business and economy news and interviews of senior management are covered promptly.
Provides personalized watchlist. The user could add the stocks, mutual funds, commodities, futures, and currencies of their choice and monitor
Economic Times(ET) Markets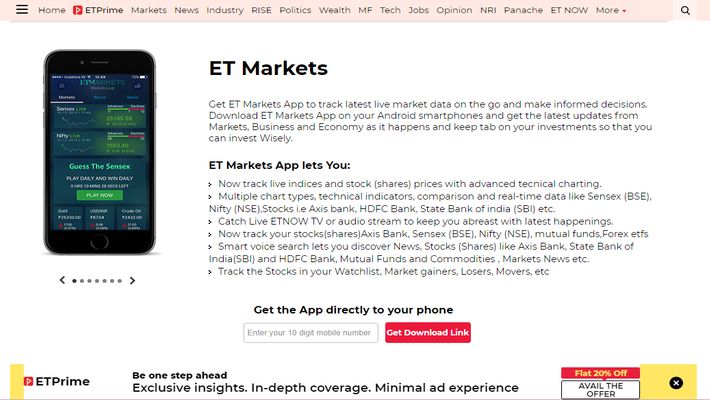 This is another of the best stock market apps. The ET Markets app is ideal for reading market news and updates as they provide the best latest news. Furthermore, the stock details highlight on this app is always very well organized.
Key Features:
To track BSE Sensex, NSE Nifty charts live and get share prices with advanced technical charting.
Follow stock quotes in real-time, get tips on intraday trading, stock futures, commodities, forex market, ETFs on the go.
One-stop destination for mutual fund news, NAVs, portfolio updates, fund analysis, SIP calculator
Simple swipe to build, manage and access your portfolio; get customized news, analysis and data of the Indian stock market
To create your watchlist and track them regularly
Get analyses/expert views delivered to you, participate in discussions/conversations through comments
Stock Edge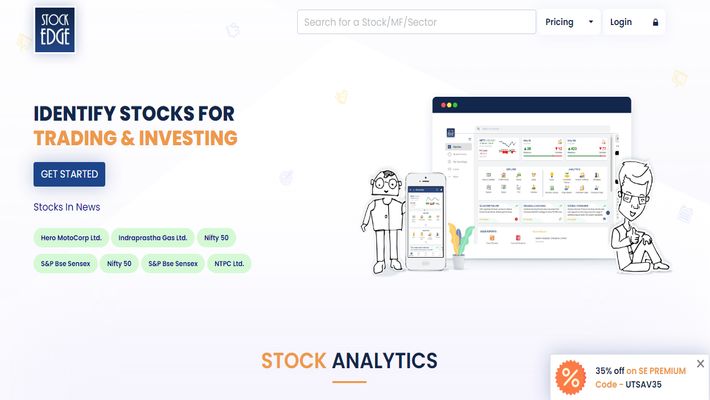 Stock Edge helps Indian Stock market traders and investors do their own research and make better decisions by providing them with end-of-day analytics and visualizations and alerts.
Key Features
Daily Updates Section for filtered major market tracking with News, NSE & BSE Corporate Announcements, Forthcoming events, & Corporate Actions and more.
FII/ FPI & DII Cash and Derivatives with strong historical data visualization Daily, Monthly & Yearly.
Opportunity Scans: Price Scans, Last week high/ low, Last Month high/ low, 52 weeks high/low, 3 days price behavior, etc.
Track what Big Indian Investors are doing. Use MyInvestorGroup section to create your own group of Investors with their multiple names/entities etc.
Sector Research: Sector List, Industries in a sector, Companies in a sector/Industry, Price Movement of last 30 days presented in a simple graph, Gainers, Losers and more.
Tickertape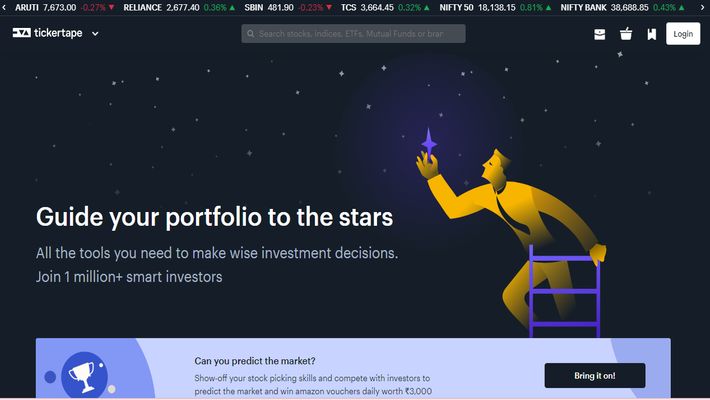 Tickertape is newer when compared to other stock market apps . It is a modern stock analysis platform that is created for track the market updates. Tickertape concentrates on salient metric analysis with robust tools and sturdy ecosystem provider that can be a agitator to enhance your understanding about the market and their cooperation in the same.
Key Features:
Provides Detailed stock analysis for all the publicly listed organisations in India.
Advanced Screener with 130 filters for you to analyze any Indian stocks.
Market mood Index (MMI) which is the market sentiment indicator trusted to correctly time their trades.
Peer comparisons, news, and events are presented in such a way that will help in your investment decisions.
Finally, Broker Connect to help you log in and connect your broker account to the Tickertape account.
Market Mojo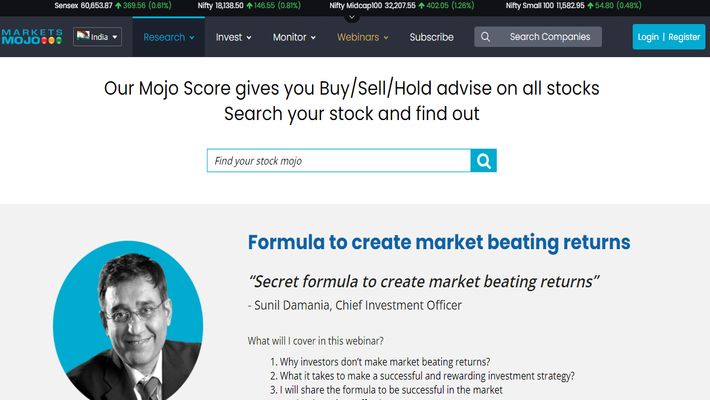 Market Mojo is a new yet a robust app for stock market research. Market Mojo is excellent for the primary analysis of stocks. It provides pre-analyzed data on all stocks, and financials, news, and price movement, broker recommendations, technical and information that means in the Indian stock markets.a
Key Features:
The apps valuation defines how the stock is priced at its current price
Its current financial trend symbolises if the organisation is currently on a growth path and its capacity to produce profits.
The Portfolio Analyser estimates every hidden probability and uncertainty in the portfolio and revels it to the investor what the user could do rather than just tracking.
Every portfolio goes through our test of seven parameters-Returns, Risk, Diversification, Liquidity, Quality, Valuation & Financial Trend