As of now, many knew screen recorders were just video recording tools, but in this article, I am going to discuss it more. Screen Recorder is most useful for recording the tutorials of many applications. The interactive video feature is helpful for app developers to record the video to explain the usage of their applications.
The recording can involve everything from your taps and cursor movements to typing a URL into your browser to assist people in learning what to do and how to do it. Audio narration is available, and sometimes the explanation is also offered as part of a tool's package.
Some screen recording tools can't support various formats or export directly to popular video platforms like YouTube. For example, not every screen recording application comes with an HD screen recorder. As such, you should pay attention to its capabilities before downloading or installing screen recording software on your device.
In this article, we reveal a few Screen recording software's for users. We'll explain each in detail below but find our shortlist below if you're just interested in the name of the top picks.
Adaptable Screen Recorder Tools with multiple features
ActivePresenter Screen Recorder
ActivePresenter is a screen recording, and eLearning software for Windows and Mac OS used to create software demonstrations, software simulations, and quizzes. It is most preferred by YouTubers, video producers, educators, and trainers. ActivePresenter essentially has all the features and effects for one who needs to record screens and edit videos.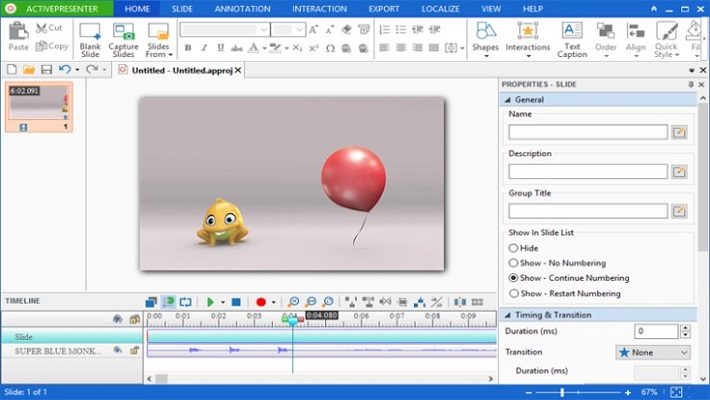 ActivePresenter Info
Devleoper: Atomi Systems
Initial release: 2008;
Stable release: 2021;
Features
•Exporting series of images.
•HTML slideshows.
•Documents like PDF, Microsoft Word.
•Microsoft PowerPoint.
•Supports Video Formats such as AVI, MP4, WMV, WebM, Flash videos.
Pricing
Three editions are available at different prices, each having the capabilities of lower ones, plus added features. Free edition comes with no watermark when using free features. You can test all features of ActivePresenter without any functionality or time restrictions. Advanced audio and video editing features are open to creating impressive videos and software simulations when you upgrade to the paid versions.
Standard Edition - $199/ license
Pro Edition - $399/ license
Screencast-O-Matic Screen Recorder
Screencast-O-Matic is web-based screencasting software offered by screencast-o-matic.com. Screencast-O-Matic is an online screen recorder and video editor that supports both webcam and screen recordings. This tool can be started directly from a browser or used as a desktop app without an internet connection when you install the full version. Screencast-O-Matic offers many features ranging from screen recording, video editing to video hosting and sharing.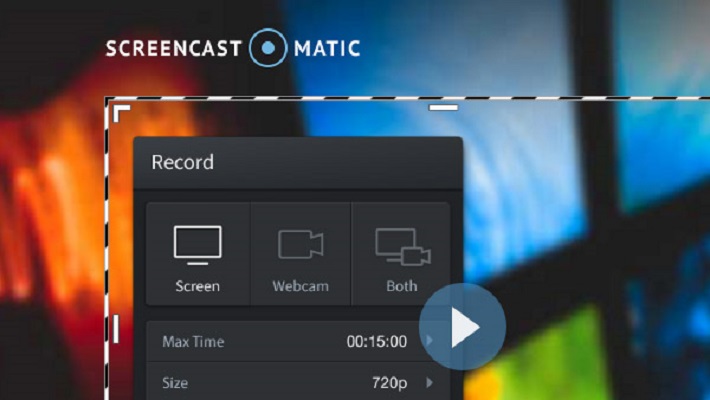 Screencast-O-Matic Info
Devleoper: screencast-o-matic.com
Initial release: 2020;
Stable release: 2021;
Features
• Record full screen, window, region, webcam, microphone, computer sound.
• Draw, add text, and zoom in while recording.
• Scripted recordings.
• Closed captioning and automated speech-to-text captioning.
• Video editing features: trim, cut, change speed, add zoom-n-pan, annotations, multimedia, green screen effect, and more.
• Publish videos directly to YouTube, Vimeo, and other platforms.
• Password protection videos and make them searchable or unlisted.
Pricing
Individual users can get the software for free. They can download it from the website. Professionals can either opt for paid version $1.50 per month
Flashback Express Screen Recorder
Flashback Express is a lightweight and resource-friendly screen recording tool with a great list of features, notwithstanding its size. If running this software on a multi-monitor system, you can record screens over multiple monitors or limit capturing to a single monitor. Obtaining footage from your screen, webcam, or audio, cut it and chop it to fit your needs.
Intensify videos with text, images, effects and add commentary and music to design a personal and professional-looking production.
Flashback Express Info
Devleoper: Blueberry Software
Initial release: 2014;
Stable release: 2021;
Features
• Capture screen, webcam, sounds.
• Delete unwanted footage.
• Enhance videos with text, images, and effects.
• Add commentary and music.
• No time limits, watermarks.
• Add commentary.
• Save as MP4, AVI, WMV.
Pricing
There are two versions in this for the free version, you don't need to pay, but for the advanced version, you need to pay for the license according to your requirement.
1-PC License - $49
2-PC License - $74
3-PC License - $111
4-PC License - $148
5-PC License - $185
Apowersoft Screen Recorder
Apowersoft Screen Recorder allows you to access quickly, easily record your computer screen without downloading screencast software. This app is web-based, meaning you open the program in your web browser to record all types of activities on your screen. With its intuitive user interface, it's painless to use the application to create video streams, self-demonstration, live chat, and more. This suite of software applications comprises screen recorders for Android, iOS, Mac, and Windows.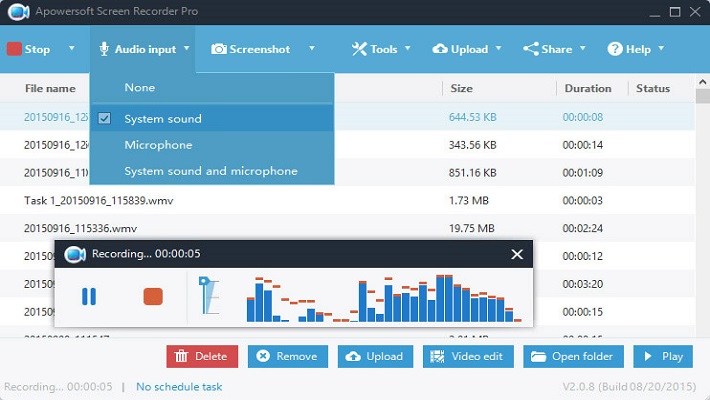 Apowersoft Info
Devleoper: WANGXU TECHNOLOGY
Initial release: 2018;
Stable release: 2021;
Features
• Various recording modes.
• Full screen.
• Customs area.
• Recording in real-time.
• Add Callouts, lines, text, and more without needing to pause.
Pricing
The free version of the Apowersoft comes up with the option to upgrade to the pro version. The Pro version costs $59.9 per year.
OBS Studio Screen Recorder
OBS Studio is a free and open-source, cross-platform streaming and recording program. OBS Studio is specially designed for content writers. It helps in video recording and live streaming without a watermark or time limit. Hardcore gamers much prefer it for broadcasting their live game play footage. While OBS Studio is a versatile tool for screen recording, it integrates no video editor. You need to use other software if you want to edit your recorded video.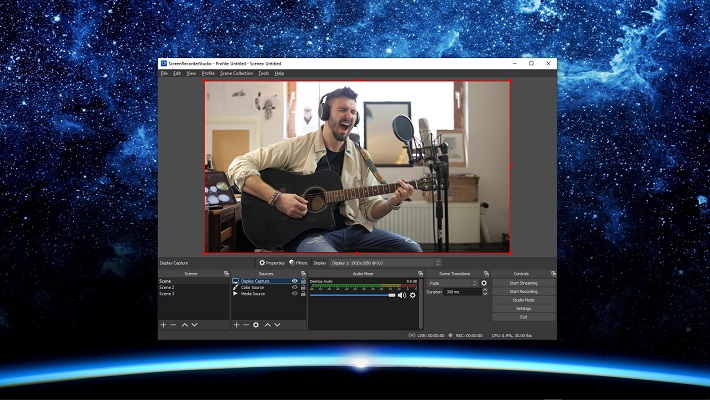 OBS Studio Info
Devleoper: Hugh "Jim" Bailey and community volunteers
Initial release: 2012;
Stable release: 2021;
Features
•Recording and streaming platform.
•Stunning visuals.
•Multiple Filters.
•Noise suppression.
Pricing
OBS Studio is a free software
Conclusion
Screen recording software can assist a diversity of ideas, and the most useful ones don't fundamentally need to come at a price. And if you seem to add more features or use professional editing tools, you can always sign up to a paid option. Probably, one of these screen recording programs will fulfil your requirements.