Gen Zs or digital natives are challenging their boundaries to explore the world with the help of online platforms. Applications or online platforms are always their first approach for almost everything. From banking to booking transportation, ordering food to shopping and a lot more. Moreover, innovations of new apps keep rolling out for the sake of an easy lifestyle.
Travelling might be expensive, but there are some ways to cut expenses. In the epoch of sharing economy and rental platforms, the cost of travel and accommodation would not be an obstacle for Gen Z. Using the right platforms during your adventure can make it easy and affordable. Whether you are looking to renting a wide range of travel products, including luggage, backpacks, strollers, tent accessories and baby travel gear, there are some online platforms to save costs and explore. Refer to these rental destinations for 'spend less and avail more trips'.
Toehold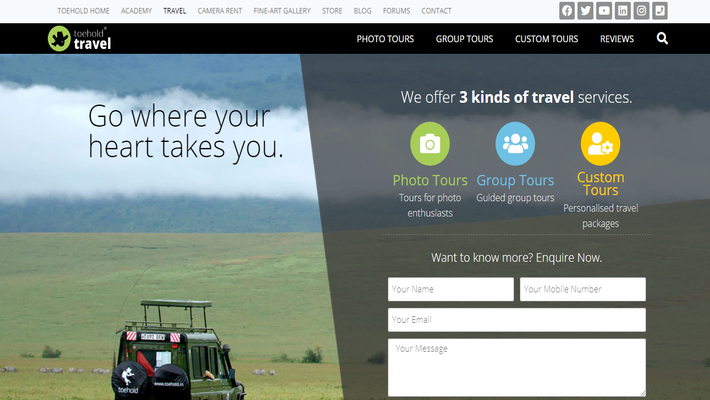 Fascinate your travel memories without spending a lot of money. Toehold offers photography-equipment rentals in Bengaluru and Pune. They rent a complete array of cameras, lenses and accessories. Whether it's an entry-level camera and kit lens, or a sleek digital SLR camera with an ultra-telephoto lens, Toehold's rental portfolio is well-stocked.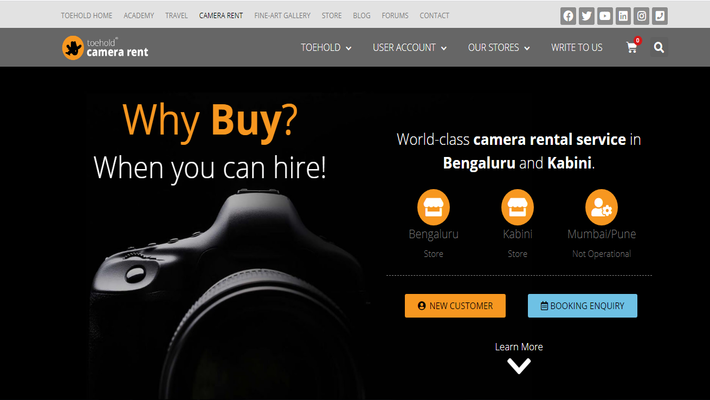 How it works
Registration
Document Verification Process
Registration Fee
Start booking Online
Hire and Use
Charges:
Canon 1DX Mark, 550D, 5D, 650D Camera - Rs. 3,300 to Rs. 2,900 Incl. GST
1.4X Teleconverter AF-S TC-14E II Or Canon 1.4X EF Extender III - Rs. 300 To Rs. 350Incl. GST
Canon 1.4X EF Extender III – Rs. 400 Incl. GST
Canon EF 100-400 mm f/4.5-5.6L IS USM Lens – Rs. 1,000 Incl. GST
Wicked Ride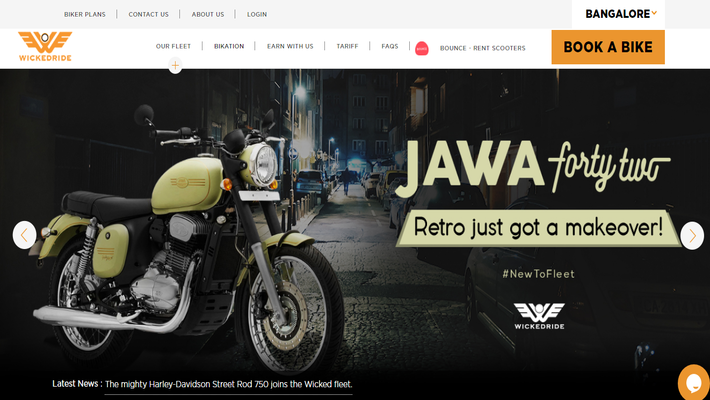 If you're planning for a motorcycle trip, Wicked Ride can be of great use to you. Wicked Ride rents out striking bikes such as Harley Davidson Street 750, Iron 883, and Continental GT cafe racer from Royal Enfield and Triumph — Bonneville. Users get to rent by hour or by day.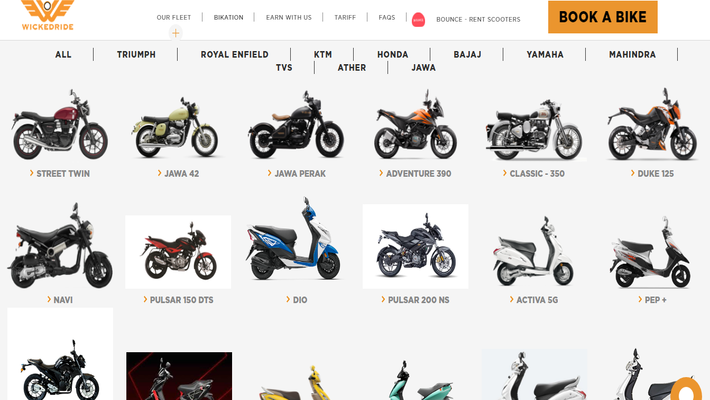 How it works:
Go to Book your Ride option
Select dates, bike and pickup location
Sign up with few essential details
Reconfirm your selected bike, dates and pickup location
Pay through the given payment gateway
Charges:
Royal Enfield Classic-350 ––Rs.42/Hr & Rs.52/ Hr on weekday and weekend respectively
Triumph Street Twin – Rs.250/Hr & Rs.285/Hr on weekday and weekend respectively
KTM Adventure 390 - Rs.167/Hr on Weekday Or Weekend
Yamaha Fz 250 – Rs.40/Hr On Weekday Or Weekend
RentOclicK.com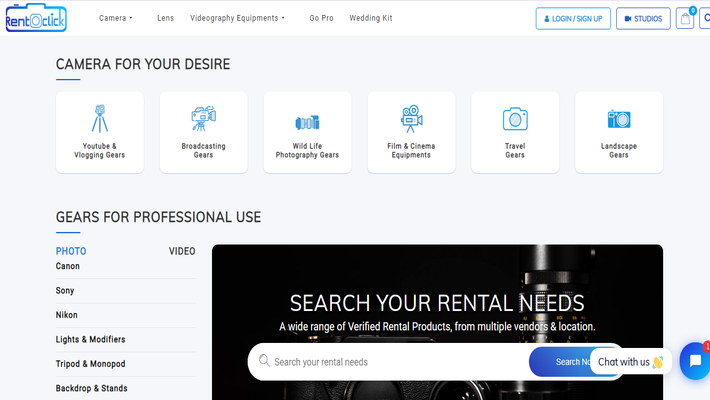 RentOclicK.com (formerly renterneeds.com) is the one of the best online rental providers for photography, videography, travelling, lighting equipment and accessories in India. It is well known for dedication and commitment towards services to customers across Delhi/NCR and also offers in-person pickups and returns to the customers.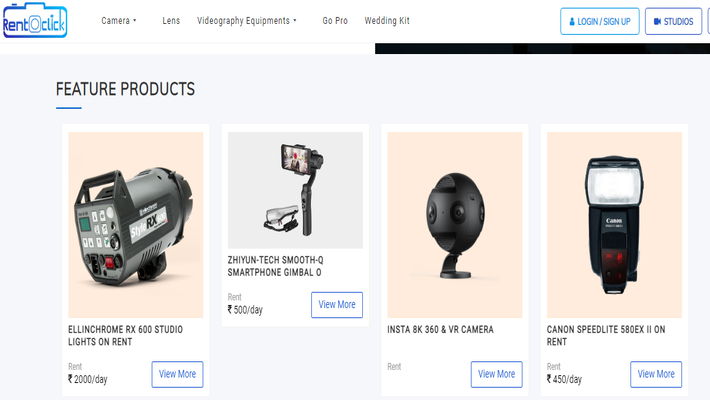 How it works:
Browse and select your renting needs
Choose Your Dates
Pay 10 % & Book Now
Charges:
Zhiyun-Tech Smooth-Q Smartphone Gimbal on rent – Rs. 500/day
Canon EOS 1500D On Rent – Rs. 500/day
GoPro Hero 5 Black on Rent – Rs 450/day
SharePal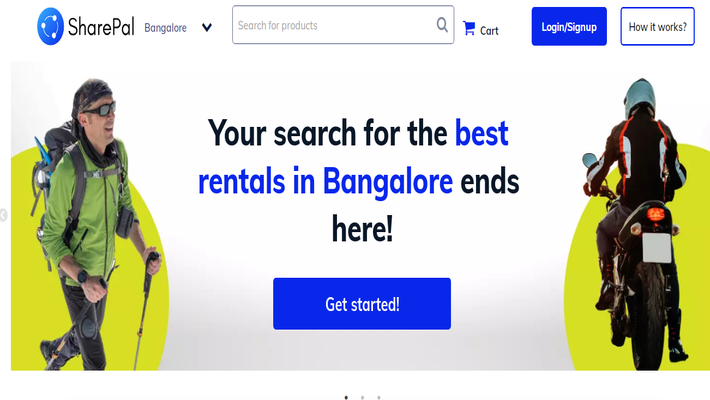 SharePal is a rental startup for all your lifestyle needs. Be it travel, photography, entertainment or fitness, one can rent all the latest products. It is a leading rental platform with a pan India presence. They offer Trekking Gear, Riding Gear, DSLR Camera, GoPro Camera, PS4 Console, Xbox Console, PS4 Games on rent in Bangalore. Their services cover all of Bangalore, some of which are Koramangala, Indiranagar, Marathahalli, Whitefield, Rajajinagar, HSR Layout, BTM Layout, Electronic City, Jayanagar, AECS Layout, Kundalahalli, K R Puram, and Richmond Town.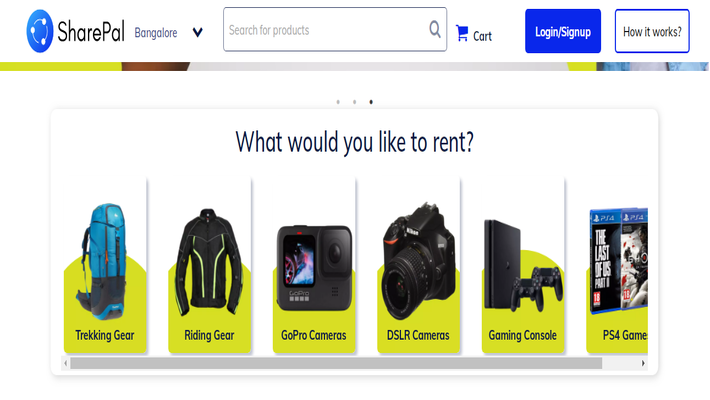 How it works:
Choose product of your requirement
Add to your cart and check out
Rental products will be delivered to your home with full safety measures.
Charges:
DSLR camera for rent at an affordable price.
Canons 1500D, Nikon D3500, Nikon D5600 models are available to rent starting Rs 399/Day.
Gaming consoles as PS4 console or Xbox console for Rs 3499 a month.
Bragpacker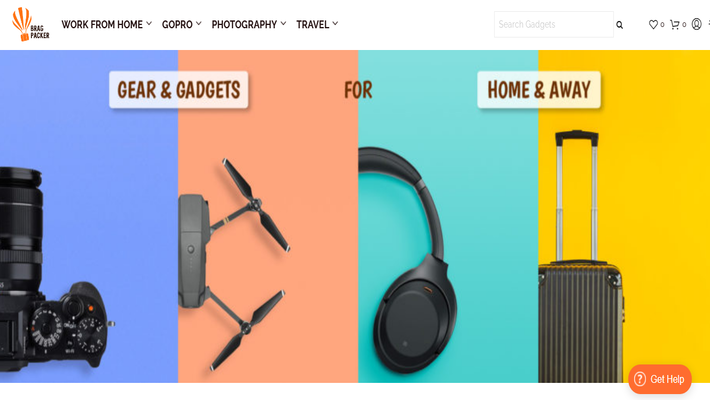 Bragpacker is considered a platform that aims to bring the best travel products in the world to Indian consumers. At the same time, they also believe that this pre-travel purchase does not have to be expensive and wasteful. Therefore, they showed the customers different usage patterns, allowing them to access the best products without affecting their travel budget. Bragpacker follows the concept of 'Try and Buy', wherin the customers can try a product for a small rental fee and if appropriate Bragpacker would send a brand new product to them and also adjust the rental fee against the Buy price.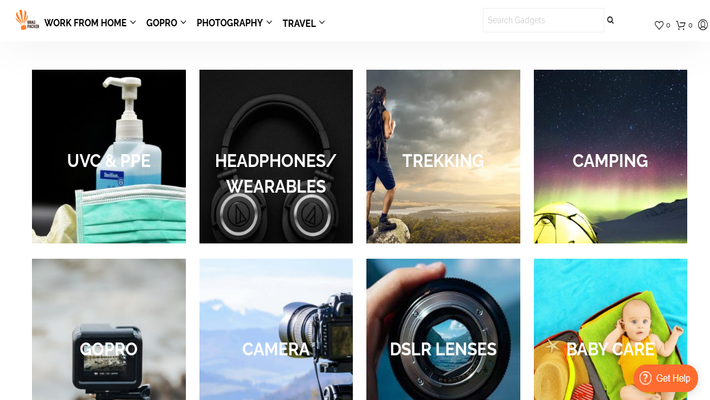 How it works:
Visit the portal and choose your travel needs
Place your order
It will be delivered at your doorstep with a few hours.
Charges:
Backpacks, Trolleys, Daypacks are starting at Rs 500
Trekking, Camping, Bikking gear are starting at Rs 300
Travel Accessories – essential at Rs 5-10/day