I was planning to take my bike for the service, but i didn't find any time on Weekdays because i would have gone with office work, and for the weekend, who wants the bike to be at the service centre. So then i started browsing for doorstep bike service providers. That is where i found many online platforms to book doorstep services. Since then, i have come across a few best bike service portals, and today, i am here to share my experience with an article.
Most useful doorstep bike service portals
GoBumpr Bike Services
GoBumpr is a one-stop-shop to service, maintain and repair all of your cars & bikes at a single tap of your mobile screen - starting from Car Service, Bike Service, 24x7, Car Repair, Bike Repair, On-Road Assistance, Tyre Puncture Assistance to Finding Petrol Bunks on the go.
Breakdown Assistance: Yes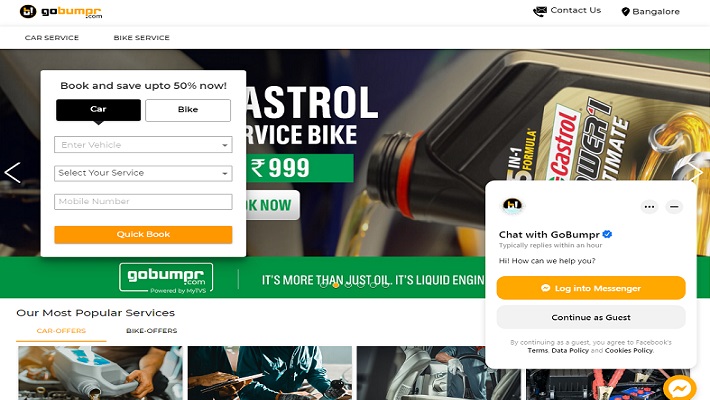 Services include:
Complete General Service Includes Engine Oil Change

Brakes Check and Clean

Clutch Play Adjustment

Chain Lubrication and Adjustment

Spark Plug Clean

Electrical Wiring Check

Exterior Foam Wash
Pricing:
Pricing includes all the services mentioned above. In addition to this, oil (manufacturer recommended / equivalent grade) change will be done at the same cost. Spares and consumables are chargeable. All prices mentioned in the website are exclusive of taxes.
Bro4u Bike Services
Bro4u lets you choose the expert of your choice to serve. They understand your requirements and cater just the way you like it. Background verified well trained and experienced professionals at your doorstep.
Breakdown Assistance: Yes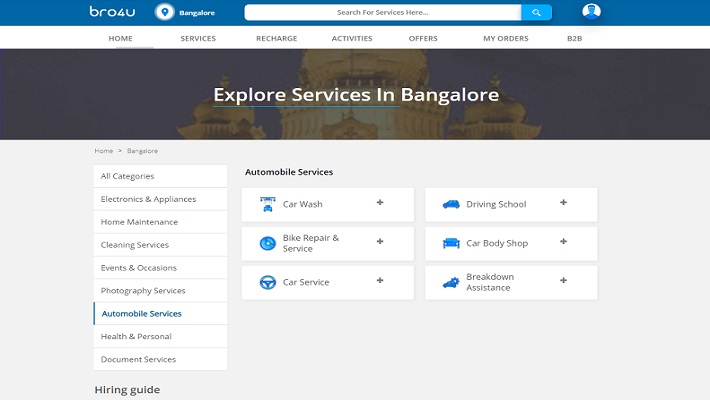 Services include:
Bike Repair & Service

Car Wash

Driving School

Car Body Shop

Car Service
Pricing:
Pricing varies on the service you opt for, and additional spares are chargeable. All prices are specified on the website exclusive of taxes.
Spotmech Bike Services
Spotmech has the option to personalize the repository maintaining records of your Bike repair. They have skilled service experts who are well equipped to provide a high-quality Bike service at your doorstep. Spotmech doesn't let you wait outside garages for getting your bike serviced. So their service experts complete the service within 2 hrs at your doorstep.
Breakdown Assistance: No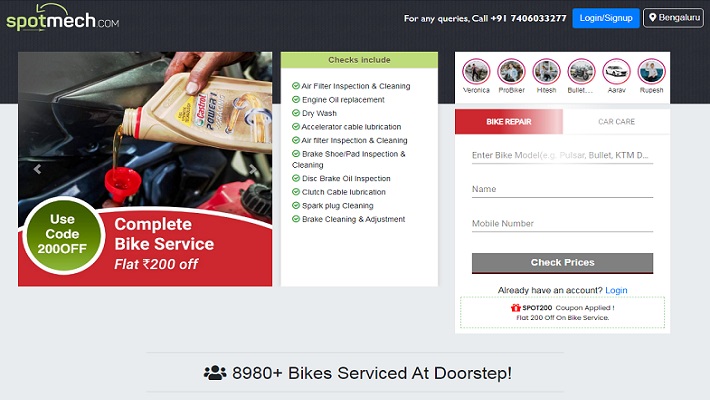 Services include:
Air Filter Inspection & Cleaning

Engine Oil replacement

Dry Wash

Accelerator cable lubrication

Air filter inspection & Cleaning

Brake Shoe/Pad Inspection & Cleaning

Disc Brake Oil Inspection

Clutch Cable lubrication

Spark plug Cleaning

Brake Cleaning & Adjustment
Pricing:
All the estimates and quotations will be provided before the work gets started. Pricing is entirely transparent, and there are no hidden costs.
Beyond Garage Bike Services
Beyond Garage has formed after the amalgamation of the successful vehicle service company Doers and spare parts supply company Auto Part Hub with the vision to organize & standardize the world automotive service needs and provide a quick, transparent, quality and affordable solution to our customers. Beyond Garage manages the end-to-end operation of vehicle service and spare parts supply to provide professional and value for money service. Beyond Garage, services cover anything related to bikes and cars, from general service, painting, insurance work to breakdown services like vehicle not starting jumpstart and many more.
Breakdown Assistance: Yes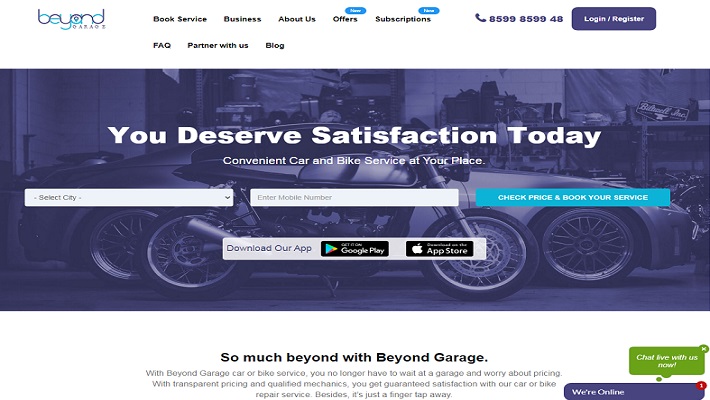 Services include:
General Service

Engine and Transmission

Brakes System

Fittings

Suspension System

Insurance Work

Wheels

Electricals

Oil and Coolant

Body Work
Pricing:
Beyond Garage first, diagnose & give you a brief as per the actual need of the vehicle for your approval. Pay before/after service via multiple online payment options.
Hoopy Bike Services
Hoopy is a Contactless Bike Care at Home. They give best of class professionalism, punctuality and quality services. Timely response from the Service team as well. The most important thing is the ease of getting your bike serviced at your doorstep.
Breakdown Assistance: No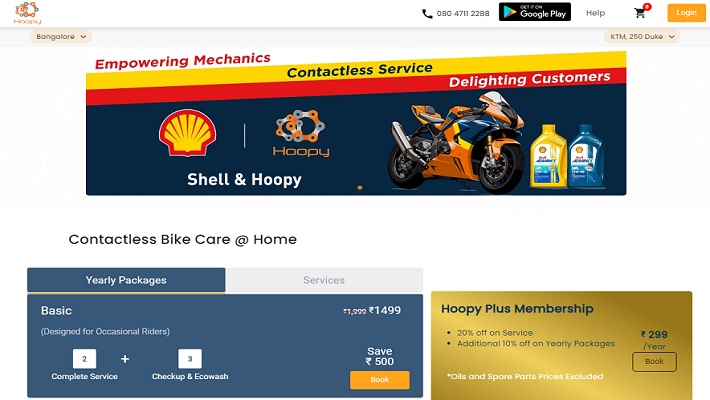 Services include:
General Repairs

Eco wash

Battery

Clutch

Tyres

Engine
Pricing:
Pricing is entirely transparent, and there are no hidden costs. They have many annual plans for every bike model.