After lifting the ban, cryptocurrency has made a grandeur entry in India. Like never before businesses and even the common man are keen on investing in cryptocurrency. Blockchain data firm Chainalysis's report has revealed that approximately $6.6 billion that makes Rs.49,189 crore in cryptocurrencies has been invested in it as of May 2021. With this number, India stands 11th out of 154 countries that have adopted cryptocurrency. This interest in India put the Cryptocurrency Exchange, a digital marketplace that allows crypto trading under the spotlight. An ideal crypto exchange should serve with accessibility, security, storage, liquidity, tax information, educational tools and most importantly lower charges. In order to help you choose the right crypto exchange, we have listed out top five Cryptocurrency exchanges at a low cost.
Unocoin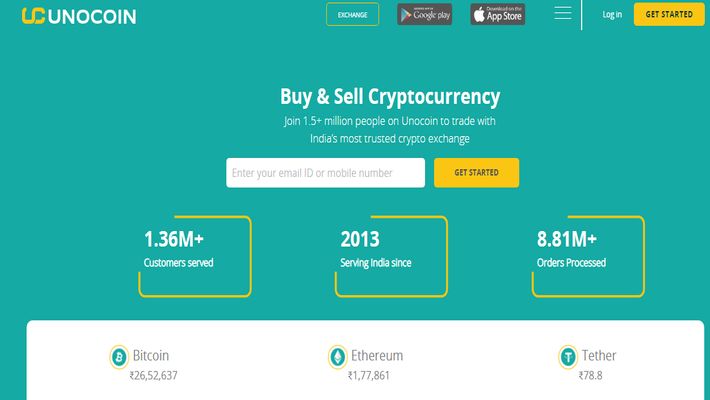 Unocoin comes with a simple user interface and supports many cryptocurrencies. When signing up in this app, you need to create an account and complete your KYC (Know Your Customer) process. The app also comprises a schedule sale feature that enables you to auto-sell from the profile tab. Unocoin credits allow a minimum amount of Rs.1,000, but when you deposit money using NEFT, RTGS, IMPS, or UPI, users are not charged any amount. Unocoin also offers biometric security features through finger ID and passcode. But let's say you type the wrong code along with the biometric ID, the app would log you out.
Unocoin Info:
Founded: 2013
Headquarters: Bengaluru, Karnataka, India
Founders: Sathvik Vishwanath, Sunny Ray, Abhinand Kaseti, Harish B V
Trade Charge:
The users are charged a fee of 0.7 percent on buying and selling their assets. This price is pertinent for minimum usage of 60 days. Post that, the user would be charged 0.5 percent and would be given a Gold membership.
CoinDCX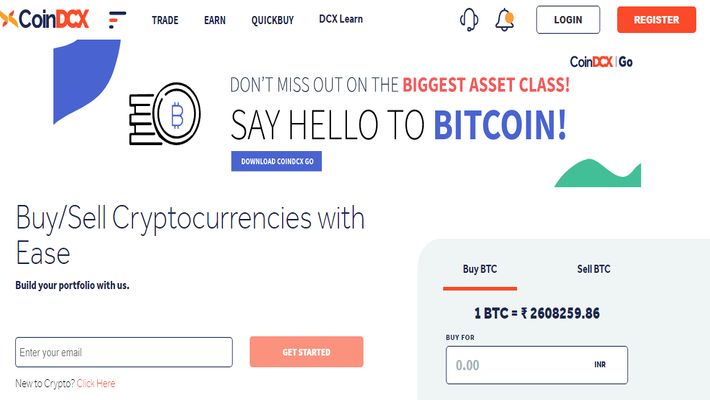 CoinDCX is one of the handiest trading app for cryptocurrencies in India. This app allows you to buy or sell with a maximum of 200+ trade coins. Also, the whole setup process has been eased using an OTP on your registered mobile number and email ID. CoinDCX provides an extensive set of security actions in place. Firstly, the users has to verify themselves using the Google authenticate app, without which, one cannot inititate trading on the app. You also need to set up a withdrawal password that needs to be confirmed for every withdrawal you make.
CoinDCX Info:
Founded: 2018
Headquarters: Mumbai, Maharashtra, India
Founder: Sumit Gupta and Neeraj Khandelwal
Trade Charges:
CoinDCX charges a maker and a taker fee of 0.1 percent, with a minimum withdrawal limit set to Rs 1,000 however no fees is charged on it. This cryptocurrency exchange app only supports Indian rupees to enable you to trade in cryptos. You can credit money into the account using NEFT, IMPS, RTGS, UPI, or even a simple bank transfer.
Zebpay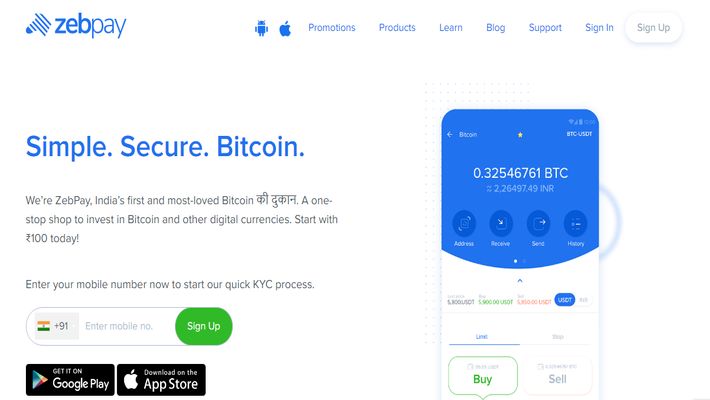 Zebpay is another cryptocurrency exchange app. It is one of the oldest crypto trading apps available in the market. It enables you signup and fills KYC details via your phone to start trading. The platform caters to the refer-and-earn feature. So if you cope to sell the idea of crypto trading through Zebpay to others, and if they sign up you earn 50 percent of the trading fees made through your links for one year.
Zebpay Info:
Founded: 2014
Headquarter: Singapore
Founder: Sandeep Goenka, Mahin Gupta, Saurabh Agrawal
Trade Charges:
Zebpay allows a minimum deposit amount using UPI to be Rs 100, and another sort of payment is R. 1,000. It charges 0.0001 BTC per month as membership fee. However, you can avoid the fees by actively investing in it. It if your trading happens on the same day, you would be charged a trading fee of just 0.10 percent. Zebpay offers free deposits of all cryptos. But if you deposit using UPI, there is a fee of Rs 15, while 1.77 percent is charged on net banking. The platform also charges a fee of Rs 10 for all withdrawals and for Bitcoins it is 0.0006 BTC.
WazirX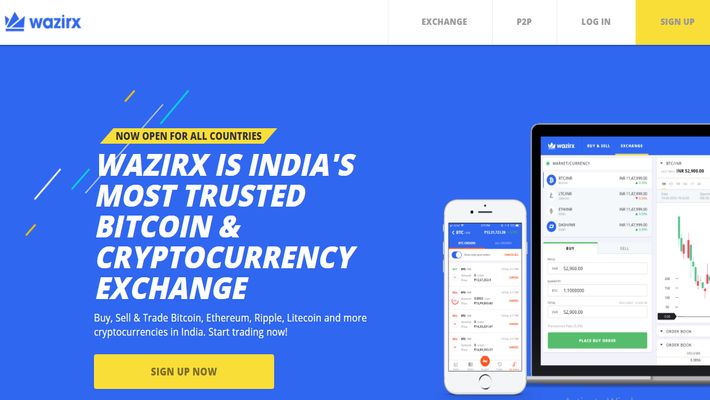 WazirX is one of the most popular and cost-effective crypto exchange app. In this crypto exchange app you can invest using Indian rupees, US dollar, BTC, and even P2P. Also, WazirX has its own coin called WRX that can be purchased using Indian rupees. Then you can use WRX to invest in other cryptos. One of the popular features of WazirX is that you can earn coins through various contests that are available on the info section of the app. Users can secure their account using 2FA or App passcode that can be enabled from the phone's setting.
Wazirx Info:
Founded: 2018
Headquarter: Mumbai, Maharashtra, India
Founder: Nischal Shetty
Trade Charges:
WazirX applies a charging fee of 0.2 percent applicable on the taker and maker. You can deposit any amount over Rs.100 in the WazirX wallet through NEFT, RTGS, IMPS, and UPI. The first three come with a transaction fee of Rs.5.9, while UPI transactions go through without any fees.
Ledger Nano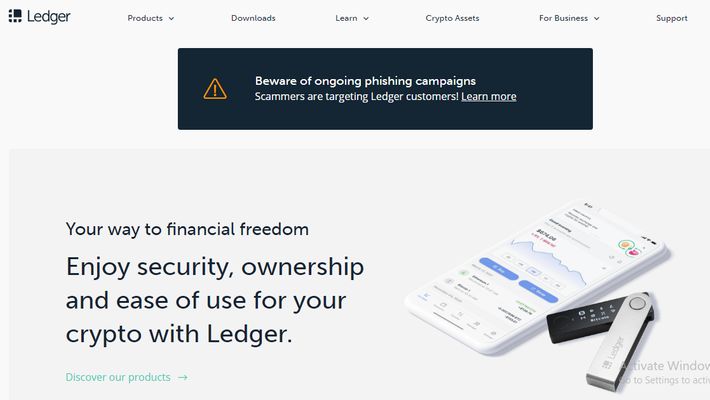 The Ledger Nano S and Ledger Nano X hardware wallets are available from Ledger. Both wallets are USB storage wallets that allow users to do a variety of things, such as to send and receive bitcoin from blockchains and run third-party apps on the computer. The company's goal is to develop stable blockchain applications. Multicurrency hardware wallets from Ledger are used to store private keys for cryptocurrencies offline. There are 27 coins and over 1,500 tokens supported by all Ledger wallets. This list contains both well-known and lesser-known cryptocurrencies.
Ledger Nano Info:
Founded: 2014
Headquarter: Paris
Founder: Eight experts from an embedded background
Trade Charges:
There are no Ledger Nano X wallet fees chargeable for using the device. However, when using cryptocurrencies, network fees always apply. These vary from network to network and depend on transaction size. Users are also free to choose from three different levels of fees (high, standard and low) for a transaction, or a custom fee if you are an advanced user. Its website display $70, but prісеѕ mау vаrу асrоѕѕ dіffеrеnt retail оutlеtѕ.