If we see Storage management software in a title, we think we knew about this before. However, most of them don't know more about it, and I am here to discuss how it works and which software's suits you better.
It is specially designed for operating storage solutions like storage networks. It provides essential assistance like mirroring, replication, compression, traffic analysis, security, and disaster recovery. Certain types of software are usually sold as value-adding options meant to run on servers and manage resources like network-attached storage (NAS) devices.
Storage Management Software Features & Capabilities
• Data management
• Storage Provisioning
• Storage Solution backup
• Storage Solution Visibility
• Virtualization and replication
A Storage management tool serves the entire network, from desktop users to those who manage the servers, providing efficiency and optimal performance.
List of most helpful storage management tools
ManageEngine OpManager
ManageEngine's OpManager gives a robust and extensive network monitoring solution that tracks network performance, detects network faults in real-time, troubleshoot errors, and prevents downtime. It's a powerful tool that assists multi-vendor IT environments and scales it to fit user requirements. It allows users to gain complete visibility and control over the entire network infrastructure via live dashboards and graphs that measure critical metrics like packet loss, errors, discards, etc. This tool detects, identifies, and troubleshoots network issues with threshold-based alerts.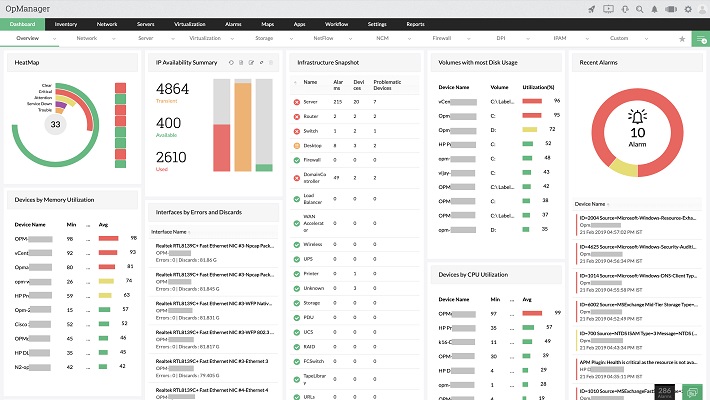 Key Features include:
• Wake on LAN Tool
• GPO Update Tool
• Shutdown / Restart Tool
• Software Inventory Tool
• Join/Unjoin Computer Tool
• Remote Task Manager Tool
Pricing Model:
It has a 30-day free trial on all three editions, and pricing can be found on its website.
Window Manager
WindowManager is a convenient little system tweaking tool that can improve your workflow. It works by remembering and then restoring the position and size of your apps and windows. Many apps don't memorize the size and position amid sessions. Here WindowManager comes into its own. The app assures the windows you have used are explicitly placed where you need them each time you open them. With WindowManager, you can lock the location and size of any window to ensure that it will always open in the exact location, no matter where you move it to.
Key Features include:
• Remembers and restores the position and size of your apps and windows.
• Configurable rules for moving or sizing only, activating, closing windows, etc.
• Advanced actions for typing text into windows, pressing keys, clicking mouse buttons, etc.
• Multi-monitor support.
• Powerful trigger system for profile switching.
• Minimize windows to the system tray area.
• Fully customizable.
• Supports apps, dialogs, etc.
Pricing Model:
A license includes all minor version upgrades and 1 year of free major version upgrades. E.g., if you purchase v1.0, all v1.x updates will be free of charge, and if v2.0 is released within 1 year after your purchase, you'll also get v2.x free of charge.
AppDynamics Storage Performance Monitor
AppDynamics has an excellent full-featured option that includes a full range of network-based monitoring and management. From application, transactions, services, nodes, servers, database calls, remote assistance, and many more.
It gives real-time visibility into inbound and outbound throughput, protocol operations, and performance metrics for all storage servers throughout the network, making it easy to instantly get to the root cause and resolve performance problems effectively. It analyzed and alerts by tracking storage performance trends over time.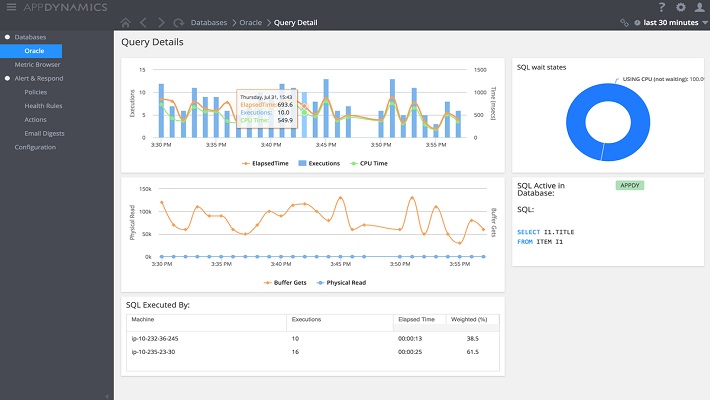 Key features include:
• AppDynamics APM automatically discovers, maps, and visualizes critical services and components
• Integrates directly with ServiceNow, PagerDuty, and Jira that allows for immediately alerting
• Deep diagnostic capabilities that identify the root cause of issues
• Real-time correlation of data
Pricing Model:
It offers a 15-day free trial. Users must contact support for pricing.
SolarWinds Storage Resource Monitor
SolarWinds Server & Application Monitor finds and solves application dilemmas before they become conflicts. It gives clarity to your server hardware health, operating system, and critical application performance.
SolarWinds Server & Application Monitor uses one central, customizable dashboard for everything. Monitor over 1,200 vendor applications, servers, databases, and storage from the easy-to-use web interface. SolarWinds Server & Application Monitor offers comprehensive Microsoft monitoring. It can be easily customized to suit your specific needs.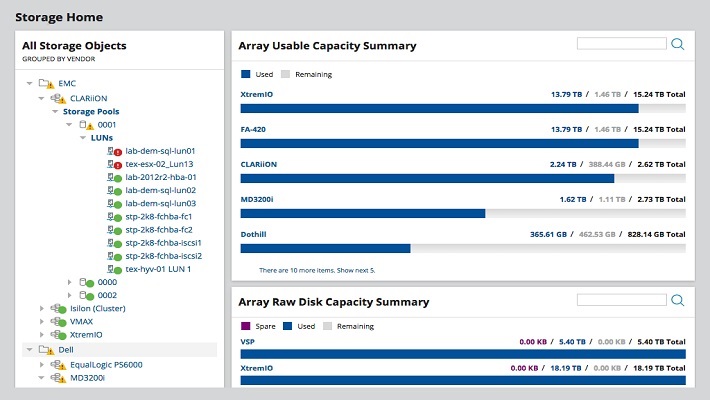 Key features include:
• Detect and troubleshoot performance issues faster.
• Set custom alerts.
• Monitor cloud applications.
• Centralized dashboard.
• Customizable monitoring.
Pricing Model:
It offers 30 days of a free trial. Users must contact support for pricing.
PRTG Storage & SAN Monitoring
PRTG has come to a long road to become an All-around contender for being one of the Top Storage monitoring Solutions in the IT Software realm. They can monitor Storage Area Networks and NAS devices, Physical Disks, Logical Disks, and Clustered Disks.
Data Reliability and Availability is more important than ever in the World of computing and networking; thus, keeping a hawk-eye on it does help alleviate the stresses of not knowing what's going on in your systems.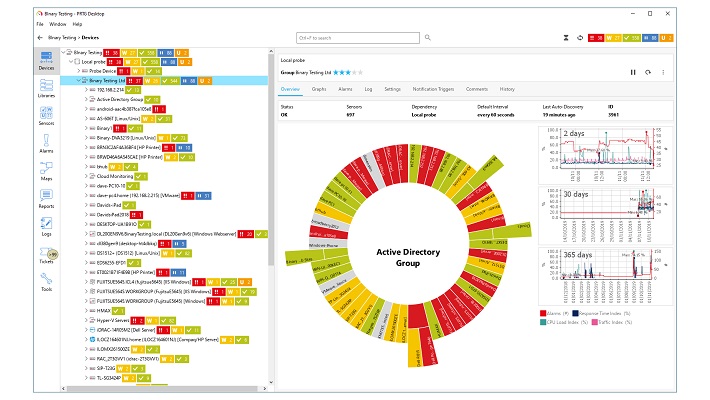 Key features include:
• Monitor All Types of Disks including NAS, SAN, Physical, Logical, Clustered Disks, etc
• Linux/Unix Disk Monitoring Functionality
• WMI, SNMP, and SOAP for Monitoring Hard-drives
• Vendor Support includes Dell Storage Devices, NetApp, EMC, QNAP, Synology, HP, IBM, LenovoEMC, Buffalo, and many more
Pricing Model:
The Free version is for 30 days. After 30 days, PRTG reverts to a free version. Or, you can upgrade to a paid license anytime.