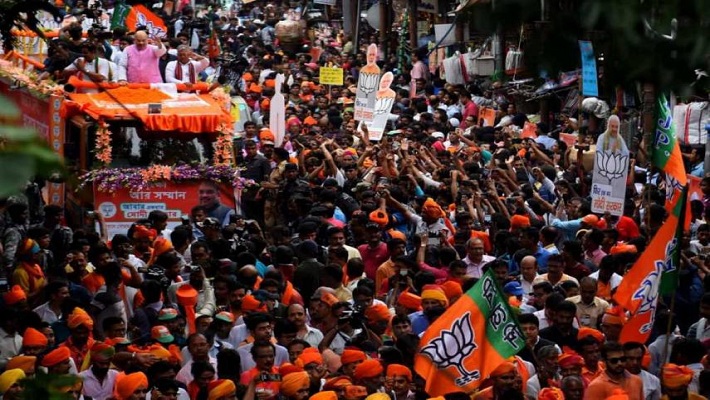 With its assembly elections due in 2021, politics of West Bengal has reached an inflection point where the inclination of voters towards the left and right led factions is going to be measured like never before. Up until now the left and left aligned forces used to reign supreme but the way in which rats have started abandoning the sinking ship is an indicator of the holes in the bulwark of leftist ecosystem.
It was a different case in 2011 when the three decade long rule by Communist Party of India-Marxist, CPI (M) led front was ended by Trinamool Congress coming to power as the transition was a gradual one and the opponents were driven by identical ideologies.
However, this time around the warring forces are at opposite ends of ideological landscape. BJP is claiming to have the capability of registering a win with majority. TMC on the other hand is refuting anti-incumbency sentiment which is an assertion resting on shaky ground, evident from the recent defections of prominent leaders from TMC to BJP.
Now, it will be interesting to see what plank is used by the parties to attract voters. BJP will not be able to showcase itself as a corruption free party as it has welcomed into its fold many tainted leaders from TMC with no questions asked. Mukul Roy who was erstwhile deputy chief of TMC is currently BJP's national vice president. He was the main accused in the multi-crore Saradha Ponzy scheme scam.
Being More than a Benefactor
At the same time, TMC after its decade long run will no longer be able to garner the support of development seeking voters. Although it has supported the growth of MSMEs, its reluctance to throw the market open for large corporates and foreign multinational companies is working as a factor constricting the holistic growth of the industry. Only that is the route for accelerated industrial growth akin to the states of Gujarat and Tamil Nadu. Otherwise, the state's industry is not going to get far moving at snail's pace.
TMC has also been blamed of playing appeasement politics which it has realized and has been trying to make up for it lately. BJP looks at it as a loophole that it can exploit for its own benefit. However, if it is relying on this plank and shaping its vision accordingly, it may be a wrong decision as it is not necessarily something on the top of the mind of voters. While they are wary of the appeasement policy of TMC, it is not the evil they are looking to get rid of as of now. Their other concerns like unemployment are higher on the priority list.
BJP also needs to understand the fact that its aggressive development stance and the move to "restore the Bengali culture" may not be enticing enough for the voters. May be it is the reason why Home Minister Amit Shah has promised to implement 7th pay commission if the state government is formed by BJP.
Finally, who wins the tug of war will depend on their capability of meeting realistic needs of voters. Once the basic requirements are met, the cultural change apprehension can be looked into to see whether it is real or not.