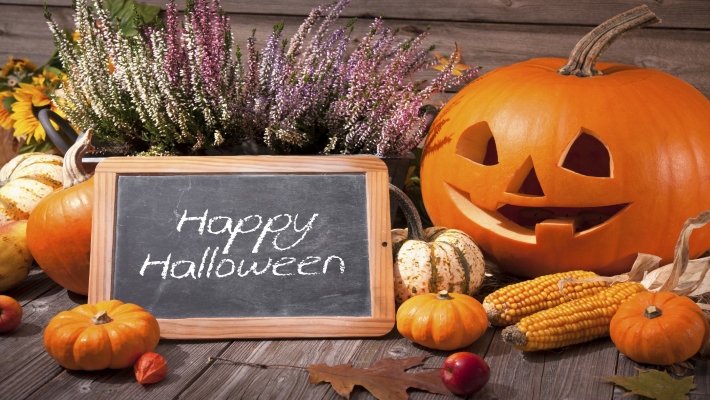 "Halloween wraps fear in innocence as though it were a slightly sour sweet, Let terror, then be turned into a treat"-Nicholas Gordon
It's that time of the year where you see spooky decorations in your neighbor's house decorated with Jack-O-Lantern's, kids dressed up as their favorite spooky fictional characters and go attempt pranks on people for candy and yell "trick or treat" as they do so, the evenings become really teeming yet spooky at the end of October. It is a really fun time of the year which brings communities closer together in festive spirits.
Halloween is really fun, especially for children since it gives them reason to eat lot of candy and get toothaches in the process which is not that much fun, but did you know lot of countries celebrate Halloween in different ways and each one has their own story? Halloween dates centuries ago and is still celebrated with dynamism
No one does it like Ireland
A common misconception is that Halloween is an American festival, but in reality it originated in Ireland. Ireland has been celebrating Halloween for more than a thousand years, dating back to the time when it was the pagan festival of Samhain.
Back then it was believed that evil spirits visited the mortal world on Halloween. To ward them off, people lit bonfires and wore bizarre costumes. The festival symbolized the boundary between the world of the living and the world of the dead.
Today, no one does Halloween quite like Ireland. There are events across the entire island, with the biggest to be found on the banks of the river Foyle, where the city of Derry-Londonderry has been putting on an annual street carnival for 30 years.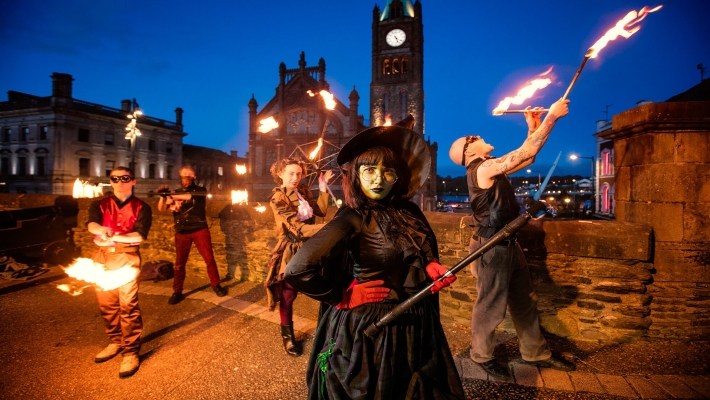 Halloween is a popular holiday in the west, but India has its own Days of the Dead celebration
In the West, All Saints' Day is celebrated to honor the dead ancestors – it is believed that their souls come to visit, on this day. In India, we have Bhoot  Chaturdashi and many more.
In the internet age, culture travels easily and the most exciting part of any culture is its festivals. While India itself is home to a multitude of its own festivals, the country has over the years adopted various festivals from the West – New Year's Eve, and Valentine's Day. these occasions have become commonplace across the country and are celebrated or acknowledged by much of the population in both urban and rural India.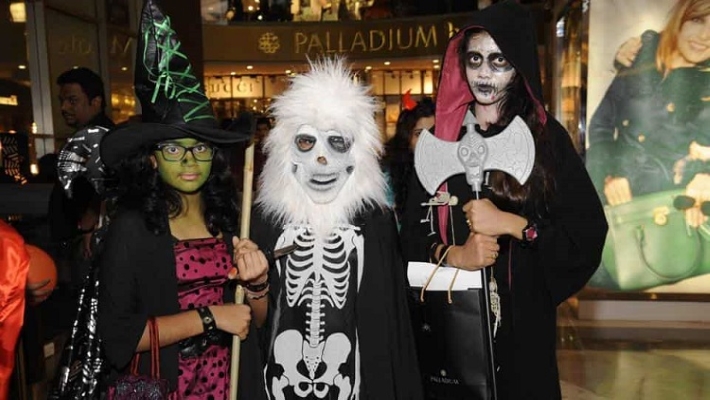 Sticky fingers, Tired feet, One last house, Trick or Treat
Throughout Britain, Halloween has traditionally been celebrated by children's games such as bobbing for apples in containers full of water, telling ghost stories and the carving of faces into hollowed-out vegetables such as Swedes and turnips. These faces would usually be illuminated from within by a candle, the lanterns displayed on window sills to ward off any evil spirits. The current use of pumpkins is a relatively modern innovation imported from the United States, and we can also extend the same debt of gratitude to our friends in America for that 'quaint' "trick-or-treat" tradition!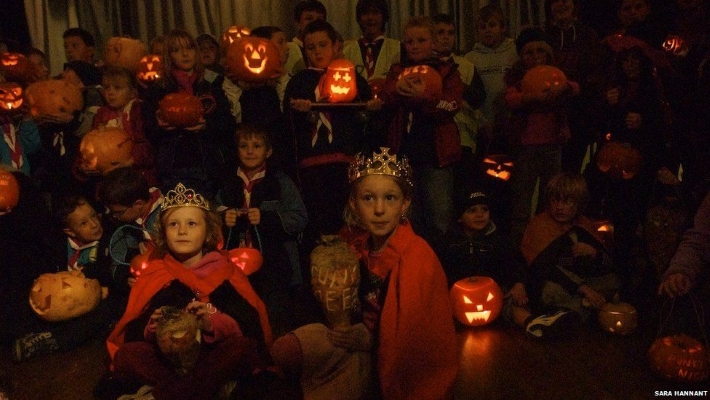 "It's all a bunch of hocus pocus"
Traditionally, Italy celebrates La Festa di Ognissanti (All Saints' Day).This holiday is dedicated to all of the saints as a whole.
In Rome there are Halloween tours of creepy catacombs lined with mummies and bones. In Bologna, you can visit medieval castles and towers during special evening tours. From the end of October through early November, Venice hosts Spettacoli di Mistero (Shows of Mystery), which are special plays and performances based on the legends and mysteries of Venice.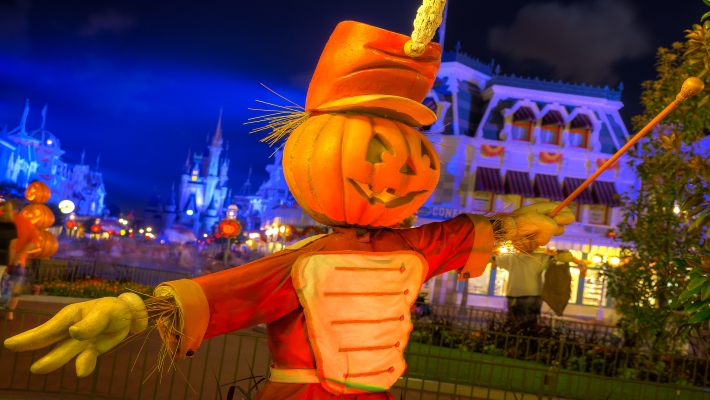 Japan, Just another day of cosplaying
In Japan, cosplay fans already dress up regularly for conventions and to stroll around trendy areas like Harajuku. Halloween gives them another opportunity to dress up as part of a bigger celebration that has become highly commercialised. As such, wearing costumes is one of the main attractions of Halloween in Japan, and there are huge Halloween street parties and costume parades in different locations.
On Halloween night, you will find people dressed in a variety of costumes, from Japanese anime and manga characters (the most popular theme), characters from video games, TV shows and film, to traditional monsters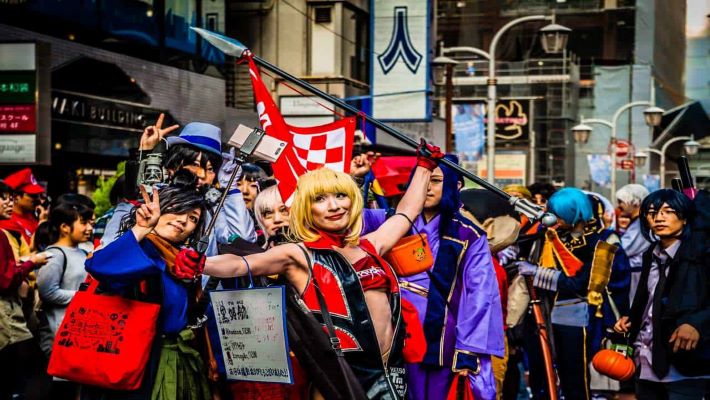 "Are you sure/That we are awake? It seems to me/That yet we sleep, we dream"-William Shakespeare
While children in Mexico also go trick-or-treating on Oct. 31, it acts as a primer for another celebration: el Día de los Muertos, or Day of the Dead, which takes place on Nov. 1 and 2. Observers say the Mexican holiday, which dates back 3,000 years to pre-Columbian Mesoamerica, occurs when the gates of heaven open, allowing the spirit of a deceased loved one to be reunited with their still-living family.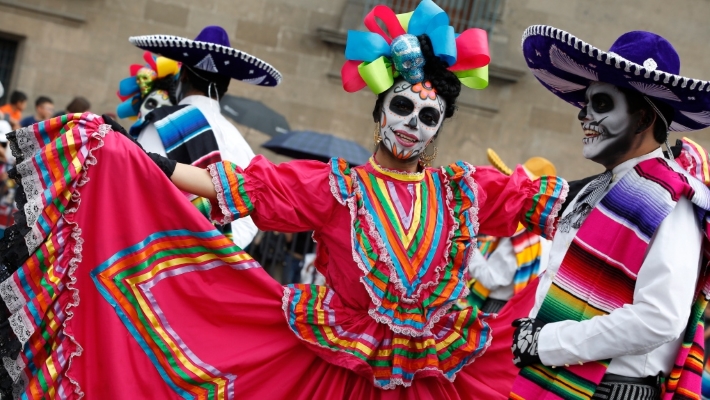 What I would like to add is that at the end of the day Halloween in different countries might have different traditions, but one thing which they all share in common is that it's fun for kids and adults alike and that's the spirit of any festival, and kids should watch out for those nasty toothaches by sharing their candy with adults.