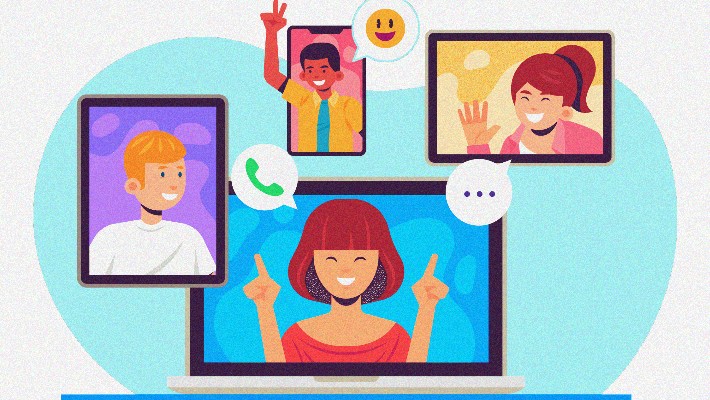 The pandemic has changed the way how the world used to be just a year ago. Physical workplaces are closed and maximum organizations are now operating remotely. Now, work from home is the new normal, for at least a few more months. This phase has been a stressful chapter for many and people are not even able to do anything about it. Zoom and Webex have replaced meetings and WhatsApp office groups have become sacrosanct. The workload is unavoidable in a corporate job. Besides being on your toes all the time, there's a constant pressure of being ahead of all your peers. Apart from that, now there are no login or logout timings. Employers are expecting from their employees to stretch their working hours as the commutation time has been removed. All these factors accumulated, along with the aspect that staying away from the usual office setup for a prolonged period is affecting the performance of employees in every organization, the Friday fun activities have become a major must today than ever.
So, in this blog, I've decided to provide some of the fun ideas pertaining to fun activities that can be implemented by organizations to reduce the stress and make the work environment more cheerful and productive for employees. This can be achieved through simple activities such as Q&A session, icebreakers, challenges, etc. This will not just improve the work environment and reduce stress but also help team members to foster closeness, improve communication, and boost team morale.
Have a look and pick each one of these tasks listed below.
Reveal my Partner Quiz
Time Limit: 20-30 minutes
What to do: Spark a conversation and complete this Reveal my Partner Quiz.
Match the fact to the colleague (the more unusual or unexpected the better). An individual will start the game and provide the details of his/her partner to everyone. Others have to guess, who they are, according to the given information. Once the person is revealed now it will be that person's turn to provide the details of another person.
Note: One person if guessed and revealed, will be out. Others cannot give details of the same person again. So every time it will be a new person. Also, keep the game clean as the purpose of team building games for remote workers is to build comradery among your staff.
Bucket List Challenge
Time: 30 minutes
What to do: Host a video conference and give all your employees five minutes to think about what would make their bucket list – what are some things they would love to do in their lifetime? Then have everyone go around and share their list. If you have employees who share the same activities, you can challenge them to work on it together. Like, completing the Leh Ladakh Bike Trip. If two employees have the same goal, ask them to hold each other accountable to finish achieve the goal. They can push one another and can go for the trip together as well.
Result: It can be fun to hear what other people want to achieve, maybe some have ticked off an item and can share their experiences to the rest of the team. Some can build a better relationship while completing the task together.
Picture of the Day Task
Time: 20 minutes
Don't have time for a long problem-solving challenge at the moment? No problem. Picture sharing activities help your icebreaker team bond in no time. It can facilitate laughter and surprising responses that will leave employees feeling happy and connected.
What to do: A team member has to share one personal photo that is unrelated to work. This photo can contain pets, hobbies, gadgets, family members, science, nature and many more. Then have the team member explain the photo such as what's going on there and why they chose it.
Note: Remember, allowing team members to share part of their personal lives makes teamwork more fun and can bring a new element of camaraderie to the workplace.
Guess the Baby Photos
Time: 15 minutes
What to do: Employees can send their most adorable baby photo to the organizer. Then the organizer has to organize those photos so they're all visible at once (like on a Google Doc, or using a photo editing program), with a number next to each one. Then, everyone guesses which photo belongs to which employee. To make it more interactive, everyone can write their answers (with the corresponding number) on a sheet of paper, then hold it up to the camera at once.
Note: The larger the team, the more interacting the task will be.
Home-cooked Lunch Competition
Time: 30 minutes
What to do: Choose a day to host the competition. Decide on a 'theme' for the food competition in advance, so everyone has time to grocery shop. On the day of the food contest, have everyone post a picture of what they made for lunch. Then everyone in the team has to vote on whose meal is the best.
Note: Here are some ideas for themes for the competition.
Cuisine type can be Indian, Southern, Italian, etc.
The ingredients that must be utilized are potato, onion, radish, carrot, broccoli, alike.
Other themes can be Desserts, Best Sandwich, Healthiest food, Unhealthiest food etc.