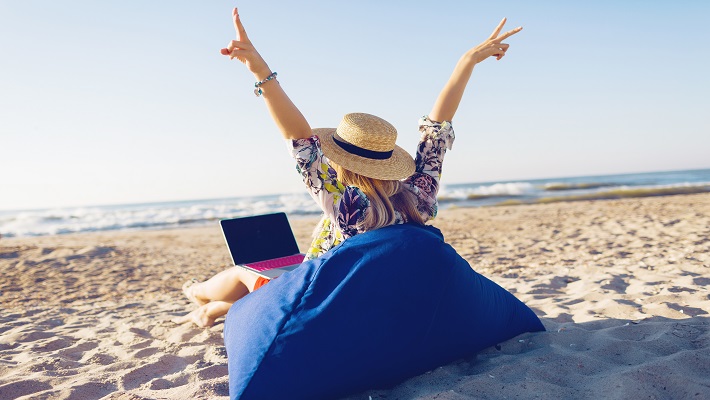 Over the years, digital nomadism has seen a drastic rise, impacting the world and revolutionizing the ancient working style. Nowadays, technologies are way ahead, and a surging demand for hybrid work cultures has allowed the working professional to work while exploring the world. With access to robust technology, digital nomads can break the barriers of traditional work spaces and geographical boundaries and work from anywhere without any limitations.
This aggressive transformation enables a delicious mix of work and travel, allowing the individual to grow and gain access to diverse cultures and overall development. However, varying time zones make it a little challenging, and it takes time to adapt. Digital nomadism has set a benchmark for the evolving nature of work and the human experience of performing the work beyond traditional ways.
Work culture and its benefits
Digital nomadism provides you with the lure of a good work-life balance. In the case of traditional working hours, the person may have to work from 9 to 5 or 6, while nomads can frame their time of work with their personal priorities. This revolutionary working approach makes people enjoy quality time with their family and friends, focus on personal things, and do whatever helps them move forward in life. Also, the nomads are exposed to various languages and cultures, which leads to personal growth. More importantly, they learn to adapt to new situations and develop a plethora of skills, such as being independent, collaborating with others, and many others.
Challenges Faced by Nomads
Now we have some idea about digital nomadism, how it impacts the world of employment, its benefits, and how flexible it is. However, there are challenges that may affect the work of the nomads, and they should be cognizant of the solutions to stay active. Generally, the main issue is productivity, which may not be maintained at all times as digital nomads are in diverse environments. Unstable internet connections, distractions, and various time zones are the ones that hinder productivity.
To get rid of all these challenges, digital nomads have to set up a structured work routine, organize tasks, and look for areas where work can be completely focused, which will lead to enhanced productivity. Building a reliable network of the same community could provide any assistance if required.
How Nomad Impacts Economies
Digital nomads influence mankind, and their number is surging every year. As per the statistics, there is a projected figure of 35 million across the globe, which contributes a massive amount of $787 billion per year. This has greatly impacted the global economy as they capitalize on local businesses and help the areas they explore. Although this higher demand may also lead to gentrification, thereby increasing the living expenses of nomad destinations, To sustain themselves in these conditions, digital nomads should showcase a neutral approach with the local population, respecting their cultures, and spend.
Considering the global count of digital nomads, they are vital for the economies that drive growth.
Prime Destinations For Nomads
As Far as I'm concerned, digital nomads have all the rights to opt for their favorite destinations according to their preferences, living expenses, and whatever else makes them comfortable. Anyway, let me point out some renowned places that have already attracted the nomads, which are Medellin, Chiang Mai, Lisbon, Ubud, and Bali. These beautiful venues offer a great community of like-minded individuals, manageable living expenses, and an excellent ambiance for remote work. Most interestingly, the people are greatly influenced by nomadism, and unquestionably, the count will rise and pave the way for new destinations that might also become favorites or famous in the future.
All in all, with a span of ten years or more, we can observe a massive difference with respect to work as the mindset of working individuals might change and switch from the traditional working space to being a digital nomad. Traveling could be challenging sometimes, and the aspirants must be cautious and plan well in advance to stay safe. Overall, the journey provides travelers with excitement and a new experience.