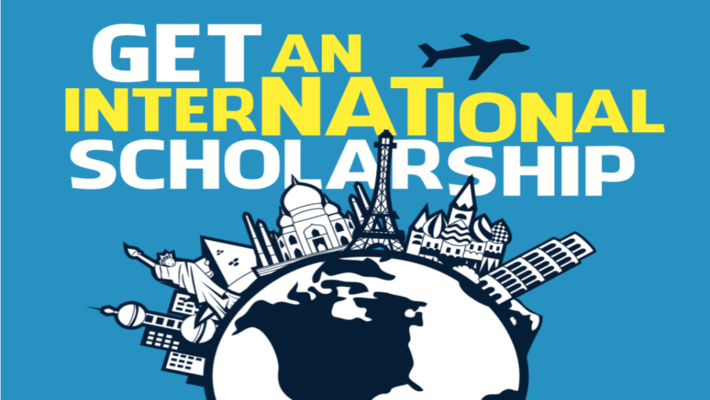 For Indian students to study abroad there are different scholarships offered. The scholarships are offered by both the Government and the private universities and colleges. The students going abroad for higher education get a plethora of streams for completing their degree. However, because of lack of proper information the students miss out on the opportunity to avail the deserved scholarship.
"Live as if you were to die tomorrow. Learn as if you were to live forever" – Mahatma Gandhi
With the correct information about scholarships, this article presents a list of 10 Study Abroad Scholarships that Indian students can avail.
The scholarships are segmented on the basis of funding type and abroad destination.
1. Inlaks Shivdasani Foundation Scholarships – This is a scholarship for Indian students that want to study abroad in North America or Europe. For availing this certificate students must be under the age of 30 and have to be Indian resident while applying. This scholarship is offered to undergraduate and post-graduate studies. There are restrictions mentioned in scholarships which students must obey.
2.Fulbright-Nehru Master's Fellowships – Offered to energetic students with leadership traits and have completed bachelor's degree with at least three-year work experience. Fulbright-Nehru Master's Fellowships are offered to brilliant and extraordinary students of India who want to study in selected United States colleges and universities. The streams students can select are Arts and Culture Management including Environmental Sciences/Studies, Heritage Conservation and Museum Studies, Urban and Regional Planning, High Education Administration, International Legal Studies, Public Administration, Public Health, Women's Studies. For one to two years the students get the scholarship which covers tuition fee and living allowance.
3. Erasmus Mundus Joint Master Degrees – The scholarship is offered to students for Master's level study programs in universities and colleges across European countries. The scholarship deadlines are differentiated according to the course a student selects. Experts suggest that students should regularly keep a track of the scholarships on the website of EMJMD. The scholarship money differs according to abroad destinations, course, and the tuition fee. Duration for the scholarship is for one to two years and students must have completed their undergraduate degree from a reputed college or university or the students should have completed equivalent recognized education.
4. Tata Scholarship – Cornell University – The scholarship is offered to students for undergraduate courses at Cornell (eight semester scholarship). Every year the students will get the grant and beneficiaries and the scholarship is designed for the best Indian students.
5. University College Dublin Scholarship – Having more than 30,000 students as a college part every year, the topmost University of Ireland, The University College of Dublin offers scholarships to Indian students. For experiencing the university's unique and vast culture, the Indian students can apply online and witness the excellent education opportunity. Furthermore, the university team plays an important role by giving detailed attention to the diversity and opens doors for students from any part of the world.
6. Fulbright-Kalam Climate Fellowship – Indian scholars can who are registered for continuing Ph.D. from an Indian institute and with a United Host institution they have an affiliation during the period granted can avail the scholarship. Students get a stipend every month. The students also get J-1 Visa support, round-trip air travel in economy class, and allowance for accidents, sickness, and accommodation. The rule for the scholarship includes that the expected Ph.D. thesis submission date should not be greater than three months after the Fulbright Nehru grant and date. The student must submit a copy of an article or a published paper or what they presented during online application process. Students can also submit extracts from the Master's/M.Phil Thesis. The duration of the scholarship is six to nine months.
7. India4EU II Scholarship – Provided to students and researchers of India who can study and conduct researches at a university in partnership with the European Commission. The scholarship is offered at every level of higher education including graduation, post-graduation, Ph.D. and postdoctoral. Moreover the scholarship covers allowance for travel and tuition fees.
8. National Overseas Scholarship Scheme by the Indian Government – Students who belong to scheduled castes, denotified nomadic and semi-nomadic tribes, landless agriculture labors and traditional artisans can avail the Government of India scholarship for completing their higher education abroad. The scholarship covers tuition fees and related education expenses including contingency allowance, maintenance and travel expenses and a lot more. Students applying for the master's education scholarship must have 55 percent marks in under graduation of 55 percent marks in Post-Graduation for completing Ph.D. The maximum age limit is 35 and the overall income of the family is less than INR 6,00,000. The students should not have more than one sibling with the same scholarship. The courses include Master's courses, Ph.D. in the streams of engineering management, pure science, and applied sciences, agricultural sciences and medicine, international commerce, accounting and finance, humanities and social science.
9. Oxford and Cambridge Society of India (OCSI) Scholarships – Students belonging to bachelor's education, master's degree or Ph.D. research can apply for the Oxford and Cambridge Society of India Scholarship. The scholarship is aimed at assisting Indian students for continuing education at the prestigious Oxford or Cambridge with financial assistance. Students within the age group of 30 can avail the grants. Every year the reward amount changes.
10. India Global Leaders Scholarship – Excluding MBA programs, students can avail the full-tuition international scholarship for studying a degree course of master's or undergrads within the stream of business, economics and Law. The scholarship is granted for students wanting to study at the University of Queensland In Australia.