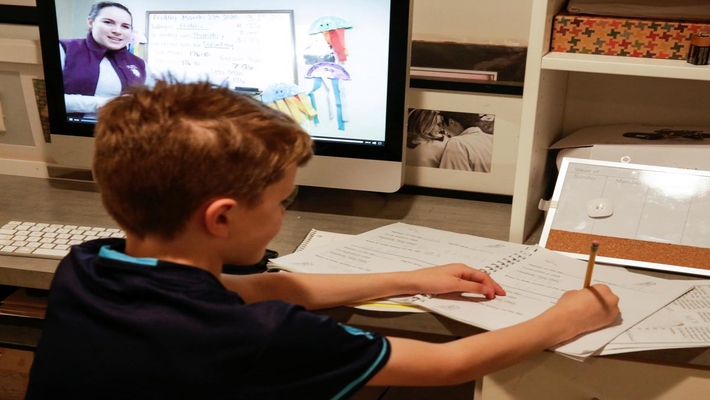 Schools and institutions had to adapt remote learning and teaching which is a huge challenge for tutors to provide quality teachings without compromising. Technology has made a clear way to enhance the teaching methods using different tools even in the pandemic situation we are going through. Keeping the students engaged and interested is the thing to be aimed at by the tutor.
1.Organize Thoughtfully-
It is important to plan the virtual platforms and sessions to be conducted through for teaching. Some researches show clearly that e-learning only requires less time to learn as compared to the real classroom. Break lessons into smaller chunks and be regular and fast with the feedbacks or clarification of doubts through the internet facility. Long lectures and discussions based on that won't be helpful to gain the attention of students.
2. Working as a Team-
Teamwork should be promoted which helps to keep up the connections with each other properly. Also, assigning creatively challenging homework or group activities will help the students gain more interest in the academics and teaching sessions. Bring new resources to students for working with which will add more ideas and knowledge. Create online platforms which help to bring their new, creative ideas.
3. Interacting with Students-
Comforting and interacting with students frequently even playing fun activities during the e-learning session will boost up the all-around energy of students as well as tutor and this will make to forget the huge new change that happened to adapt with. Providing healthy emotional training for students will also motivate them to be normal in the pandemic situation without any worries. Make the students feel free to ask and talk with tutors which helps build a healthy bonding with each other without growing fear.
4. Ensure Usage of Technology in an Optimistic Manner-
Maintain virtual meetings for more interactive sessions as per the interest of students, live chats, video-based tutorials to maintain the connection with tutors and students for discussing without hesitation. Online tests and quizzes could be conducted to evaluate the students through different tools. Tutors can also set activities with gamified online learning tools. Have video conferences or live chats for ensuring the students are grasping the lessons and works assigned.
5.Maintain a flexible timetable-
It will be harmful physically and mentally for both the students and tutors to have a full day session in front of laptops, computers, tablets, or mobile. Clear-cutting with a flexible routine timetable will help to get a recovery with this issue. Keeping students engaged with assignments, research, and conferences together to speak up about the note they have taken during the teaching sessions will also help increase points to be updated with.
Assuring students with optimistic and innovative ways of teaching remotely will make them capable to live along with the new normal for a certain period of life without fear or hardships. Constantly giving proper feedback to students will encourage them to keep on looking forward, get their mistakes clear, and work on them with a correct view.