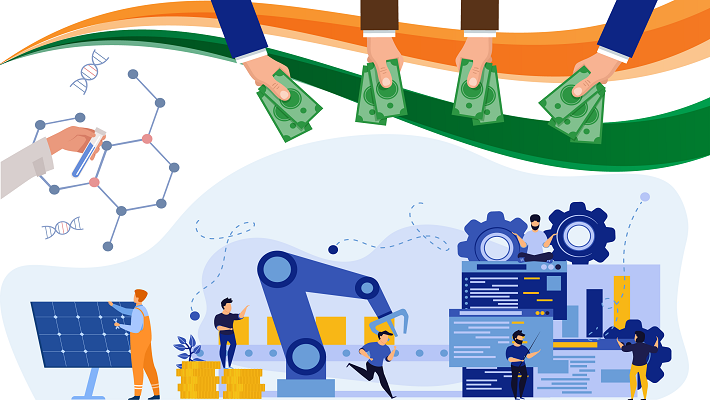 Overview:
The Government introduced a Production Linked Incentive (PLI) scheme for the domestic electronics hardware manufacturing sector, in April 2020. Under this scheme, companies would be rewarded for increasing their output (production) with respect to a defined base year. The PLI scheme has a simple framework -- reward for increased production.
The main emphasis was to make the nation self-sufficient ( Atmanirbhar) and the domestic manufacturing sector to be boost Make in India initiative.
In November 2020, the PLI scheme was extended to 10 other sectors. These sectors are as follows pharmaceuticals, automobiles and auto components, telecom and networking products, advanced chemistry cell battery, textile, food products, solar modules, white goods, and specialty steel.
"The PLI scheme across these 10 key specific sectors will make Indian manufacturers globally competitive, attract investment in the areas of core competency and cutting-edge technology, ensure efficiencies, create economies of scale, enhance exports, and make India an integral part of the global supply chain," according to a government statement.
What is a PLI scheme?
The PLI Scheme aims to give companies incentives on incremental sales from products manufactured in domestic units, which reduces the India's dependence on China products. The Scheme would enormously intensify the electronics manufacturing landscape and establish India at the global level in electronics sector and other associated sectors as well.
The scheme shall extend an incentive of 4-6 percent on incremental sales (over base year) of goods manufactured in India and covered under target segments, to all qualified companies, for a period of five (5) years subsequent to the base year as defined.
The scheme is also applicable for mobile and allied equipment as well as pharmaceutical ingredients and medical devices manufacturing. These sectors require huge labour employment, which is expected to cater to the growing employment demands of the country.
Arvind Sharma, partner, Shardul Amarchand Mangaldas & Co. has stated "The Government of India is taking critical economic and fiscal measures to bring the economy back on its growth track. One of such measures is introducing and extending production linked incentive schemes in various sectors. The recently approved package will boost production, exports, forex earnings and employment,"
What is the necessity of PLI scheme?
This scheme enables quality production with increased quantities and extended investments making the country develop core components and creating an enabling environment for the industry to compete globally.
The PLI Schemes are expected to enable the setting up of a widespread supplier base for the global champions established under the scheme. It will help bring scale and size in key sectors and create and nurture global champions.
According to experts, PLI is essential as the government cannot adhere making investments in these capital intensive sectors as they tend to induce longer times for prolific returns and have a longer gestation period. As an alternative, global companies are invited with adequate capital to set up capacities in India and increase productivity.
As reported by Arindam Guha, partner, leader – government & public services, Deloitte India "The PLI scheme, since it is based on incremental output, is more effective from the government's standpoint than some of the other grant-based schemes like Mega Food Parks, etc. which are more input oriented. It is also targeted towards the larger anchor investors who are capable of mobilising the initial investment for brownfield or greenfield projects by themselves,".
Which sectors already have PLI scheme?
These 13 sectors includes already existing 3 sectors as follows:
(i) Mobile Manufacturing and Specified Electronic Components
(ii) Critical Key Starting materials/Drug Intermediaries & Active Pharmaceutical Ingredients
(iii) Manufacturing of Medical Devices.
The PLI schemes will be implemented by the concerned Ministries/ Departments and will be within the overall financial limits prescribed.
The government in March made 53 bulk drugs eligible for a PLI worth Rs 6,940 crore. The scheme is expected to benefit up to 136 manufacturing units, generating incremental sales of Rs 46,400 crore and significant additional employment generation over the next eight years. It also announced a Rs 14,000-crore package that would incentivise production of active pharmaceutical ingredients (API) and medical devices in the country.
As part of the scheme, it announced a Rs 3,420-crore PLI for promoting domestic manufacturing of medical devices.
Apart from pharmaceuticals and medicines, the government also notified a PLI scheme for electronics and mobile phone sectors in accordance with the National Policy on Electronics. As part of the scheme, incentives of 4-6 percent will be given to electronics companies that manufacture mobile phones and other electronic components such as transistors, diodes, thyristors, resistors, capacitors, and nano electronic components such as micro electromechanical systems, in India.
"Further, with a view to support, facilitate and provide investor friendly ecosystem to investors investing in India, the Union Cabinet on 03rd June, 2020 has approved constitution of an Empowered Group of Secretaries (EGoS), and also Project Development Cells (PDCs) in all concerned Ministries/ Departments to fast-track investments in coordination between the Central Government and State Governments, and thereby grow the pipeline of investible projects in India to increase domestic investments and FDI inflow" an official statement said.
All in all the main intention of a PLI scheme is to incentivise and invite global, capital-rich companies to set up capacities in India.