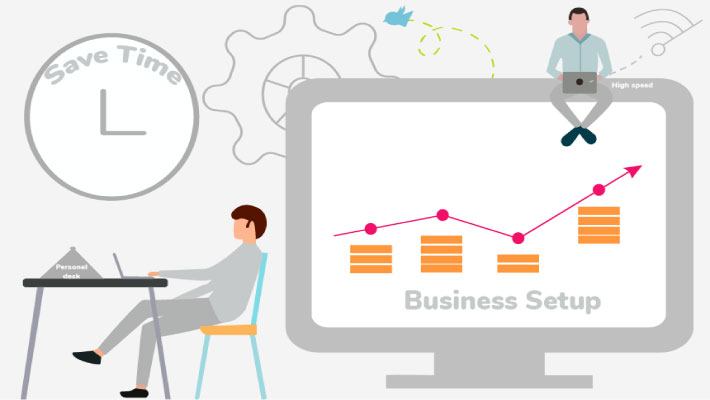 What is Virtual Business and How Does It Help You?
Cost-effective Office/Workplaces for New businesses: This option lets you create an amazing profile and business entity and helps you to establish your business cost-effectively.

Time-Saving: Virtual Business means you can work from anywhere and anytime without much hassle and still get everything done perfectly.

Desirable Locations: You can have a minimum budget and still manage to obtain a fancy and good location. However, this must be done smartly with the right understanding of Bangladeshi Law and Real Estate Structure, that's where we come in! E-commerce BD's Expert Team can do that for you.

Professional: Makes your business stand out and look professional while also maintaining a reasonable buVirtual Business is a type of business that you simply operate and run online. Many jobs in this sector can be done from your respective homes and all you need is a great computer and high-speed wifi!

Flexibility: Business transition or niche changes can be done effectively and without much hassle with this option.

Key Point: The growth of the US market (online business) was significant - with online shoppers increasing from 247 million in 2019 to 263 million in 2021. By 2025, it is expected that over 291 million Americans would start purchasing online.
Virtual Business Address and The Benefits of Virtual Address
For an online business, a virtual business address is essential. Well, there are many benefits of having a virtual business. Here we listed the main ones!
These Are
Get a Permanent Street Address without much hassle.

Saves you money, only pay for things you need.

This option is time-saving, virtual addresses can alleviate delivery scheduling problems by keeping your packages safe while also guaranteeing that they arrive on time.

Enhances your credibility with a dedicated company location.

Help you obtain the best location in town with a minimum budget.
Virtual Address - The Things You Need To Obtain the Perfect Virtual Business.
Establishing a virtual business in Bangladesh is not difficult, with the right real estate partner in Bangladesh, such as E-commerce BD, you can soon establish your dream business. However, there are steps to building this process, we have listed them simply below.
These are
Virtual Address for your Business

Virtual Call Assistant

Virtual Receptionist

Virtual Meeting Rooms

Well-Designed Website

Project Management Business

Problems you might face with Virtual Business
The problems that you might face with virtual business vary from business to business and industry types. However, they all can be solved. The common problems faced are
Poor Communication and Management Problems

Data entry and accurate report creation

Surveillance and proper work submission.
Summing it all up!
Having a virtual business is a great way to start your business in this 21st century. With minimum budget and good decisions making you can have your business boost its growth and help your employees become more productive. However, there are problems that you might face, to tackle that, get a great virtual business support provider, such as E-commerce BD. We can help you achieve and set up your dream business in Bangladesh!