As said "Good things come to those who sweat," and regular exercise brings positivity to our mental and physical health. But the problems always come with the management of time, patience to commit to a regimen and stick to it. Fortunately, like everything else from transportation to food delivery, the digital age has provided us with a great hack: Fitness apps that you can stream on your phone, your TV, your tablet—wherever is best for you—and user-friendly at home or on the go.
There are many apps at your fingertips, which can solve many aspects of your fitness program. The app can help us create a custom fitness plan; focus on exercise, plan goals, track success, and more. The best fitness apps that help women exercise in their ways like a DVD workout fanatic, a fitness fanatic, or a marathon student when it comes to women. So, grab your smartphone now and start downloading some of the best fitness apps designed for women.
Aaptiv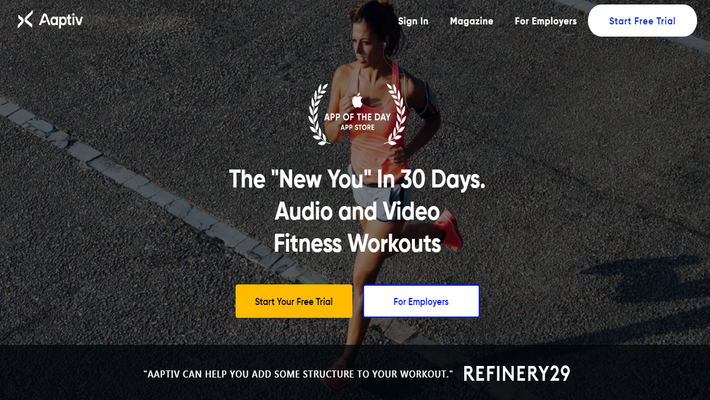 Aaptiv is for one who loves a spontaneous workout. The app offers many different guided audio exercises, from climbing stairs and rowing to 5k training; one can choose from different instructors. Some coaches are listed as "fun and supportive," some would be happy to push you to the limit, and other coaches would motivate you to achieve specific goals, no matter what your goals are.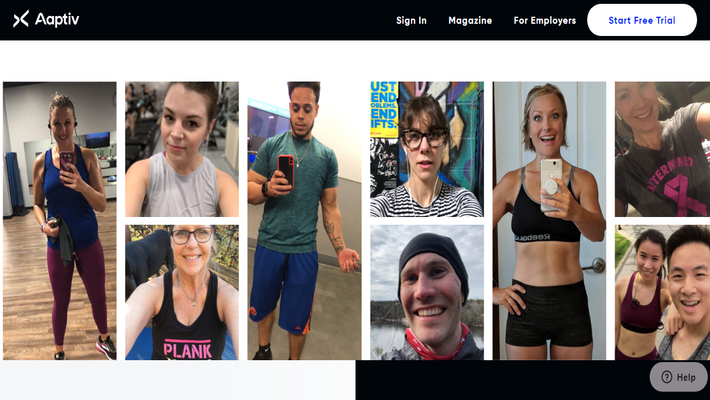 How it works
Create your account
Personal training for everybody and every goal
Enter your goal
Choose a workout based on duration, trainer, music, and more.
Put on your headphones and let the trainers guide you.
Pricing: It has a 7-days free trial, and pricing can be found on its application.
Couch to 5K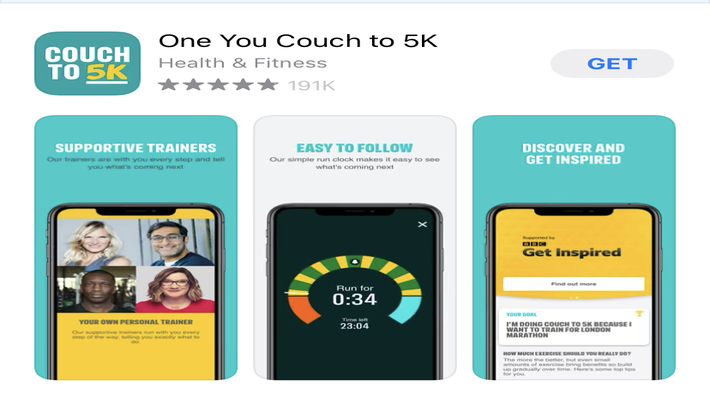 Couch to 5K's motto is "From the Couch to the 5K Finish", aimed at beginning runners who want to train for the first race. The best part? You only need to sweat 30 minutes a day, 3 days a week, for 9 weeks (this doesn't sound like much, trust me).
Taking on the challenge of Couch to 5K can assist boost your confidence and self-belief, as you prove to yourself that you can set yourself a target and hit a goal. Running regularly can also be a great stress reliever and has even been shown to battle depression.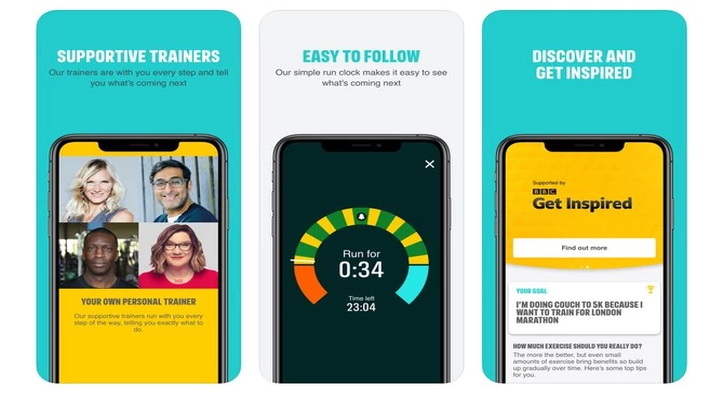 How it works
Download the Couch to 5K podcasts to your smartphone or computer.
Schedule your time to run
Plan your route
Use race training tools to stay on track
Get the Support and Motivation You Need
Pricing: It offers a one-month trail, and pricing can be found on its application
MyFitnessPal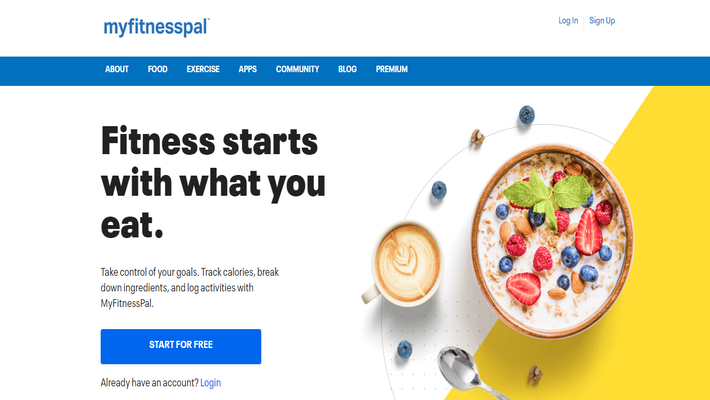 Under Armour's app MyFitnessPal is a three-in-one diet tracker, calorie counter, and exercise stimulator. The app customizes your goals based on your body type and the food you are eating. There are about 5 million foods to choose from in their database, so you don't just type in "chicken," which means you can determine how many calories you have consumed and burned.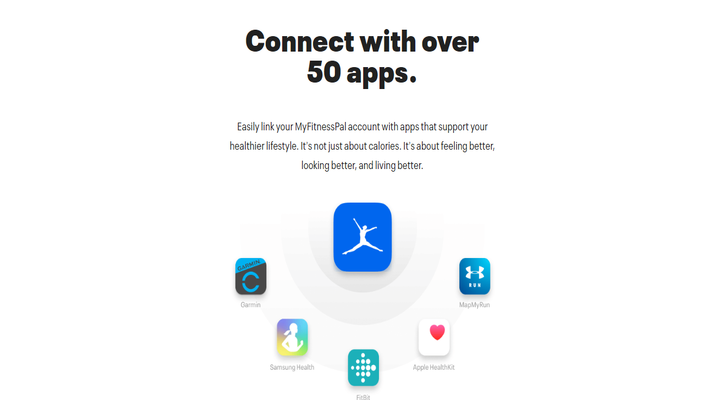 How it works
Sign up for free and define your goals
Set reminders
Add favourite recipes, foods and meals
Set nutrient goals and Get involved in the community
Record steps
Sync apps and wearables
Add exercises manually
View your progress, add notes
Pricing: It offers two types of service, free and Premium membership. The Premium costs $9.99/month, whereas their annual subscription costs $49.99.
All/ Out Studio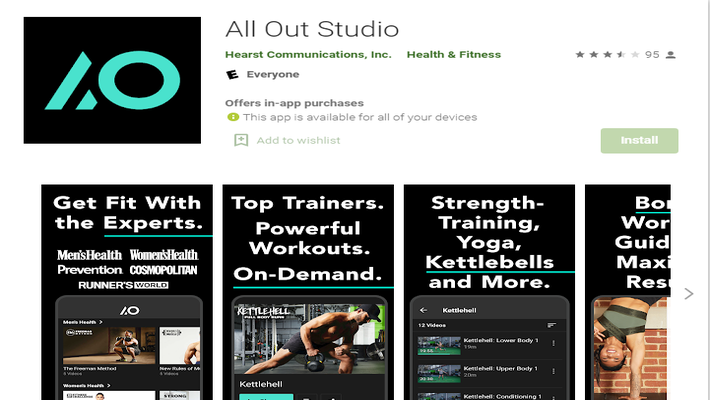 The most respected fitness publications, such as "Women's Health", "Men's Health", "Runner's World", etc., gather the best exercise methods in one place. The app includes hundreds of exercises, and new exercises are constantly added, so you will never stay in the same old routine.
Hundreds of on-demand training courses provided by certified trainers. New plans are added every month to help you hit your goals. Dozens of scientifically supported fitness methods targets the areas that are most important to you.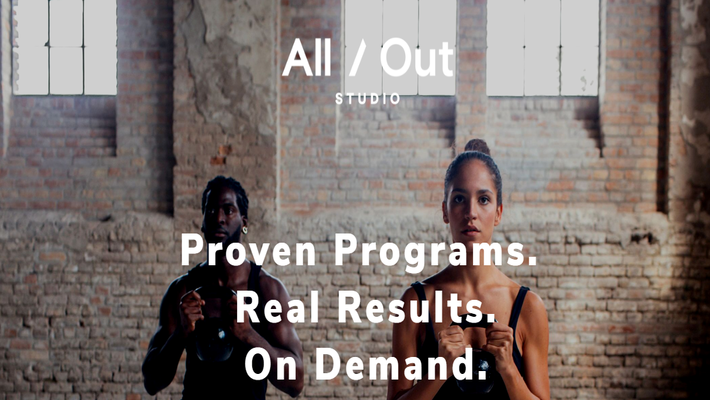 How it works
Login the application
Select your category among different brands, like Men's Health, Women's Health, Runner's World, and more.
Picked your workouts based on my mood; such as Strong Upper Body Reps, Yoga, Dumbbell Total Body, and more.
Continue your home exercise routines.
Pricing: It offers a free trail, and pricing can be found on its application.
Freeletics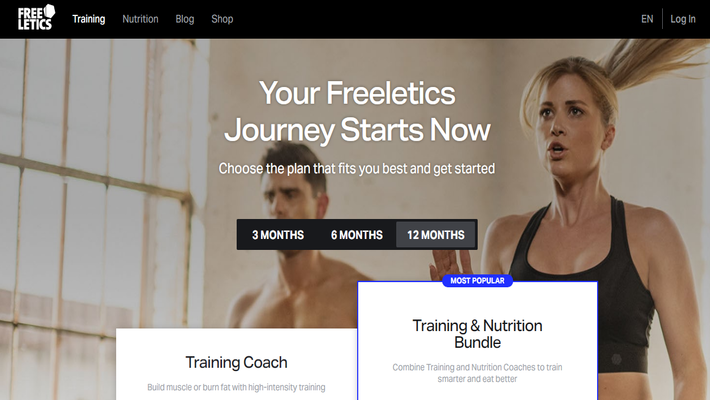 The app is great for sweating quickly provides 5 to 30 minutes of body weight exercise, and if you pay to hire a coach, you can also get a customized exercise plan. "These exercises are perfect for traveling without equipment and gyms," said Kirsten Beverley Waters, a coach, yoga instructor, and Thryve founder. Thryve provides health care services nationwide.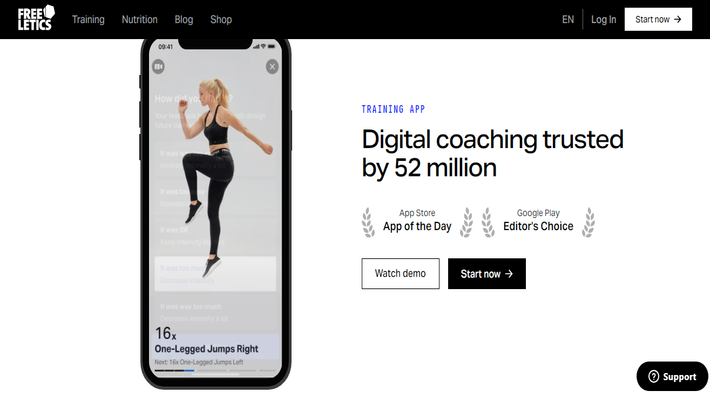 How it works
Register for free
Individualised training plans
Guaranteed results
Tailored to you and your goals
Pricing: It offers free training, and one can get a personal coach- starting at $6.25/month