Usually, people prefer to listening songs while travelling or in-between the work process. It is one of the easy ways to keep themselves engaged while being alone or take a break from work. Have you ever give a thought to switch it to audiobooks? Well, listening is the first skill that we acquire, especially in terms of language, and 85% of what we learn, we learn by listening. Hence, LSRW is known as the four skills of language learning. In the context of any language acquisition, the four skills are primarily learnt in listening first, then speaking, followed by reading and writing.
However, a jam-packed job-life always gets in the way of sitting down and reading a good book. So, the discovery of audiobooks applications is a eureka moment for every reader and listener. If anyone still has a question over which one is better, reading or listening to a book, then I would suggest they observe Dana Lee's words, "Reading a physical book and listening to an audiobook are two different paths that lead to the same destination. Each creates differing experiences and memories, but neither is better or worse than the other."
Now, you must be looking for the best ways to play audiobooks. So, use your iPhone or Android device and the apps listed below.
Bookmobile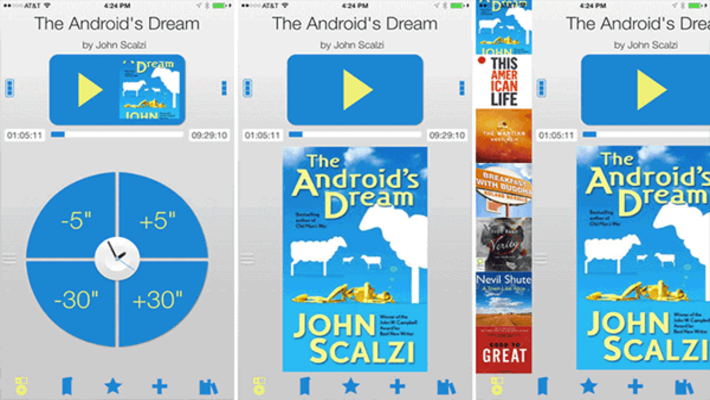 Bookmobile is a recognized iOS Audiobook player that allows playing DRM-free audiobooks. Bookmobile aids DRM-locked content from iTunes and Audible and DRM-free content, ripped from CDs or downloaded, consisting of M4B and MP3 audiobooks. The app emphasizes a thoughtful control scheme designed to prevent you from easily losing your place and includes drive and sleep modes and following background playback.
Features:
A custom bookmarking that remembers where you last stopped.
Playback speed controls
AirPlay support
Pricing:
Free trail for 60 days & allows importing three audibooks.
$3.99 to unlock the whole library
Smart AudioBook Player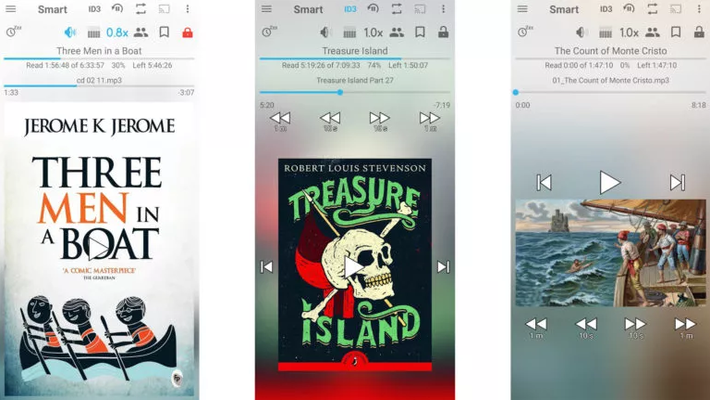 Smart AudioBook Player is a conventional choice for Android devices to listen to DRM-free audiobooks. The app takes care of your provided audiobook files. It has Chromecast support and progress saving, so you don't lose your place. Additionally, it offers an option to fill in details about the book online, such as the cover art and other info.
Features:
Variable playback speed,
Bookmarking,
An audio equalizer,
Some basic collection management features,
A sleep timer and control widgets for the notification tray and your home screen
Pricing:
30-day free trial
$1.99 to unlock
Bound - Cloud Audiobooks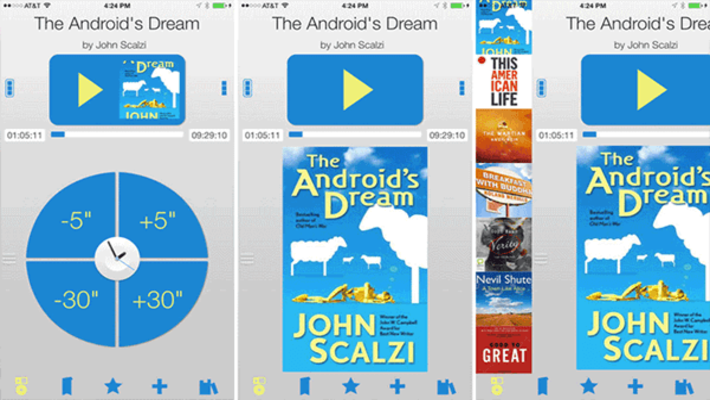 Rather than have audiobooks consume gigabytes of precious storage on your iPhone, you can seek out a cloud-based audiobook solution. Bound is one of the best audiobook apps for iOS that permits you to stream your DRM-free audiobooks from your favourite cloud storage services, such as Dropbox, iCloud or Google Drive, playing them on your iPhone.
Features:
Supports various formats- mp3, .m4a, .m4b, and .aac files
Sleep timer
Customizable playback speed
Bookmarks and seek times
Pricing: $3.99
LibriVox Audio Books
LibriVox Audio Books is a short but satisfactory audiobook platform. It claims a collection of 24,000 free audiobooks. Certainly, it's not the most significant collection, but the fact that they're all free, provides a great place to score some affordable entertainment. You can hunt around, find the books you desire, and download them for offline usage.
Features:
Sleep timer
Bookmark
Support for chromecast & Android auto
Pricing:
Free to use
$1.99 to get rid of ads
Kobo Books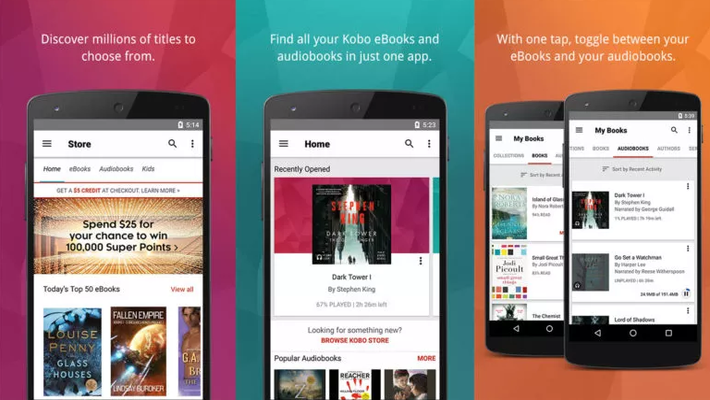 Kobo Books provides a rich library of ebooks and audiobooks in its online marketplace and reader apps. It has options to buy and download regular books as well as audiobooks. Even it is known for traditional books but also getting popularity for the audiobook.
Feature:
Timeline scrubber bar
Time skip buttons
Chapter navigation
Playback speed configuration & a snooze timer
Pricing: Free to use and vary by book prices